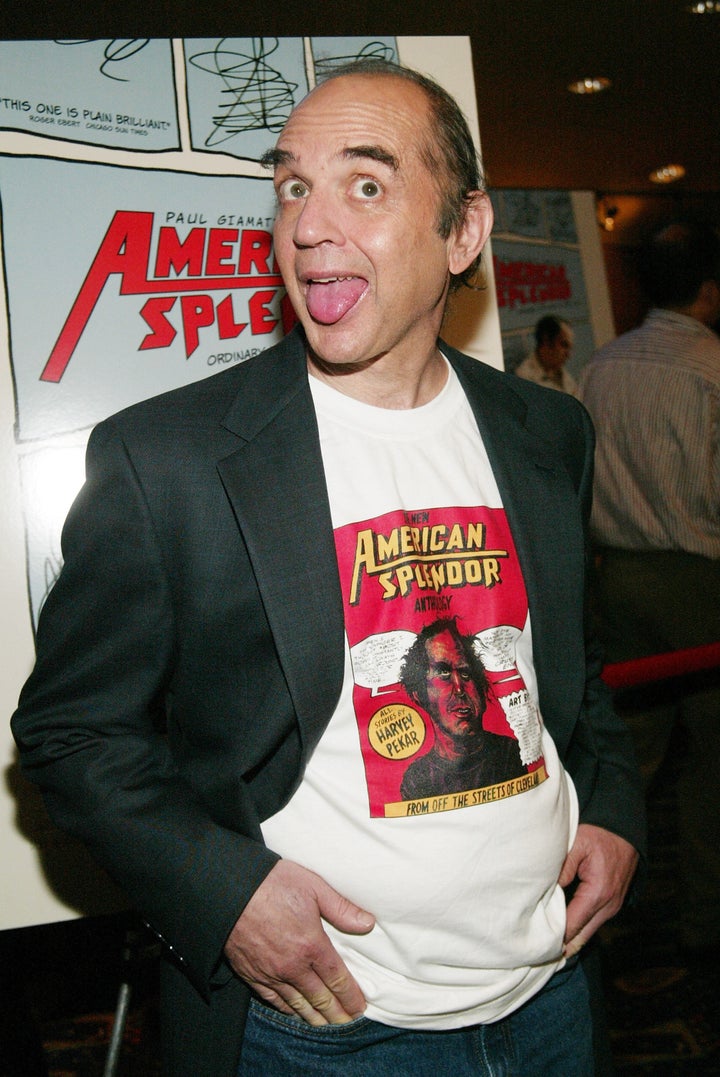 I saw Harvey Pekar, just a few months ago. He was speaking at Royce Hall, along with graphic novelist, Alison Bechdel. Alison preceded Harvey, her narrative, about her dysfunctional childhood, underscored by frames of her work, projected on a screen behind her. Later, she joined Harvey on stage... after his "presentation." Harvey's presentation consisted of -- Harvey. Not a single frame of his work was displayed. Not even a cover of American Splendor. It was as if Harvey had concluded: What do I gotta show them my work for? They don't know what my work looks like...they're not here to see me, anyway.
Some were not there, that evening, to see Harvey; some came, specifically, to see him. Like I had. I suspect, though, that the ill-timed, sporadic laughter, as Harvey spoke, came from both groups: people who were thrown by Harvey -- being himself: a working man. A man talking truth about his work and the life that informed it. It wasn't laughter Harvey wanted from the audience--it was a simpatico understanding of the human condition. And Harvey's human condition was free of bullshit. He'd given the audience the benefit of the doubt: assumed they could be real, too, for maybe half an hour or so. But then their definition of real would have had to have been Harvey's definition of real... which was pretty damned real.
Watching Harvey reminded me of something a shrink once told me: "Your problem is... you expect people to have the same emotional makeup as you."
During a brief Q&A, a man in the audience, familiar with Harvey's devotion to jazz -- like most of his readers--asked him:
"What is the connection between your work and jazz?"
Harvey thought; shrugged. He didn't know.
After the "show," fans stood in line, clutching American Splendor compilations for
Harvey to autograph. Harvey sat a long table. A man stood beside him -- friend, maybe -- facilitating the signings, simultaneously overseeing fan protocol.
I wanted to say something to Harvey, but the line of autograph seekers snaked to the back of the room. So I simply stared at the man beside Harvey. Until, finally... I caught his attention. I waved him toward me. The man considered my silent request. He left Harvey on his own as he walked over to me. I asked if he would please give Harvey a message. His face was non-committal. I told him the message, anyway.
The man returned to the table. I watched him lean toward Harvey...speak my words into his ear.
Harvey looked up at me. He offered no obligatory smile. What he gave me was a subtle nod; a flicker of appreciative acknowledgment -- simpatico in those infamous polygraph-eyes. Then he dipped his head back into an American Splendor compilation, and signed it. The fan reached into a Ralph's shopping bag, pulled out another American Splendor; Harvey signed that, too.
If I had been able to actually speak to Harvey, I might have suggested a possible title for one of his yet-to-be-written stories: Blues and the Abstract Truth. From the classic Oliver Nelson album. I am glad, though, that I had the chance to convey a message to Harvey Pekar that came from the heart -- even it was brief enough to fit inside the frame of a comic book:
"The connection between your work and jazz...is honesty."
Popular in the Community