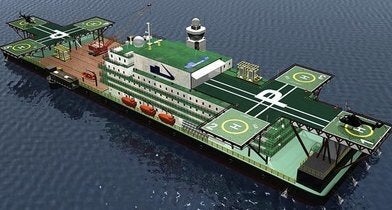 Uber entrepreneur Elon Musk has launched space flights, created Tesla, the fastest electric car and wants to build colonies on Mars. His former partner at Paypal Peter Thiel aims to build something equally complex but a tad bit lower in the geographic plane: a sovereign nation in international waters. Now, Max Marty, another Silicon Valley founder, wants to build a "visa-free" startup incubator aboard a ship on high seas. How crazy can entrepreneurs get?
These entrepreneurs have a more common thread besides their burning desire to change the world: they are immigrants. Thiel was born in Germany, Musk in South Africa and while Marty was born in Florida, his parents are Cuban immigrants. At some point in their lives, all of them have struggled with the US visa system. For Max Marty, the struggle is no longer just subject discussed over beers -- he wants to welcome entrepreneurs on a floating incubator on the Pacific Ocean, 12 miles west of Silicon Valley. The US Visa would not be an issue, as the incubator would be in international waters. At a recent pitch event, Max Marty's floating incubator concept was welcomed with a raucous applause from fellow entrepreneurs. I am guessing there were a few immigrants in the audience. Or it may well be the scale of his idea (or craziness, as the meek might call it) that generated this response.
In many ways, immigrants and entrepreneurs are alike. At first, both appear crazy: why would you leave everything behind and travel to new domains? Both are ridiculed or worse, treated as social pariahs. As a society, we don't do much in their darkest hour, the lonely phase that can make (or break) many. Of course, once they make it big, we celebrate them!
Before you dismiss Marty's idea as mere craziness, consider a recent Kauffman Foundation survey of 1,224 foreign nationals who were studying in U.S. institutions. In a report titled Losing the World's Best and Brightest: America's New Immigrant Entrepreneurs, Part V, researcher Vivek Wadhwa points out that a significant majority of foreign students have entrepreneurial hopes. Over 60 percent of student respondents indicated that they want to start a business within the next decade. But for Indian and Chinese students, the majority hope to start businesses in their home countries. While economic opportunity is paramount, the US visa system and its inherent challenges are a deterrent for smart people to stay in US.
Will the floating incubator solve this problem? Not in its entirety but a crazy idea is always a good start. For now, Blueseed has attracted 31 start-ups with varying degrees of interest in this idea. One is Project PowerUp, a crowd-funding site created by Ryan Wardell, a 24 year-old from Australia who's on his fourth start-up. "Project PowerUp can be successful anywhere in the world, but has the best chance if it is located in the USA," Wardell said.
Nick Smith, 26, is based in the UK and dropped out of The London School of Economics to launch emot.io, a social network that extends the Facebook's 'Like' button idea into new dimensions. Smith has a choice to make: London's so-called "Silicon Roundabout" or California's Silicon Valley. "The key attraction to me of the US and in particular the Valley versus the UK is the attitude towards risk and the way success is celebrated. This is something the UK needs to do work on," Smith said. "Few have any reference point in terms of what it means to set up a business, particularly a high-risk technology business."
And why would Smith or Wardell want to be on a ship versus on land? "There's a certain 'Life Aquatic" appeal of living on a ship -- it would be very interesting to see how the community on board performs in a confined area with few distractions, and whether it simply drives everyone crazy. As a social experiment, it fascinates me and who knows -- it could become a blueprint for other incubators around the world," said Smith.
Wardell feels the same way: "I think that Blueseed is going to go down as a pivotal point in human history - both because of its political/economic implications and because of its impact on the global tech community. And I want to be there when that happens."
These start-ups would pay a monthly rent of $1500 and offer equity in exchange for a starboard room on the ship with views of Silicon Valley. And if Peter Thiel agrees to invest in any of these start-ups, Blueseed might take off big time. Thiel was the first investor in Facebook and could tie a modest amount of his capital to Blueseed graduates the same way Yuri Milner and Ron Conway give $150,000 to every Y Combinator graduate start-up.
Blueseed has identified its first class of startups and an investor has put in an initial $50,000 to conduct a feasibility study. Marty and his CIO Dan Dascalescu (you guessed it, an immigrant from the former Yugoslavia) aim to land $500,000 to get to their first milestone.
In all, Blueseed will need $10 million to charter a ship and get this project off the ground (pun intended). A change in immigration laws could render the business model obsolete but in all likelihood, that seems like a distant possibility.
I am sure when Elon Musk launched SpaceX in 2002, there was no dearth of naysayers. His first three rockets failed miserably but now he has an order backlog of $3 billion, including a $1.6 billion contract from NASA.
If Elon Musk was kicked out of the country, we would have no PayPal, no SpaceX, no Tesla. If Peter Thiel was kicked out of the country, we would have no PayPal, no Facebook and no Blueseed. These companies were crazy ideas until they became household names. So let us give thanks to those crazy ones. As the Apple commercial goes, the people who are crazy enough to think they can change the world - are the ones who DO!