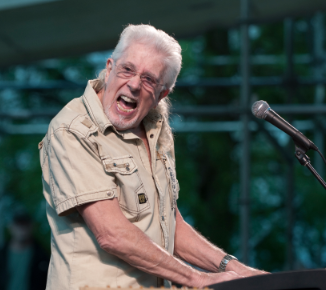 John Mayall, "Grandfather of the British Blues"
Bluesmaster John Mayall jauntily prances onto the stage of NYC's B.B. King Blues Club needing no introduction. Looking half his 80 years, white ponytail swinging behind him, this British blues singer/guitarist /keyboard player/blues harpist/songwriter/producer has been wailing the blues for the last 50 years.
Known as "The Grandfather of the British Blues," John Mayall introduced the blues to Great Britain and was responsible for the re-introduction of the blues to American audiences.
As a musician, Mayall backed blues greats John Lee Hooker, T-Bone Walker, and Sonny Boy Williamson on their first English club tours. As a band leader, he ushered in a succession of future stars who defined their roots under his leadership including Eric Clapton (who went on to form Cream) Peter Green, John McVie and Mick Fleetwood (who became Fleetwood Mac), Andy Fraser (who formed Free) and Mick Taylor (who joined the Rolling Stones).
Onstage Mayall introduces his band, with whom he's been playing the last five years (and is now on tour): Texas guitarist Rocky Athas, bassist Greg Rzab from Chicago, and fellow Chicagoan Jay Davenport on drums. The band is tight; Mayall wails Parchman Farm Blues, then Stormy Monday. Depending on the song he plays keyboards, blues harp and trades licks on his guitar with Athas. The room is electrified and after each song, reverberates with loud finger whistling.
Growing up in Manchester, England, Mayall first listened to American blues artists Eddie Lang, Lonnie Johnson, Brownie McGhee, Josh White and Leadbelly and then became hooked on boogie-woogie giants Albert Ammons, Pete Johnson and Meade Lux Lewis. Inspired, Mayall taught himself piano, guitar, and harmonica, bought an electric guitar, and while still in college, began to play with semi-pro bands in Manchester. After graduation, he took a job as an art designer but in 1963, moved to London to play music. His major in art was not for naught as he designed his logo and the covers for many of his albums.
In 1963, Mayall created the Bluesbreakers, which took off, helped by the popularity of the Rolling Stones, Manfred Mann, The Animals and Spencer Davis (with a young Steve Winwood). In 1969, he released The Turning Point, which went gold; his song "Room To Move" became a rock classic. Mayall moved to Los Angeles and formed bands with American musicians.
In 1966, Mayall recorded the breakthrough Bluesbreakers with Eric Clapton that rose to #6 on the British charts. Since that time, John Mayall has recorded a total of 65 albums, was the subject of a BBC documentary The Godfather of British Blues, and was awarded an Officer of the Order of the British Empire (OBE) by The Queen's "Honours" list.

I met John Mayall in 1979 in a Los Angeles recording studio when my friend, Bob Johnston was producing Mayall's album, Bottom Line. But until tonight, I've only heard Mayall lay down voice tracks. This is the first time I've never heard the legendary bluesman with his band. After 50 years, he and his band are still at one, pulsating with soul. Even after the encores, we don't want him off the stage. The show over, I go to say hello. He's got a little time before his next show, so I ask:
What favorite songs do you play?
I don't have favorites. All the songs we play have a certain something that sets them apart from the others. They are all about moods and shapers.
You play piano AND guitar AND blues harp AND you sing AND write songs. Do you have a favorite instrument?
They all have a function in the way I express myself -- it all depends on the nature of the song which will express it best.
You must have a great deal of pride in knowing that you have initiated and mentored the careers of many musicians who have gone on to various levels of acclaim and recognition?
I don't know what any musician specifically learns about his own playing from being in any band of mine. I provide the environment that allows each one to express himself through the music. This would apply to any musician who has ever worked with me.
What does the OBE Award represent?
It's full name is Officer of the Order of the British Empire and is awarded annually to citizens who have contributed something special to our culture. Quite an honor considering that I've never had any other award or ever been close to getting a gold record. (Well actually the Turning Point album from 1969 eventually reached gold status.)
What would you consider the milestones of your career?
I don't particularly think in terms of milestones. One year seems to blend into the next all rather seamlessly. The main thing that runs through it all is having freedom to play as I please and have it appreciated by the dedicated fans.
Have you released 65 albums?
I haven't counted them up since the release of the latest set of three live show collections, but it's somewhere in that region although I don't count re-packaging and re-releases. They must run into huge numbers.
You led the emergence of blues in Great Britain and the re-emergence of blues in the U.S. Why do you think it is that you haven't received the recognition and industry awards you richly deserve?
Don't ask me. I seem to continually slip through the net when it comes to the industry. Thank heavens for the dedicated fans! I must say that the current band of Rocky Athas on guitar, Greg Rzab on bass and Jay Davenport on drums has proved to be the best band by far that I've ever put together. We think as one every time we touch our instruments and it seems amazing that we've been together five years already. So we'll keep showing up and hope you'll continue to enjoy the music we make. It's the energy of life itself!
Popular in the Community