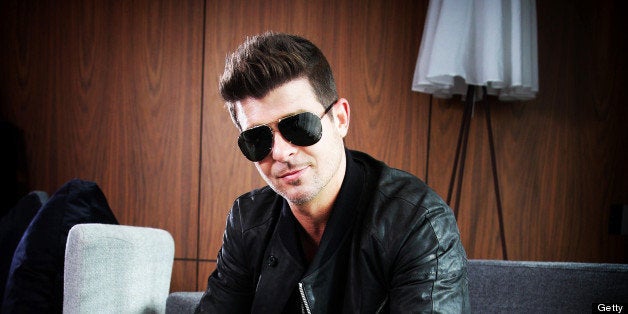 Robin Thicke's "Blurred Lines" topped Billboard Hot 100 chart for the second consecutive week, slagging off criticism that the song and its NSFW video were misogynistic and/or "rapey."
The track features T.I. and Pharrell WIlliams and was buoyed by the viral nature of its video, in which the three performers mingle with and grope gorgeous models. YouTube banned the uncensored version of the video on account of its frank nudity, and Thicke said he had asked his wife, actress Paula Patton, for permission before working with the naked women. (Highly NSFW photos from the shoot are available in the gallery at the bottom of this entry.)
Criticism of "Blurred Lines" has focused on lyrics like "I know you want it," which when coupled with the racy video, have led some to call the song "rapey." Thicke didn't exactly smooth things over when asked about his detractors: "People say, 'Hey, do you think this is degrading to women?' I'm like, 'Of course it is. What a pleasure it is to degrade a woman. I've never gotten to do that before. I've always respected women.'"
The continued Billboard success of the song, however, is a big win for Pharrell, who is also featured on Daft Punk's "Get Lucky," which jumped up to take the No. 2 spot on the Hot 100. The combo punch makes Williams the first singer in four years to be featured on the No. 1 and 2 songs in the same week. the Black Eyed Peas did the same with 2009's "Boom Boom Pow" "I Gotta Feeling" and T.I. is one of the few solo artists to have accomplished the same feat, with "Whatever You Like" and "Live Your Life" in 2008.
1. "Blurred Lines" (feat. T.I. and Pharrell)
2. "Take It Easy On Me"
3. "Ooo La La "
4. "Ain't No Hat 4 That"
5. "Get In My Way"
6. "Give It 2 U" (feat. Kendrick Lamar)
7. "Feel Good"
8. "Go Stupid 4 U"
9. "For The Rest Of My Life"
10. "Top Of The World"
11. "The Good Life"
Before You Go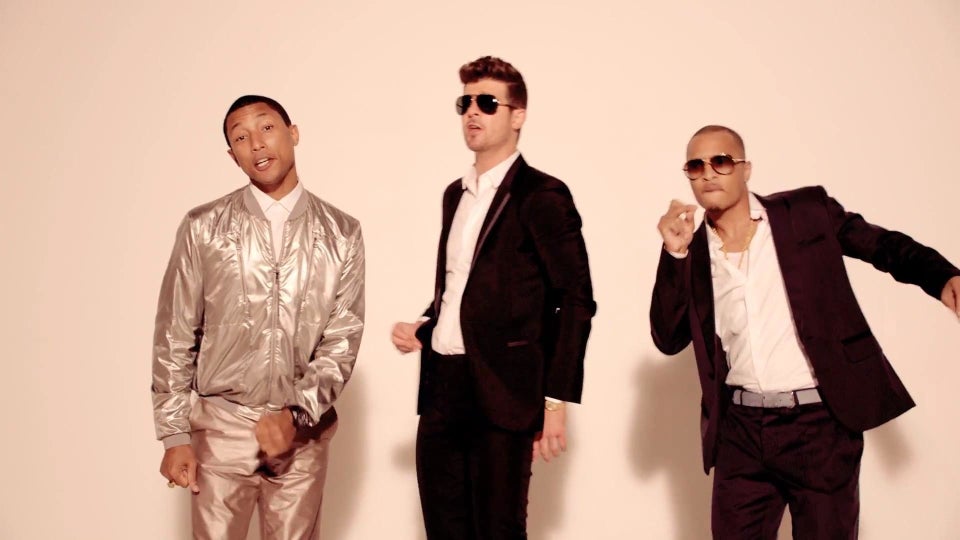 Pharrell & Nude Models (NSFW)
Popular in the Community