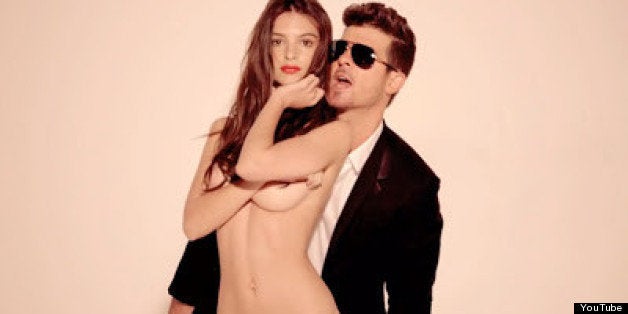 Diane Martel has a storied career in directing music videos, but it's one of her most recent projects that has folks crying misogyny. As the woman behind Robin Thicke's "Blurred Lines" video, in which Thicke, T.I. and Pharrell Williams dance around naked models and grab them forcefully, Martel has sparked a controversy that Thicke has done little to help put out.
I wanted to deal with the misogynist, funny lyrics in a way where the girls were going to overpower the men. Look at Emily Ratajkowski's performance; it's very, very funny and subtly ridiculing. That's what is fresh to me. It also forces the men to feel playful and not at all like predators. I directed the girls to look into the camera, this is very intentional and they do it most of the time; they are in the power position. I don't think the video is sexist. The lyrics are ridiculous, the guys are silly as fuck. That said, I respect women who are watching out for negative images in pop culture and who find the nudity offensive, but I find [the video] meta and playful.
We tried to do everything that was taboo. Bestiality, drug injections, and everything that is completely derogatory towards women. Because all three of us are happily married with children, we were like, "We're the perfect guys to make fun of this."

People say, "Hey, do you think this is degrading to women?" I'm like, "Of course it is. What a pleasure it is to degrade a woman. I've never gotten to do that before. I've always respected women." So we just wanted to turn it over on its head and make people go, "Women and their bodies are beautiful. Men are always gonna want to follow them around."
Martel made it clear that she doesn't feel the same way in the Grantland interview. "That's crazy," she said. "Maybe he wasn't thinking when he said that."
Despite being deemed "rapey" by some online critics, "Blurred Lines" catapulted to No. 1 on the Billboard Hot 100, where it has remained for three weeks, thanks in no small part to its music video. Billboard's algorithm now takes YouTube streams into account, which means Martel's other viral video of the year, Miley Cyrus' "We Can't Stop" music video, is also sure to help that track creep up to No. 5 on the chart.
Martel's "We Can't Stop" video has also been criticized, mostly for Cyrus' uncomfortable appropriation of black culture. The pop singer takes a number of hip-hop's mores (grills, twerking, etc.) and puts herself in a dominant position (Cyrus is seen dancing between multiple black backup dancers). Like Thicke, Cyrus didn't exactly make things more palatable when she said that though she likes "hood music," she doesn't want to be "the white Nicki Minaj."
And there you have it, this week's installment of Pop Culture Comes With Lots Of Baggage.
Before You Go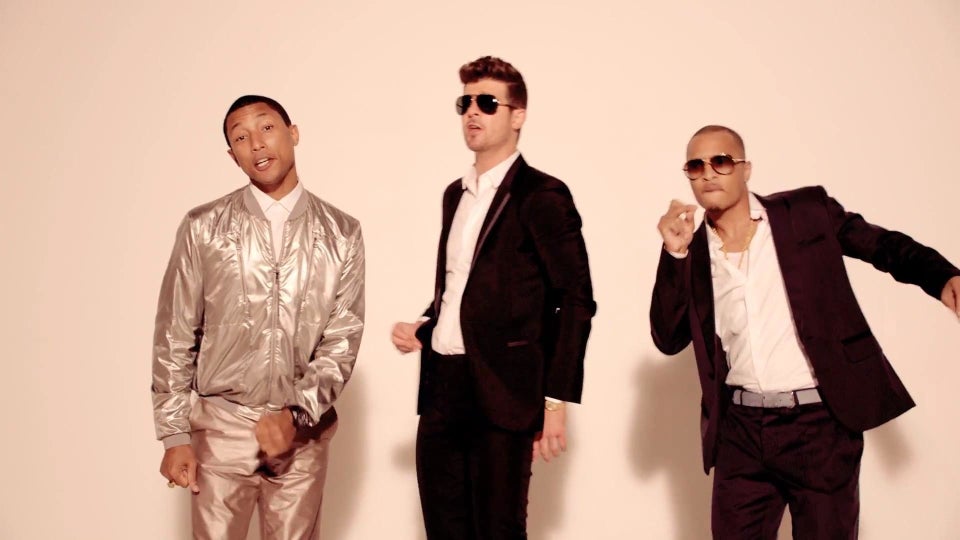 Pharrell & Nude Models (NSFW)
Popular in the Community