Blushes are the unsung hero of our cosmetic bags. They harness the power to brighten, highlight, illuminate and give us that first kiss flush we love with just a few swipes of a brush -- yet blushes don't enjoy the same praise we give our favorite lipsticks, eyeliners or mascaras. Beyond applying the product, we think the primary problem in solidifying that love affair is the difficulty in finding the perfect shade.
With that said, it's even more challenging for brown girls to zero in on the right rouge thanks to their wide range of skin tones. From the fairest brown to the richest ebony the possibilities seem endless for these ladies, but you've got to know what to look for. So, we rounded up a bevy of brown beauties to test drive nearly 80 blushes and find the perfect match for their complexions.
Check out the radiant results...
Photographs/Art by Raydene Salinas
Because Jessica's skin is so fair, the HuffPost BlackVoices editorial fellow can easily run the risk of looking washed out if she doesn't wear any blush or clownish if she picks something too bright. With that said, we opted for Rimmel London's new Stay Blushed Liquid Cheek Tint in Apricot Glow. The lightweight cream, which retails for only $3.29, goes on smooth and blends in easily for great on-the-go reapplication.
When it was my (HuffPost BlackVoices style and beauty editor) turn to pick a hue I knew just what my skin's cool undertones and slightly dry state needed, which is why I immediately reached for Josie Maran's Argan Matchmaker Blush in medium/dark. The rich berry color boasts chameleon pigments (the white speckles), which help to custom-match the shade to my own natural flush, and the argan oil infused powder keeps my skin hydrated.
HuffPost BlackVoices editor Danielle has the perfect complexion to play with pretty pinks. So instead of picking just one shade, we opted for Aveda's Petal Essence Face Accent tri-color palette in Rose Blossom, which gave a beautiful ombre effect along her caramel colored cheeks. Plus, we love that the blush is infused with a faint floral scent.
Subtle can be sexy. Case in point, Brooke's natural glow courtesy of NARS Cosmetics' Multiple stick in G-Spot. The warm, toasty and slightly shimmery muave hue enhances the HuffPost Product Marketing director's flawless skin. And true to the product's name, it can be used on your lips, eyes and anywhere else you desire a little extra glow.
HuffPost BlackVoices intern Taylor isn't big on wearing makeup, but we wanted to show her that she could still achieve a natural look without going overboard. Enter: Black Opal's Baked Blush in Rose Gold. The dusty rose hue with a subtle shimmer instantly brightened Taylor's medium brown complexion, and even contoured her face. Mission accomplished!
We couldn't wait to get HuffPost Style editorial fellow Chanel's golden skin into one of our favorite products from actress Drew Barrymore's new cosmetic line FLOWER, the Kiss Me Twice Lip & Cheek Chubby in Raisin the Roof. A little goes a long way, so we simply swiped the apple of Chanel's cheeks once with the ultra smooth gliding stick and blended in the bold berry hue with our fingers. Try pairing this look with a peachy lip gloss, or use the stick again for a more dramatic look.
It was all about achieving a sun-kissed glow for HuffPost Live associate producer Felicia. So to balance her milk chocolate complexion, we chose L'Oréal Paris' Visible Lift Color Lift Blush in Berry Lift. The cream to powder formula is anything but cakey and is ideal for blending. In addition, the translucent base allows Felicia's stunning skin to shine through.
The inspiration for this post was sparked after seeing HuffPost Style's senior beauty editor Dana rock one of the fiercest blushes we'd ever seen -- Giorgio Armani's Cheek Fabric in #509. While we've seen Dana's rich brown skin tone work harmoniously with everything from a rose to a deep orange rouge, it's this vibrant raspberry pick that truly stole our hearts.
If our favorite style star Lupita Nyong'o has taught us anything about ebony skinned beauties, its that they can pull off the boldest colors when it comes to both fashion and beauty. HuffPost Live associate producer Jessica proved that yet again when we put her in Lancôme's Blush Subtil in Plum Noir. The long-lasting, oil-free powder adds depth and dimension to her face, while maintaining plenty of radiance.
Before You Go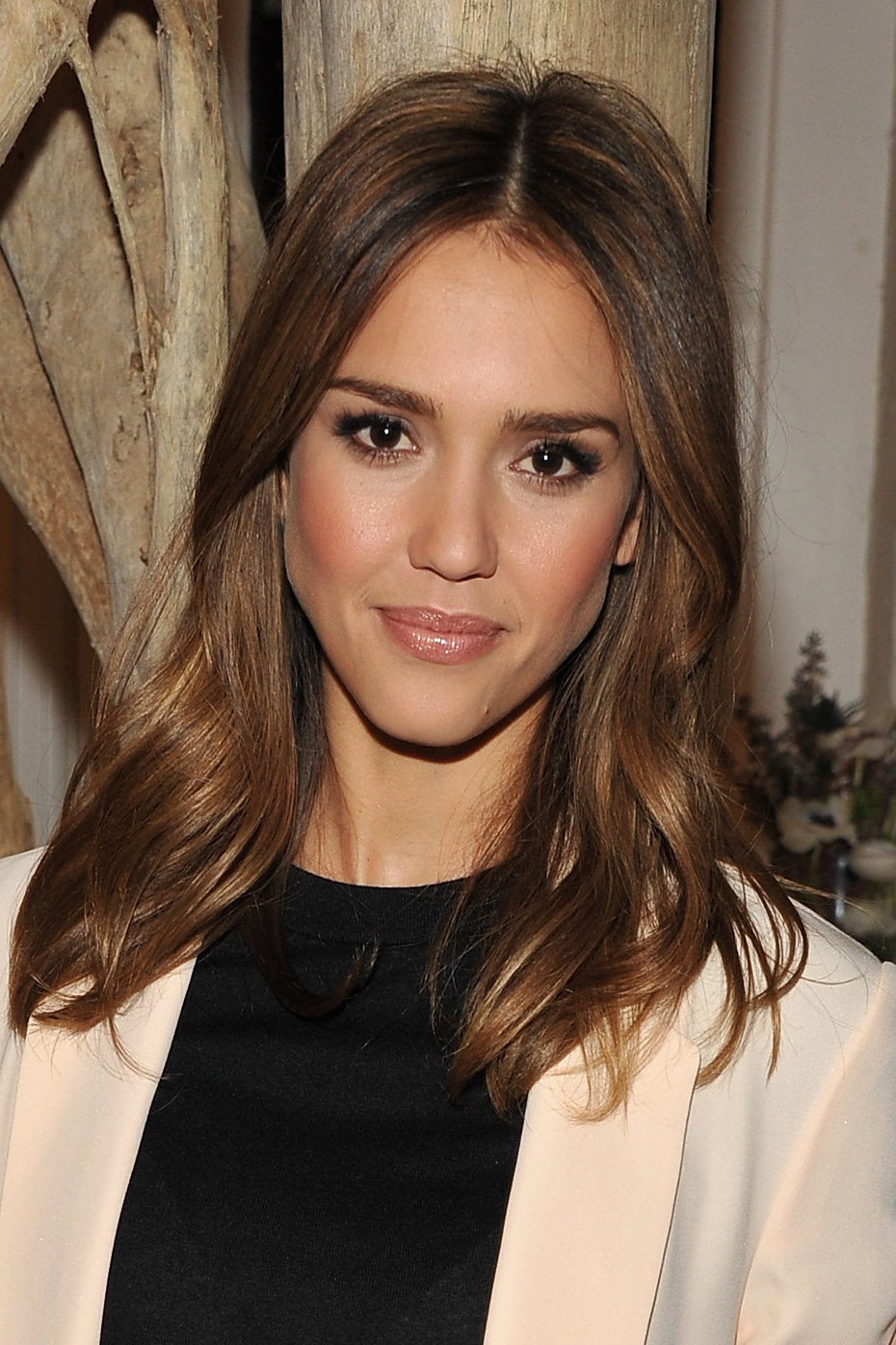 Blushing Beauties