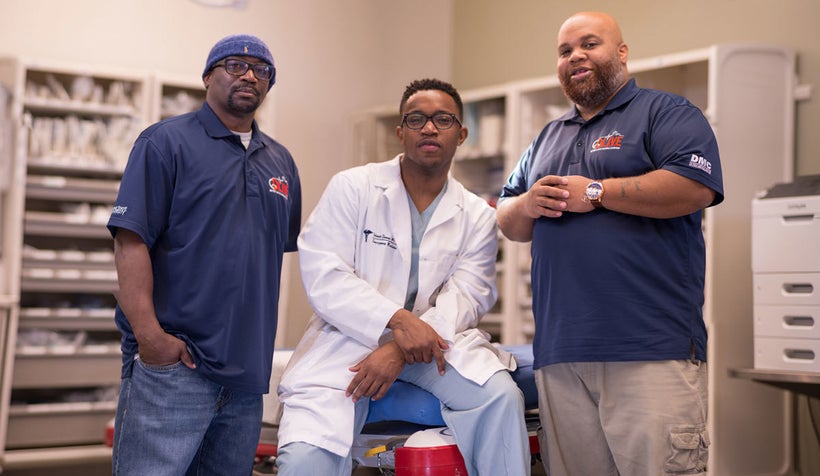 This year BMe Genius Ray Winans received the highest honor at the 2017 Health Justice Alliance Conference in Milwaukee. Winans, a native of Detroit, received the Willis Young Memorial Award which celebrates outstanding work of individuals on the frontline of hospital-based violence intervention programs. Winans received the honor because he is committed and is passionate about breaking the cycle of violence and promotes healing in the city of Detroit.
"Ray Winans is a community organizer and youth mentor who has an obvious passion for youth, Ray has transformed pain from personal tragedy into motivation and determination to reduce violence and the school dropout rate with Detroit youth," wrote his nominator. "Ray spends a lot of his volunteer time inside the Wayne County Juvenile Facility advocating for the youth."
Winans is a former member of the Head Banger Bloods set in Detroit. At the age of 15, Winans was convicted for manslaughter. After his release at the age of 18, he made recurring trips to prison until 2009. After being released for the last time Winans was determined to make a change in his hometown, so he co-founded a gun violence cessation initiative called Keeping Them Alive, with his wife, Shaelon, in 2012.
Winans is a Violence Intervention Specialist and member of Detroit Life Is Valuable Everyday (DLIVE) a hospital-based intervention program, located in the Emergency Department of the Detroit Medical Center Sinai-Grace Hospital. DLIVE was borne out of the recognition that violence is a pervasive cyclical disease process that continues to be a major public health crisis in the city. DLIVE exists to holistically work with youth/young adults who have sustained acute intentional violent trauma.
Winans and his colleagues Calvin Evans and Dr. Tolulope Sonuyi work to transform every acute trauma episode for victims ages 14 to 30 years old into a "teachable moment." Ray exceeded all expectations managing a group of 20 trauma survivors and had a retention rate of over 90-percent. In addition, he actively served an additional 15 individuals that comprised of his participants' social network.
Winans was awarded this honor at the Healing Justice Alliance Annual Conference in Milwaukee. The conference brings together the best and most exciting programs to share knowledge, develop best practices, collaborate on research, and affect policy change in Hospital-based Violence Intervention Programs.
The conference created the award to remember the life of Willis Young who tragically loss his life to violence in 2015. Willis Young, known as "Young" to his friends, was a charismatic and open-minded young man. For two and a half years, Young worked as a Hospital Responder for the Kings Against Violence Initiative (KAVI) in Brooklyn, New York. In his position he provided support, comfort and resources to young men and women suffering from violent injuries at King's County Hospital. Young used his knowledge and hope to give youth the opportunity to change, to provide them with the comfort they needed to survive their hospital stay, and the support they needed after returning home.
Calling all HuffPost superfans!
Sign up for membership to become a founding member and help shape HuffPost's next chapter
This post was published on the now-closed HuffPost Contributor platform. Contributors control their own work and posted freely to our site. If you need to flag this entry as abusive,
send us an email
.