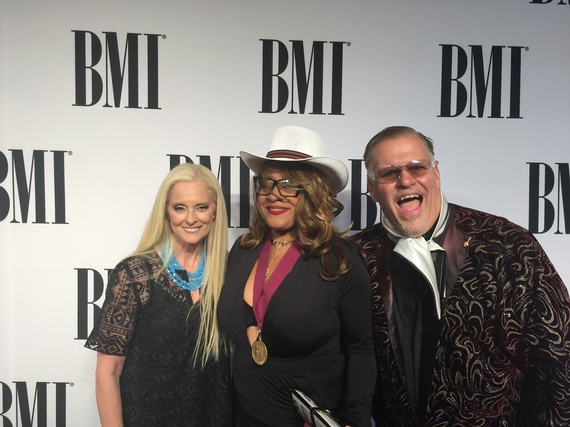 Barbara Cane, Thea Austin and Karel by Daniel Charleston
Thea Austin is why BMI Vice President & General Manager, Writer/Publisher Relations, Barbara Cane and BMI President & CEO, Mike O'Neill fight so hard to keep the annual BMI Awards (Pop, Hip Hop, Film & TV) alive. Oh, her name may not come up at the board meetings when budgets are being examined under microscopes to find ways to save in today's world but she is the reason behind it nonetheless.
"We're so excited to have so many first time BMI Pop Awards winners here tonight," O'Neill told me as he sat with me Tuesday, May 12th at the Beverly Wilshire Hotel's main ballroom. He was on his way to the stage to begin the two hour ceremony where BMI recognizes over 50 songwriters and publishers for their achievements in the previous year. "It's important to let them know we are on their side, that we acknowledge their contribution to the business of music and that we are here for them," he added before darting off to stage.
"And remember, it all starts with the song," industry veteran Cane chimed in.
The business model for performance rights agencies like BMI and its counterpart ASCAP are constantly changing. It is their job to collect and distribute royalties for their writers, to negotiate and regulate new contracts for the exploitation of the work and to lobby Washington, D.C. to make sure writers and publishers and their intellectual properties are protected.
And, throwing great parties.
Austin has never won a BMI Pop Award (which are based off of radio plays). It's not that she hasn't had any sales. She has written, sang and/or produced over 200 songs with 15 landing in the Top 10 of the dance charts. Her biggest selling hit, a song she co-authored and sang, is Rhythm Is A Dancer from when she was part of the group Snap! With that song, and the subsequent album The Madman's Return Austin became a driving force in Dance music. Rhythm has gone on to be named the #1 Dance Song of the 1990s by numerous publications, it has been covered by Ministry of Sound (again with Austin singing), by Bastille in their Rhythm of the Night/Rhythm Is A Dancer mashup and of course, Jeremiah used the lyrics at the beginning of his huge hit Don't Tell 'Em. Ironically, it's for the Jeremiah hit that Austin is receiving the award.
"They didn't have these dinners 25 years ago, when my first big album and song hit," Austin told me as we parked at the Valet. You see, I've known her for every one of the years since (and before) her hits. "So this is really the first time BMI is ever acknowledging its success," she added.
Karel puts medal around Thea Austin's neck upon arrival at BMI Pop Awards 2015 Video Daniel Charleston
When award recipients check in, they are given a medal to wear so everyone knows they are winners. I was lucky enough to be with Austin when she arrived, and after all these years, placed the much-deserved medal around her neck. It was a long time coming. Since the 1990s Austin has toured the world, opening for the late Michael Jackson in Bucharest, Rumania, for his HBO special; appearing in Las Vegas at the behest of Justin Timberlake for his annual fundraiser ("He danced and sang my song in my dressing room, and told me he grew up dancing to it, I was floored," Austin recalled) and so much more. She still tours with that song and many of her other hits from SoulSearcher's "I Can't Get Enough" to hits with Barry Harris, Chris Cox, Georgio Moroder and a veritable who's who of Dance producers.
But this was her first BMI Award. She beamed when she was called up with the other writers of the song. My heart swelled with pride, as did photographer and guest Daniel Charleston's, when Austin's image blared across the big screen at the opening of the show. And while for some strange reason BMI didn't ask her to walk the red carpet, photographers like industry pro Arnold Turner and others quickly gravitated to her, recognizing her as the dance music icon that she is.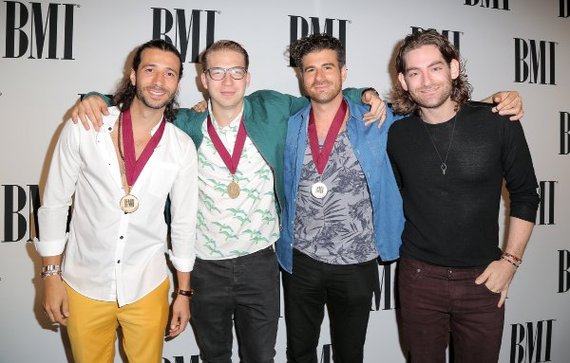 BEVERLY HILLS, CA - MAY 12: (L-R) Honorees Nasri, Alex Tanas, Mark Pellizzer and Ben Spivak of Magic! attend the 63rd Annual BMI Pop Awards held at the Beverly Wilshire Hotel on May 12, 2015 in Beverly Hills, California. (Photo by Chelsea Lauren/Getty Images for BMI)
It was an evening of recognition and sharing the joys and gifts amongst friends and industry peers. It was a chance to network, to meet new writers, producers, movers, shakers and a chance to cut loose and have a good time. She was on cloud nine all night and got to share it with her family and friends.
"It feels like it took a lifetime to get here," she told me as we walked through the room saying hello to BMI writers from around the world. And in many ways, it did. That's why the awards are so important. In an sometimes thankless business, Austin left invigorated, renewed, ready to face the challenges of the industry head on and continue making hit music both as a singer and a singer / songwriter / producer.
And hers wasn't a unique experience. It was easy to see the excitement, nerves and honor in Pink as she got up in her caped creation of an outfit to accept the President's Award, putting her in with the likes of Adam Levin and David Foster as recognized writers. Her pride was visible as she watched the pop-folk duo The Weepies and alt-country purveyor Brandi Carlile pay tribute to her. The Weepies offered a powerful rendition of P!nk's "F*ckin' Perfect," while Carlile made "Who Knew?" her own. A welcomed change this year was having the honoree sing. P!nk was joined by Billy Mann for a meaningful rendition of "Dear Mr. President" a powerful song written under the Bush administration that is still so socially relevant. She concluded with Dallas Green on stage as You+Me for a trio of songs including "You and Me," "Unbeliever" and "Open Door." And while the tribute performers were great, it's so easy to see why P!nk is, well, P!nk.
"She certainly has 'it,' whatever 'it,' is..." Charleston leaned over and said to me as P!nk began to enter her comfort level of not speaking publicly, but singing. The nerves of her great acceptance speech where she extolled the virtues of being yourself through and through, write from your heart and be authentic no matter what any one says and you have a chance, those nerves were gone and she commanded the stage with the acoustic set, her voice sounding gorgeous with very little processing.
Other winners included Taylor Swift, Tim Bergling a.k.a. Avicii, Benny Blanco, Ed Sheeran and Noel Zancanella all earned the coveted BMI Pop Songwriter of the Year title. Each penned three songs on the most-performed list. Swift composed "22," "Everything Has Changed," and "Shake It Off." Bergling wrote "Hey Brother," "Wake Me Up," and co-penned Coldplay's "Sky Full of Stars." Blanco co-wrote Iggy Azalea's "Black Widow," Maroon 5's "Maps," and Rixton's "Me and My Broken Heart." Sheeran was honored for co-penning "Lego House," "Sing" and Swift's "Everything Has Changed."  Zancanella co-wrote Ellie Goulding's "Burn," Maroon 5's "Maps," and Demi Lovato's "Neon Lights." John Legend clinched the BMI Pop Song of the Year honor for co-writing "All of Me."  And with 27 songs among the year's most-performed, Sony/ATV Publishing claimed the prestigious BMI Pop Publisher of the Year crystal.
After the awards and performances as guest were sipping tea, coffee and decadent chocolate covered strawberries, the excitement was palpable. Writers aren't often given credit in today's star-focused world, and while some are the actual performers, many a hit song is crafted by someone else behind the scenes. The BMI Awards in all categories give the writers that recognition, that push, that validation and that is a priceless service to them.
It would be easy for BMI to save hundreds of thousands of dollars and not do these dinners each year. But then, someone like Thea Austin wouldn't get the sometimes needed push, the sometimes fleeting nod from her peers that what's she's doing has value, that she is a valuable member of the songwriting and performing community and that people appreciate and know her work both in front of the stage and behind it. As I watched her make new friends, be congratulated by industry heavyweights like Lamont Dozier (Holland Dozier Holland) or Jeff Barry (Chapel of Love, Da Doo Run Run), as I saw the pride in the eyes of her guest and felt the lump in my throat when I placed the medal around her neck...well, every dollar BMI spends on these awards is well spent because it creates a once-in-a-lifetime experience for the writers. It's not just a show, it's an event that says keep it up, stay focused, keep writing, your work is great and will go on forever.
Because high gloss pop stars, billion dollar tours and disposable ditties be damned, as BMI says, it does all start with the song, which means the writer. The music, the lyrics, that we hum and sing for our entire lives, the songs that help provide the soundtrack to our world all start inside someone's imagination as an idea then put to paper and music. The chances of that song hitting big, of people around the world knowing it, of it leading to more, to a prosperous career as a songwriter, that when that happens, it has to be acknowledge; not just by Grammy but by those who deal in the business of music daily.
Yes, Thea Austin is what the awards are all about. Protecting her rights and making sure she can make a living is what BMI is all about and that makes for an incredible duet.
To hear the daily Karel Cast get the Karel Cast , subscribe in iTunes to the Podcast or simply go to the most incredible website on all the planet, save this one, karel.media
ABOUT BMI
Broadcast Music, Inc.® (BMI®) represents the public performance rights in more than 8.5 million musical works created and owned by more than 650,000 songwriters, composers and music publishers. The Company negotiates music license agreements and distributes the fees it generates as royalties to its affiliated writers and publishers when their songs are performed in public. In 1939, BMI created a groundbreaking open-door policy becoming the only performing rights organization to welcome and represent the creators of blues, jazz, country and American roots music. Today, the musical compositions in BMI's repertoire, from chart toppers to perennial favorites, span all genres of music and are consistently among the most-performed hits of the year.
Correction: This post originally said BMI Pop Awards are based on sales. They are based on radio plays.
REAL LIFE. REAL NEWS. REAL VOICES.
Help us tell more of the stories that matter from voices that too often remain unheard.