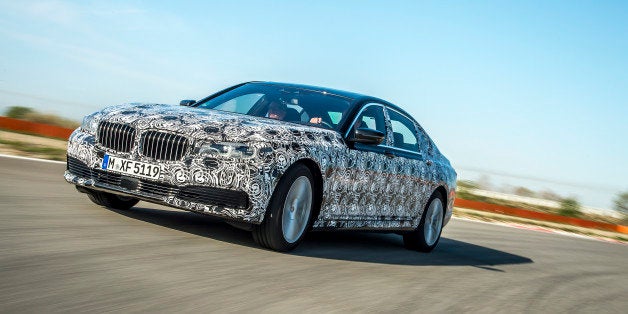 There may soon be a solution to the woes of parallel parkers everywhere.
The forthcoming BMW's 7 Series will maneuver into parking spots without a driver sitting in the car. The drivers navigates the control from outside the vehicle by using a new key fob, which combines a remote control and an LCD screen and can guide the car in and out of tight spots and garages.
According to Gizmodo, the car's official design hasn't been unveiled yet. No word yet on when the 7 Series will be released, either.
Check out the feature in action in this promotional video BMW released April 18:
Mercedes-Benz has a similar automated parking feature called "active parking assist," though the driver must remain in the car to operate the accelerator and brake pedal.
Though the 7 Series is not a true driverless car, it may pit BMW once more against Tesla, which announced recently that it would roll out self-driving software for its cars as early as this summer. The software update, which is for Model S sedans sold after last October, would free up drivers on long commutes on major highways. Tesla plans to equip forthcoming Model X sports utility vehicles with the autopilot feature, as well.
"We can basically go between San Francisco and Seattle without the driver doing anything," Tesla CEO Elon Musk said of the feature.
BMW released its own mass-produced electric car, the i3, early last year. At around $45,000, it is significantly cheaper than Tesla's Model S, which has a price tag of $70,000, and drives between 80 and 100 miles between charges. BMW previously tested a "remote valet parking assistant" app on the i3, allowing the vehicle to park itself and come back to pick up the driver. But the app would require detailed maps of every parking garage, casting doubt on its practicality.
Mercedes-Benz and Google have been testing their own driverless cars in recent months. The Mercedes-Benz F015 Luxury in Motion was teased at the Consumer Electronics Show last year, and popped up in San Francisco last month.
Google also patented external airbags and bumpers for its self-driving car just a few weeks ago. The design would protect pedestrians in the case of a collision, and signals an early effort to respond to ethical debates over automated control.
REAL LIFE. REAL NEWS. REAL VOICES.
Help us tell more of the stories that matter from voices that too often remain unheard.