BNP Paribas on Wednesday became the first big bank to pledge to stop financing natural gas fracking projects as part of a new policy cheered by environmentalists as having the greatest impact of any financial giant yet.
Under the new policy, France's largest bank will refuse to lend to companies who generate more than half their revenue from fracked oil, gas or liquefied natural gas export terminals. The rules also apply to tar sands, considered one of the dirtiest sources of oil.
Multinational banks, including BNP Paribas, began putting strict limits on funding for coal projects in 2015. At that point, coal was becoming an unprofitable investment, and banks faced mounting pressure from environmentalists to stop supporting the dirtiest fuels in the lead up the Paris climate agreement. Last month, JPMorgan Chase became the target of a new campaign urging it to end financing for companies that drill tar sands, a particularly dirty source of oil that forms the backbone of Canada's industry.
Until now, no financial giant has clamped down on natural gas, which produces far less carbon dioxide than oil or coal. The fuel now provides most of the United States' electricity and is credited with reducing emissions by weaning the country off coal. That has allowed advocates to tout the gas as a critical tool in the transition from heavily-polluting fuels to renewable energy.
Natural gas also has critical geopolitical significance, as President Donald Trump moves to increase pipelines and build up export infrastructure to start selling the fuel to overseas buyers, including energy-hungry China.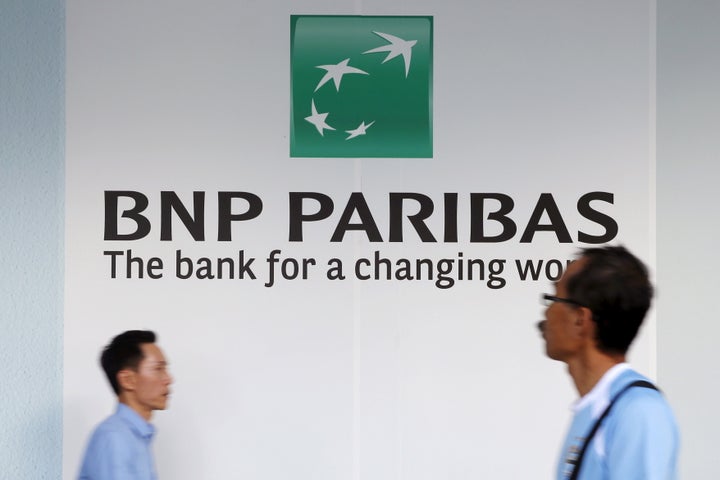 But fracking ― an extraction technique that involves shooting a highly-pressurized chemical and sand-laced water into shale rock to extract oil and gas ― has become a lightning rod for environmentalists. It produces toxic wastewater and leaks emissions of methane, a far more most potent greenhouse gas than carbon dioxide. And the process of liquefying natural gas from vapor requires so much energy it ends up being as dirty as coal.
"The scientific literature on the climate impact of gas, especially fracked gas, is emerging," Jason Disterhoft, a senior campaigner at Rainforest Action Network, told HuffPost by phone. Now that the prices of solar and wind energy were plummeting, there's less need to use natural gas as a stepping stone between dirtier fossil fuels and renewables, he added.
"The bridge-fuel argument has a lot of holes in it, and at this point, it's a false choice, especially with the rapidly declining cost of renewables."
BNP Paribas offered few details on its new policy, including when it would go into effect, though it said it should have an update by the end of the year. Europe's second largest bank also said that companies could continue to receive backing if they lower the amount of revenue earned from fracking or tar sands to less than half their business. The exact ratio has not yet been decided, a spokeswoman said.
"Even though we're going to have this policy in place doesn't mean at the same time we'll right away cut all the clients that don't fall under it," Mylene Benmoussa, a BNP Paribas spokeswoman, told HuffPost by phone on Wednesday. "It's going to be a gradual and shared transition."
The bank had not not yet calculated how many clients would be affected by the new policy, and could not immediately respond to questions about how much money is invested in the targeted sectors.
France banned fracking in 2011. The country generates 11 percent of its electricity from gas, according to data from RTE, the French transmission operator. And the government in Paris announced plans last month to prohibit oil and gas production by 2040. For a bank in the regulatory environment BNP Paribas is facing, an aggressive climate policy makes business sense.
The bridge-fuel argument has a lot of holes in it, and at this point, it's a false choice, especially with the rapidly declining cost of renewables.

Jason Disterhoft, senior campaigner at Rainforest Action Network
Yet the announcement garnered praise from four environmental groups that teamed up to pressure BNP Paribas to curtail support for fossil fuels that pose a particular threat of exacerbating climate change. The foursome includes the San Francisco-based Rainforest Action Network, the French chapter of Friends of Earth, and Save the Rio Grande Valley from Liquefied Natural Gas, a local Texas group protesting the construction of a liquefied natural gas terminal in the state's southern region.
As part of the new policy, BNP Paribas will continue to serve as a financial adviser to the Texas project, but will not provide funding.
Still, the move represents a public relations victory for a bank plagued by scandals in recent years. In 2015, the company was ordered to pay $8.9 billion to the U.S. for violating sanctions against Sudan, Cuba and Iran. In June, three human rights groups accused BNP Paribas of complicity in the 1994 Rwandan genocide that killed more than 800,000 people. In July, the Federal Reserve fined the firm $246 million for its "unsafe and unsound practices" in foreign currency trading division, failing to crack down on employees who violated rules on sharing information with competitors.
"We're a long-standing partner to the energy sector and we're determined to support the transition to a more sustainable world," BNP Paribas CEO Jean-Laurent Bonnafé said in a statement. "As an international bank, our role is to help drive the energy transition and contribute to the decarbonization of the economy."
Calling all HuffPost superfans!
Sign up for membership to become a founding member and help shape HuffPost's next chapter
BEFORE YOU GO
PHOTO GALLERY
10 States That Burn The Most Coal