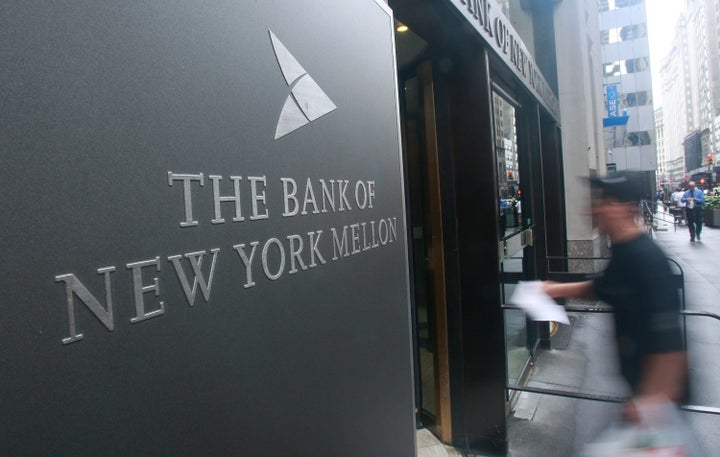 NEW YORK (Reuters) - Confidential whistleblower documents that helped spark a massive state and federal investigation into how Bank of New York Mellon Corp charged pension funds for currency exchange, provide a rare window into how a bank insider aided a lawsuit against the bank.
The information provided by whistleblower Grant Wilson, who worked at BNY Mellon, included a detailed analysis of how the bank allegedly provided "fictitious" foreign-currency costs for pension funds.
The analysis included a step-by-step guide to how currencies were traded and internal profits generated by the bank, according to documents seen by Reuters. A memo detailing fellow employees also was provided.
Aided by Wilson's information, multiple states, including Virginia, Florida and New York, have sued BNY Mellon, alleging that the bank improperly charged state and local pension funds for foreign exchange. The Department of Justice also has sued the bank.
The allegations center on claims that BNY Mellon provided unfavorable currency-exchange rates for state and local pension funds for a decade. In a lawsuit in October, the New York attorney general alleged BNY Mellon earned $2 billion over the decade from the trading.
A bank spokesman said the bank believes that many comments detailed in the documents were taken out of context or not said at all.
"A handful of purported statements cherry-picked from millions of documents gathered over a decade do not reflect the way we do business or the value we provide our client," the spokesman said.
The documents illuminate why insiders with highly confidential information can be a potent force in whistleblower lawsuits. Much of the information a whistleblower provides remains confidential.
Wilson, for example, worked at the bank even as he secretly provided to his legal team -- lawyers in Boston and New York -- information about how BNY Mellon allegedly conducted foreign-exchange trading.
Wilson's information was provided to the legal team that filed whistleblower lawsuits against BNY Mellon in 2009 and then aided state attorneys general in subsequent probes. The legal team includes Boston lawyer Michael Lesser, and Philip Michael, a lawyer in New York, as well as Harry Markopolos, a fraud investigator best known for warning that Bernard Madoff was operating a fraudulent scheme.
Lesser, an attorney at Thornton & Naumes, said Wilson was not available for a comment.
The information then was provided by Wilson's lawyers to the Florida attorney general in 2009 and 2010. The attorney general at the time was weighing whether to intervene in an October 2009 whistleblower lawsuit against BNY Mellon. That lawsuit was based on Wilson's information.
In August this year, Florida Attorney General Pamela Jo Bondi filed her lawsuit in Leon County.
A bank spokesman said the Florida lawsuit is "without merit."
The Wall Street Journal earlier this year identified Wilson as the whistleblower behind the state and federal investigations and reported the existence of the documents.
Wilson, according to the documents, worked as a foreign-exchange trader for 19 years. He joined a predecessor bank to BNY Mellon in 1997 and left this spring. He worked at BNY Mellon's Pittsburgh office.
The documents detail Wilson's experience at the bank, noting that the trader "possesses deep and sophisticated knowledge and personal experience in these businesses, particularly with regard to foreign exchange." The documents note that he "never received a reprimand" during his career.
Wilson's first-hand knowledge was crucial to the state lawsuits. Information provided in 2009 underpinned subsequent state claims. Wilson "can describe, step-by-step, how the fraud is committed against the affected funds and how the various departments of the Bank work to make the process as profitable as possible," one document alleges.
Wilson and his lawyers, for example, provide 11 chronological steps to explain how pension clients allegedly receive a "falsified trade price," documents show. Those clients used a so-called "standing-instruction" program in which they effectively give control of foreign exchange to the bank.
In one document, Wilson's lawyers provide a question-and-answer tutorial so the Florida attorney general's office knows the right questions to ask BNY Mellon employees.
The documents also show how Wilson aided the legal effort even as he continued to work at BNY Mellon. One memo was written by Wilson's lawyers in August 2010, some eight months before Wilson left the bank. In the memo, Wilson's lawyers tell the Florida attorney general that Wilson knows that efforts to obtain documents from the bank are being stymied with "claims of difficulty in production or other delays."
The memo, using Wilson's knowledge of the bank, states that the information actually could be easily obtained because it is "centrally stored."
"It is stored at a state-of-the-art facility that should hasten, rather than hinder, any document response from the bank."
A month later, in September 2010, Wilson's lawyers submitted another memo to Florida's attorney general, noting: "We would also like to remind you that (Wilson) continues in his employment at the bank. Specific information, documents and conversations mentioned here could be connected" to Wilson.
That memo alleges that BNY Mellon "is now actively and hurriedly formulating a strategy" aimed at preserving profits from the foreign-exchange business at the center of the state inquiries. The memo explains that BNY Mellon publicly wants to provide a supposedly more "transparent" foreign-exchange system.
Actually, the "Project Gateway" strategy provides "no true change," the memo claims.
The memo also claims that one BNY Mellon client had received better pricing on currency transactions even as the bank continued "to steal" from other clients.
The documents also show some inside BNY Mellon allegedly worried about the impact of the investigations and whether profits would soon disappear. One employee, having learned that probes were looking at how BNY Mellon traded currencies, said: "It's over, it's all over," according to a March 2010 document.
Another document describes two months later how a senior banker addressed FX traders and told them the bank had received 16 subpoenas. This employee told the traders, "We have not done anything wrong."
In a seven-page memo, Wilson and his legal team provided detailed biographies of fellow traders and employees at BNY Mellon to help determine whether they might be helpful in the whistleblower legal effort. One employee was described as "worried about job security ... Not financially secure. Scared and probably loyal to the Bank. But also would not be inclined to perjure herself ... She has a lot of information."
Another senior executive "likes to rant and rave ... Mr. Wilson assumes he will want to defend the bank." A sales executive "seems willing to push the envelope when it comes to producing profits."
(Reporting by Carrick Mollenkamp; Editing by Michael Williams and Maureen Bavdek)
Related
Popular in the Community