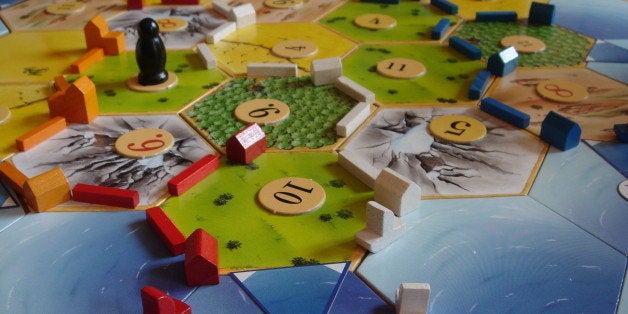 PHILADELPHIA, April 12 (Reuters) - When Justin Becker moved into a new home in south Philadelphia, he set the TV and video games in the unfinished basement, leaving his three children free to go down and watch when they wanted. The board games stayed upstairs in the living room.
It was all part of a subtle trick that he hoped would help his family connect.
"Television and video games are more like solo activities," Becker said. "We lost out on quality time and we saw this as a chance to start over in the new house."
Becker, a 30-year-old stay-at-home dad with children aged 7, 4 and 2, is part of what appears to be a growing trend of people turning to so-called tabletop games as a social alternative to screen time. The category includes board games like Candyland, a favorite in the Becker household, and card games like Cards Against Humanity.
Hasbro Inc, maker of old standbys like Monopoly and Risk, says that revenue for its line of games increased 10 percent between 2012 and 2013, and would have grown 7 percent in 2014 if not for unfavorable foreign currency conversions.
Anecdotal reports also point toward an upswing. Insiders say publishers devoted to the games are flourishing, thanks to access to crowd-sourced financing and the proven popularity of games like Settlers of Catan.
Last year, attendance the Origins Game Fair run by the Game Manufacturers Association grew by 13 percent to 39,000, said John Ward, the trade association's executive director.
Ward says simple economics are also a factor. "You can buy a couple of cool board games for $20 or $40," he says. "You can't take your family to the movies at that price.
Adam Friedman, the owner of two stores devoted to tabletop games in Philadelphia's University City neighborhood, both called Redcap's Corner, said the social aspect of gaming helps keep him ahead of Amazon.
Friedman says inexpensive card-based games Coup and Star Realms have become popular because they are easy to set up and games do not take too long to play. Settlers of Catan, however, remains incredibly popular.
"Sales are as strong as they ever were," Friedman said.
The stores feature rows of seating for people to play games, all for free. That drives retail sales at prices that online sellers can beat.
"Amazon doesn't give people space to play the games," Friedman said. "We're more of an event space than we are a retail center."
The number of new stores like Redcap's is rising at the same pace in recent years and existing retailers are staying open longer.
At the Philadelphia Free School, a private school that gives children wide latitude to develop their own education, games are built into the curriculum.
"To us, it's not just recreation," says Michelle Loucas, a founder of the school and parent of one of its students. "Human beings benefit from playing in really substantial ways."
But the games are not just for children.
Simon Joseph runs three board game nights a month at Frankford Hall, a Philadelphia bar.
"I like the social aspect," Joseph says. "There's something special about having those cardboard pieces in your hand, playing with somebody you are having a conversation with." (Editing by Frank McGurty and Marguerita Choy)
Calling all HuffPost superfans!
Sign up for membership to become a founding member and help shape HuffPost's next chapter