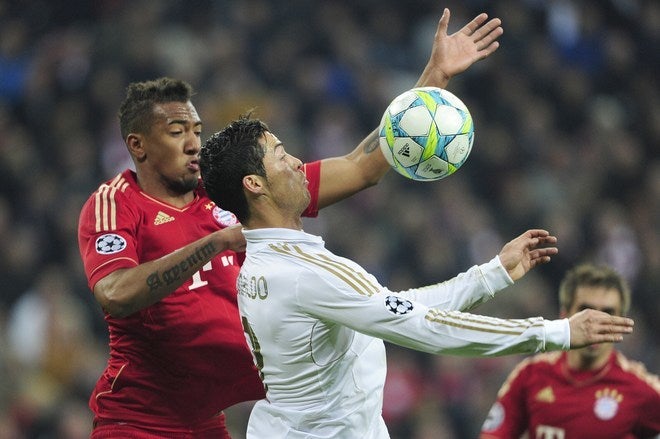 The Bayern Munich man has impressed in almost every fixture; Germany only conceding for the first time in their quarter-final victory over Italy after Leonardo Bonnuci converted the spot kick resulting from that Boateng handball (1-1 AET; Germany won 6-5 on penalties). Still, the German defence has been resolute, Boateng & Hummels looking like they're on their way to becoming an iconic international pairing that will undoubtedly be looked back on and admired for many years to come.
But with all this in mind, including his last few stellar seasons with Bayern Munich which brought Champions League success in 2012-13, I can't help but ask myself: "why on earth did Manchester City let this man go?". Boateng, signed by Man City for £10.4 million from Hamburg SV in the summer of 2010, had made a stunning impact at the start of his professional career. Having made more than 70 appearances in the Bundesliga before he had reached the age of 22, Boateng had earned himself a place in Joachim Low's 2010 World Cup side. Manchester City - then managed by Roberto Mancini shortly after the Sheikh takeover - had absolutely no qualms in signing the then still relatively unknown Jerome Boateng. A healthy investment that sadly never had the chance to flourish.
Whilst at Man City, Boateng only managed to rack up 14 Premier League appearances, most of which were played at full-back and quite a few arriving as the late substitute. This was, however, the position that he had played for Germany during what was the most recent 2010 World Cup in South Africa. Germany would go on to achieve a successful campaign, finishing 3rd and also managing to land a crushing, yet very memorable, 4-1 victory over old bitter rivals England. A game which went on to claim the headlines for all the wrong reasons thereafter. God bless you, Frank.
Manchester City in more recent memory have gone through more centre-back pairings then you can count on both hands. The only centre-back that still remains - from the period of time in question - is the injury-prone Belgium captain, Vincent Kompany. It's nearly always seemed to be Manchester City's problem since the Arab cash injection (except the 2011-12 winning season - Lescott & Kompany were a resilient force conceding only 29), even in the season of 2013-14 where they won the title they appeared never able to keep a solid centre back pairing that could stop the goals from flooding in. If it wasn't for all the goals that they always somehow managed to conjure up from the likes of Yaya Toure, David Silva, Carlos Tevez, Edin Dzeko and Sergio Aguero, City might well have found themselves relegated during that period of time... okay, maybe an exaggeration but still.
Since the takeover of the Abu Dhabi United Group in August 2008 - which was lead by Sheikh Mansour - City have spent unthinkable sums of money on world-class talented players. Thier first earth-shattering purchase, although in the long run it never worked out to be one, was that of Real Madrid and Brazilian starman, Robinho. Robinho came, produced a myriad of flicks and tricks, nutmegged a couple of Stoke City defenders, scored a couple of spectacular goals, fed the fans dreams of potential future glories, then disappeared into the wilderness and was flogged to AC Milan at a severely cut fee. This was to be a reoccurring trend with many of their future "big name" signings.
Steering back to the topic of central defenders, and City (since the Sheikh take-over) have failed to sign a technical/intelligent centre-half to accompany their brilliant and heroic captain Vincent Kompany, who at £6.7m has proved to be one of the biggest bargains in the modern footballing era. Tal Ben-Haim (£5m), Glauber (Undisclosed), Joleon Lescott (£22m), Kolo Toure (£16m), Jerome Boateng (£11m), Stefan Savic (£6m), Matija Nastasic (£12m), Martín Demichelis (£3.5m), Eliaquim Mangala (£40m), and most recently Nicolás Otamendi (signed last summer for a fee of £32m), all of whom have failed to replicate a dominate central pairing partnership with Kompany that could be compared to the legendary defence of their arch rivals - Manchester United - who had won the title three years on the bounce (07, 08, 09 - also including Champions League success in 2008) with Ferdinand & Vidic firmly at the heart of their back four.
However, it must be said (before any of the blue-half of Manchester start bulging with anger at the veins) City have managed to win more Premier League titles than Manchester United in the last 5 seasons. Triumphs in the 2011-12 season and 2013-14 season are a manifestation that they do have pedigree when it comes to competing with the best, and its seems evident with the talent of Aguero, De-Bryune, Sterling and new Spanish import Nolito all offering promise for the years ahead, it would seem hard to not imagine City challenging for the title in the next couple of seasons. City will always score goals.
The last campaign almost ended in tears as City slumped to an abysmal run of 1 win in their last 5 outings, and they almost managed to miss out on the 4th place position (guaranteeing Champions League qualification) having salvaged a 1-1 draw with Swansea City on the last day of the season which saved their blushes. With Guardiola now at the helm, you would be foolish not to think that the defence would be one of his top priorities considering City now also have an array of ageing full backs in Sagna, Clichy, Kolarov and Zabaleta, all of whom, overall, have given excellent service in the past 5 seasons.
With the attacking prowess more a less assured, it brings me to the question: Do either Mangala or Otamendi have the nous and consistency to partner Kompany to deliver the dominance that the Ferdinand and Vidic glory days once so easily fortified for Manchester United? It remains to be seen, but it is without question had they kept ahold of Boateng and managed to keep Kompany fit, the last two Premier League campaigns would have brought much better results. Maybe one day the Citizens might be able to win the Champions League, and maybe one day they may also be able to solidify a world class and in-form side that can deliver three league titles on the trot. However, only time will tell.
Manchester City must now build from the back, which also means considering the credibility of their keeper Joe Hart. There is still plenty of business for them to do in this transfer window, I am sure there are still many names to depart and many that are yet to arrive. Maybe Boateng? Who knows.
Popular in the Community