Step back world ― Boaty McBoatface is about to make a splash.
The famous yellow submarine is set to tackle its first big Antarctic mission, one year after its hysterical name was overwhelmingly selected in a public online poll.
The unmanned vessel is being sent to the Southern Ocean where it will probe water flow and turbulence in the Orkney Passage, which is about 2.17 miles below the surface, the Telegraph reported.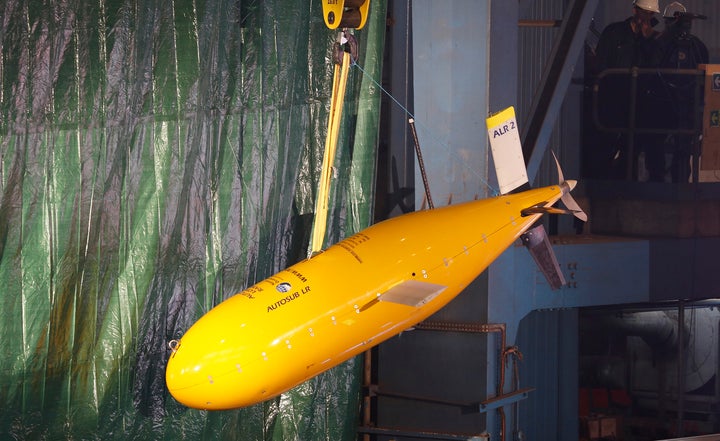 "We will measure how fast the streams flow, how turbulent they are, and how they respond to changes in winds over the Southern Ocean," lead scientist Professor Alberto Naveira Garabato, from the University of Southampton, told the British news site.
"Our goal is to learn enough about these convoluted processes to represent them in the models that scientists use to predict how our climate will evolve over the 21st century and beyond," he said.
For those not familiar with Boaty's unique name, more than 120,000 people originally voted for it to grace a multi-million dollar polar research ship though the name was ultimately given to the small, unmanned vessel igniting global uproar.
Officials with the U.K.'s Natural Environment Research Council decided that a more conventional name was more fitting for the research ship: It was named Sir David Attenborough, after the English broadcaster and naturalist.
"Whatever name was chosen would not only face the scrutiny of the world's press now, but would need to stand for decades to come as the ship took researchers to the extremes of the Earth," the NERC said in an article on Monday that once again addressed the name's selection.
"Cute though it sounds," they said of Boaty's name, "this unmanned submarine is part of a fleet of some pretty intrepid explorers. This month they'll begin their first mission, traversing a deep current that originates in Antarctica and flows through the Southern Ocean."
Voters appear to still be hurt by the overruling. NERC's Facebook page boasts just one star, with dozens of people expressing disapproval of how the vote was handled.
Support HuffPost
The Stakes Have Never Been Higher
Popular in the Community