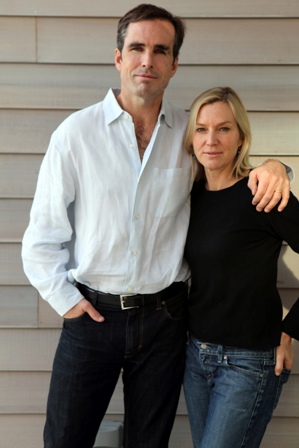 For the thousands of brave soldiers who have returned home from the politically divisive conflicts in Iraq and Afghanistan, the scars of war are most visible on those veterans who have sustained devastating physical injuries. What is frequently unrecognizable but equally deserving of our nation's attention are the post-traumatic stress (PTS), depression and traumatic brain injuries that many military men and women suffer from as a result of their experiences on the battlefield. These are the hidden injuries of war that will forever change the course of a wounded service member's life if they do not receive the treatment and support that they deserve.
Medical studies on the health impact of the wars have revealed some alarming statistics. 42 percent of 31,885 National Guard and Reserve veterans who received screening by U.S. Department of Veterans Affairs clinicians six months after their return home from the conflicts in Iraq and Afghanistan were found to need mental health treatment. Additionally, the greatest growth in caseload for the VA health system since 2005 has been among patients diagnosed with post-traumatic stress disorder (PTSD), an impairment that places this population at high risk for suicide. Most significantly, these hidden injuries of war deeply impact veterans' transition from military service back to civilian life, with a large percentage of the affected population reporting difficulty with social functioning, employment, relationships, anger management, sleep, driving and substance abuse.
This health and social crisis points to a pressing need. National awareness about the impact of the hidden injuries of war must be elevated and programs that support and care for veterans who suffer from these injuries must be bolstered. Public education and dedication of resources are essential to ensure that our servicemen and women are able to lead stable and productive lives after serving our country.
Nonprofit organizations such as the Bob Woodruff Foundation (BWF) are profoundly shaping our nation's understanding of the hidden injuries of war while also providing vital resources to groups that serve the needs of our veterans as they heal and reintegrate into their communities. BWF was co-founded by award winning ABC News correspondent Bob Woodruff and his wife Lee, a New York Times bestselling author and 'CBS This Morning' Contributor, after Bob sustained life-threatening injuries while covering the Iraq War. Since Bob's miraculous recovery, the Woodruffs have used their own experience as inspiration to raise millions of dollars through BWF that support injured service members, veterans and their families.
Bob, Lee and BWF were among a group of remarkable honorees recently recognized for their important philanthropic work at the Open Hearts Foundation Gala held on April 13, 2013 at the Malibu home of legendary actress and philanthropist Jane Seymour. Established by Seymour, the Open Hearts Foundation is a nonprofit charity that provides funds to charitable organizations in the areas of health, education, arts and sports, and each year honors individuals whose inspiring stories exemplify the foundation's mission of selfless giving even in the face of adversity.
Seymour expressed her excitement about honoring Bob and Lee Woodruff by stating, "Because of what they went through and he went through, they're making a point of showing all of us that veterans need help and they are encouraging people to realize that we can't just leave them alone when they come back from the war. They need long-term help, they need long-term care."

Deeply appreciative and humbled to be honored by the Open Hearts Foundation, Bob and Lee shared their perspectives on what they see as the most challenging issues facing recent veterans, how their foundation is responding to the needs of these service members and what more must be done to educate the public about the hidden injuries of war and their impact on our society.
MS: What are currently the most pressing issues facing veterans of the Iraq and Afghanistan wars and what services are most needed to help them?
BW: The issues will continue to evolve as the troops are all home but I think at this present moment, the most pressing issues are dealing with the hidden injuries that make it difficult to hold a job or to sustain relationships. The mental health issues that we now know can be treated are probably the most pressing. There is still a stigma attached to it and the fix isn't as simple as a prosthetic or extended rehab. These are challenges we didn't tackle in past wars and we must address them now or they will be lifelong issues that will also have huge monetary repercussions for society at large.
LW: We can't do enough in the areas of jobs, job training and offering jobs. It's a challenge when the service member is injured because sometimes when those injuries aren't obvious, people are scared of what PTS means and whether this person has mental issues. There's a lot of confusion around the issues. Certainly a lot of support is needed for the caregivers of those who have long-term, lifelong injuries. A lot right now is needed in the employment area and certainly helping those with PTS; helping to come up with ways to deal with PTS so they can return to normal in their lives.
MS: How is the Bob Woodruff Foundation responding to the challenges faced by service members who have been injured at war?
LW: We're a granting organization but we really invest in groups out there doing the work on the ground with our veterans. We raise money and we use our connections, relationships, team of advisors in the military and civilians to identify groups. When we find groups, we go through a pretty serious vetting process to determine what they're doing and whether it's replicable. We have a whole system of checks and balances. Then we invest in those organizations and we have strings attached. We help them grow and form a strategic plan. The great thing about being that kind of an organization is that as the needs of the war have changed, we can take our lens of giving dollars and move that lens.

We started out six years ago in largely an educational phase with the public because no one had heard of hidden injuries in wars. We certainly weren't investing in programs back then but there was a big emphasis on education. Now six years later, most of the public knows what issues our service members are facing when they come home wounded. So our big focus now is on suicide prevention which is a giant issue, post-traumatic stress and then re-employment; retraining these guys so they can have dignity and jobs.
MS: Why didn't PTS and the hidden injuries of war receive the same level of attention after Vietnam and the First Gulf War as they are receiving now?
LW: I think there are two reasons. One, you don't see it. It's easy to see the triple amputee. He is coming at you with two prosthetics and then a fake arm. Number two, these guys didn't survive in Vietnam. In Gulf I, we had a very low casualty rate because it was primarily an air battle and air work, so we didn't have the giant nature of injuries and injured returning back.
MS: How do you impart hope to caregivers of injured soldiers when there may not be much hope for their recovery?
LW: The advice that I always give to other people is that your definition of hope changes and your definition of a good day changes. Your definition of recovery changes, that's for sure. I tell caregivers who are going through it to just shrink their world down and look for the little things. You take the day in bite-size pieces and you get through it. Your definition of happiness changes so whereas before if your loved one was running marathons and completely independent and now he needs help and can't remember where his keys are, you have a day where he does something and you take it. You go, "This is a great day!"

MS: Why do the issues that injured veterans face when they return home deserve attention despite one's political stance on the war?
BW: One of the things we say over and over at the foundation is that this is not a political issue. It doesn't matter if you are for or against the war. What matters is that when a citizen stands up and volunteers to go and then is injured in service to their country, we do everything we can as a nation to help them heal and that extends to their families as well.
MS: How do you plan to leverage your media platforms to continue raising awareness about the issues that are important to the Bob Woodruff Foundation?
LW: We're so lucky that we have this incredible team, a tiny team of five people and we want to stay lean and mean. But, we're so not in this alone and we have the support and backing of everybody from the top down in the military and I think the country really is very much behind not walking away from this issue. We're committed to staying the course for as long as it takes and unfortunately, for many of these guys, it's going to be their lifetime. As long as we continue to have a voice and are able to share our story and do some good with it, we'll continue to talk about our vets and go out there and shed some light on it and raise some money for them.
Bob Woodruff Discusses the Hidden Injuries of War on ABC News' 'This Week' (March 17, 2013)
Related
Popular in the Community