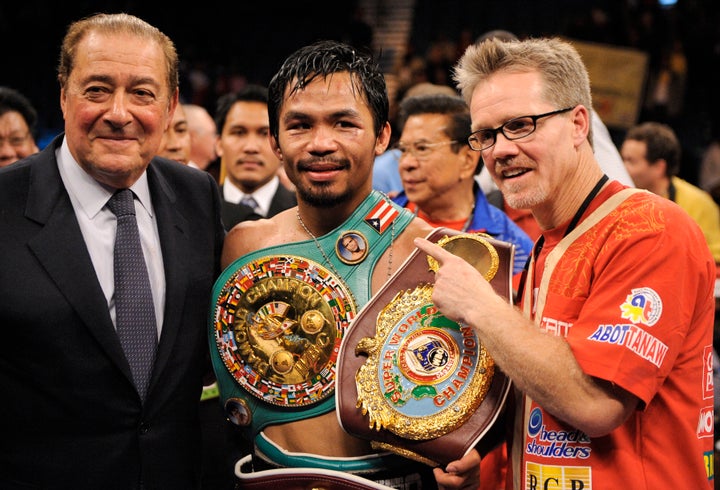 Floyd Mayweather Jr. hadn't even left the ring after defeating Miguel Cotto in a fierce 12-round bout on Saturday night in Las Vegas when he began talking about matchup that fight fans the world over have been craving: Mayweather vs. Pacquiao.
"I was looking to fight Manny Pacqiao," Mayweather told Larry Merchant of HBO shortly after beating Cotto in a unanimous decision. "That fight didn't happen because, and I don't think the fight would have happened because of Bob Arum. Bob Arum is in the way. He's stopping the Pacquiao fight. Let's give the fans what they want to see. They want to see Mayweather and Pacquiao."
Although an actual boxing match has yet to materialize between the two fighters, both fighters' camps have traded verbal jabs for quite a long time. Days after Mayweather threw this latest haymaker at Arum, the powerful boxing promoter responded during an appearance on ESPN 1100 in Las Vegas with Gridlock.
Click HERE to listen to the segment.

Aside from showing that Godwin's Law may apply to boxing negotiations as well as Internet arguments, Arum paid Mayweather a backhanded compliment by calling him a "genius when it comes to boxing."
"He knows styles and the fact is he knows that it would be extremely difficult for him to beat Pacquiao because Pacquiao is a fast, left-hander who hits with tremendous power in his left hand. I promoted Floyd for over 10 years and anytime you raised the prospect with him of fighting a southpaw he went crazy," he said.
Popular in the Community