Celebrated The Price is Right icon and passionate animal advocate Bob Barker told Toronto on Friday that it's time for the city's zoo elephants to pack up their trunks and journey south.
The Toronto Zoo has three gentle giants in captivity -- Thoka, Thika and Iringa -- who are all at risk for myriad devastating health problems if they continue to live in their cold, cramped quarters. But the zoo doesn't want to let them go.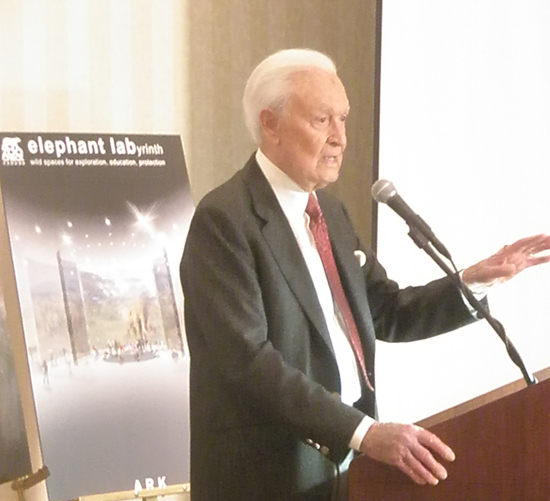 Bob Barker in Toronto to save the Toronto Zoo elephants. Photo: Zoocheck Canada.
Barker led a press conference with Zoocheck Canada and world-renowned animal experts on Friday to persuade city councilors and Toronto Zoo board members to send the elephants to the PAWS animal sanctuary in San Andreas, California, where there are vast tracks of land on which they can roam free and where it is much warmer. The zoo fears that already worrisome attendance rates will plummet without the presence of the elephants, a supposed star attraction, but the evidence suggests otherwise.
The most advanced zoos around the world, including the London Zoo and Central Park Zoo, are shutting down their elephant exhibits and there are no reports that prove lower attendance rates for zoos without live elephants. Barker told the crowd, "it's the well-informed, progressive zoos that are closing their elephant exhibits... they realize that elephants can't be happy and healthy in the zoo."
The Toronto Zoo has been struggling financially for years, but Zoocheck Canada has an exciting proposal that will catapult them onto the world stage as innovative leaders in animal education, exploration and protection if they accept.
The Elephant LAByrinth is a multidimensional elephant exhibit conceived of by Zoocheck Canada for the Toronto Zoo, which would engage visitors of all ages in a variety of interactive programs. From simulating an African safari to live streaming footage of elephant herds in their native habits, the Elephant LAByrinth would revolutionize the traditional zoo experience and be a critical step forward in ending animal exploitation and enslavement in zoos. Estimated to cost approximately $10-$15 million dollars, the Elephant LAByrinth would actually be saving the Toronto Zoo up to $30 million dollars, as the cost of upgrading the elephant enclosure is estimated to be $40 million.
Read more about the revolutionary Elephant LAByrinth project here.
In the wild elephants can easily travel with their families for 20 miles a day but in captivity they're confined to shockingly small roaming spaces and are often forced to stand in 400 square foot cement cells, every day, for up to 8 months every year. Robbed of their inherent need for space, warmth, social relationships, varied terrain and autonomy, captive elephants suffer from many physical and psychological problems that leave them in chronic pain and cause premature death. In the last 5 years, there have been 4 elephant deaths at the Toronto Zoo.
A short, effective video explaining the hazards of keeping elephants in captivity -- especially in cold climates -- that's effective for kids and adults of all ages.
Barker may be best known for hosting The Price is Right but his message for Toronto is that the time is now to send the zoo's elephants to a sanctuary and install the Elephant LAByrinth, at a price that's far from wrong. One city councilor and Toronto Zoo board member has the right idea: "it's time to retire them and send them down south to a sanctuary so they can enjoy their sunset years," said Councillor Glenn de Baeremaeker. After hearing Barker speak, Councillor Raymond Cho reevaluated his stance on keeping the elephants in the zoo, "I'm moving more towards the centre," he said Friday.
The deadline for deciding whether to move the elephants to a peaceful sanctuary or keep them in cruel captivity is quickly approaching -- on May 12th the city will ostensibly choose between life and death, because a life in captivity is no life at all. The only intelligent choice the city can make is to pack up their trunks and send them south, so that a new generation of Torontonians can come to understand that there's nothing right about keeping animals in captivity.
Learn more about Zoocheck Canada, their campaign to save the Toronto Zoo elephants and what you can do to help by visiting their website www.zoocheck.com

Calling all HuffPost superfans!
Sign up for membership to become a founding member and help shape HuffPost's next chapter