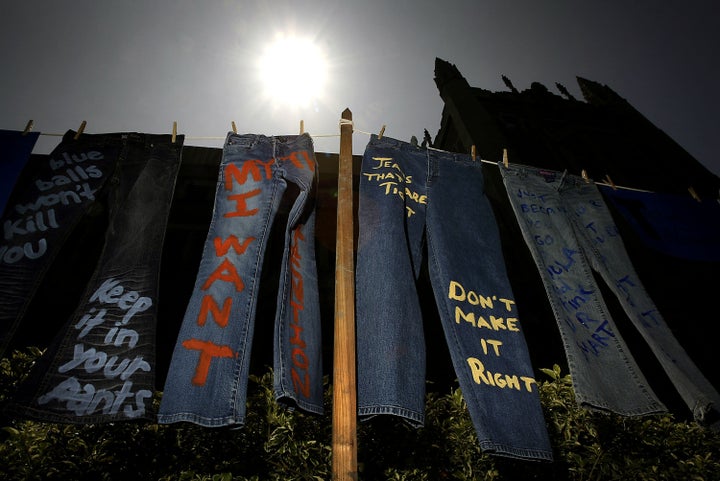 A Colorado bill, which would allow women to carry concealed weapons on college campuses in order to prevent sexual assaults from occurring, has created quite a stir. On The Five, FOX's Bob Beckel questioned the prevalence of rapes on college campuses. "When was the last time you heard about rape on a college campus?" he said.
As a female college student, I can say with certainty: every single day.
According to New York University, "One in five college women are raped during their college years." In addition, "Most survivors of sexual assaults are full-time students. Approximately one-third of them are first-year students between 17-19 years old."
On February 10, at the University of North Carolina, a formal complaint was filed with U.S. Department of Education's Office of Civil Rights by 64 victims of sexual assault. The "complaint alleges UNC violated assault survivors' rights under the Campus Sexual Assault Victims' Bill of Rights, the Clery Act and the Family Educational Rights and Privacy Act (FERPA), and equal opportunity mandates under Title IX of the Education Amendments of 1972, Titles VI and VII of the Civil Rights Act of 1964 and Title II of the Americans with Disabilities Act," as previously reported by The Huffington Post.
On January 20, three men reportedly raped an intoxicated Curry College student.
Not to mention the Angie Epifano case from 2011. Epifano was a former student of the class of 2014 from Amherst College who says that she received little to no help from campus resources after being sexually assaulted. Her alleged perpetrator went on to graduate while she dropped out of school.
These instances are just a handful that I have read about within the past few weeks, and I can assure you that there are plenty more.
Yes, Beckel has since addressed his comments, however, never got at what viewers really found offensive: that he seemed to be denying the existence of rapes on campuses.
Instead, Beckel said, "Simply put, rape is rape. Whether it's date rape or it's somebody coming in off the campus trying to rape somebody else. I very strongly feel that way. So, I just want to straighten the record out on that. I simply was trying to make--there was not a distinction to make here."
I am not here to attack a television host about a slip up he may have had, but Beckel's comments seemed a little more offensive than just a misunderstanding. "Rape is rape" he is correct about that, and it may be because of the fact that I am a University of Massachusetts student currently researching this topic, but college rapes do happen, and they happen more than they should.
There are entire groups dedicated to eliminating rape culture and college campus sexual assaults at many universities. UMass is just one example with the Coalition to End Rape Culture. The prevalence of rape on college campuses is not something to belittle and definitely not something to deny that exists.
Popular in the Community