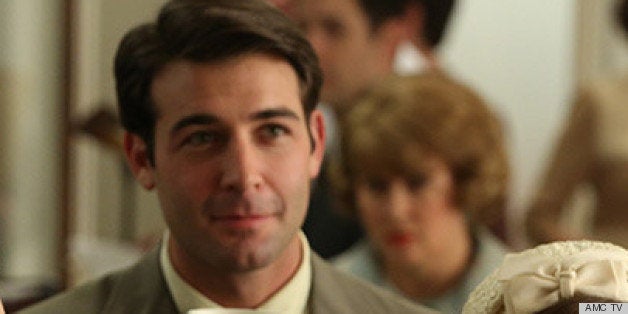 Season 6 of Mad Men still has a few more episodes to go, but I'm already getting excited for the seventh. Not only will it be the final season, but it will bring the critically acclaimed series into 1969. And what big thing happened in New York that year? Stonewall.
The idea of the alphabet soup that is SCDPCCG mixing it up with LGBTQ is exciting on a thematic level. In the most recent episode, "The Better Half," the show dealt with the idea of multiple identities, how who we are is different depending on whom we are in front of. This is clearly something the show has been obsessed with since its pilot, and it would be an elegant conclusion to have the series end steeped in gay identity politics.
As the 1960s unfurled in the world of Mad Men, the characters have had to deal with changes in society: the rise of women in the workplace and the integration of race (sorta) in a lily-white ad agency. At the same time, there are clearly external signals to both gender and racial identities.
Being queer, however, is internal: It is something that can be closeted, and the duality that many queer men and women faced in balancing hidden and out lives gives Mad Men plenty to work with. The intersectionalities at play between gender, race and sexual orientation mean only a richer conversation.
Now, I don't want to raise expectations, especially because Dawn hasn't exactly been given a lion's share of airtime this year, even as race became a central theme. Instead, race relations were filtered through the white characters.
Speaking of new characters, this is where Bob Benson comes in. Mad Men has a habit of bringing in minor characters who signal the broader theme for the following season. Megan gave us how Don would react to the women's movement. Dawn helped anchor the discussion around race this year. And with bloggers Tom and Lorenzo suggesting that Bob Benson might be gay, his sudden appearance in Season 6 could allude to next season's big theme.
After all, Bob didn't appear that interested at the whorehouse with Pete, and his interactions with Joan don't feel sexual. (Also, the amazing short shorts he wore when Roger dropped in were fabulous.) It would make sense that after all these years of men wanting Joan only for her body, Bob would be a refreshing change for her; the fact that Bob likely accompanies Joan for her power is another matter, but it's not like the exchange of power isn't central to Mad Men.
This theory is just that: a theory. However, it would be interesting if that's why so many male characters on Mad Men don't seem to trust Bob Benson. There's an underlying fear that he's an impostor, someone trying to sneak his way in. The show hasn't really dealt with gay issues since art director Sal's departure in Season 3, and because I don't expect Sal to return in a Burt Peterson/Duck Phillips kind of way, I'm betting on Bob to somehow put a face to the Stonewall riot, even if he's not in it directly.
Let's hear it for the boy.
Popular in the Community