I first met Bob Calhoun when we were on the same bill at one of the greatest literary dives in America, the Edinburgh Castle, deep in the seedy groin of San Francisco's Tenderloin.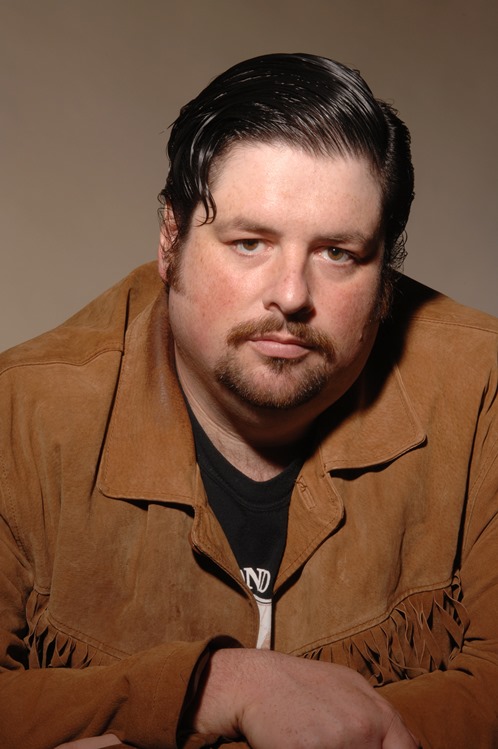 Bob is a genuine force of nature. He talks like he has a megaphone in his mouth, and I'm sure that somewhere in his family history a giant procreated with one of his ancestors. He's lived a wild life, full of extreme wrestling, beer, blood and cornmeal. Combine that with his mad skills as a bona fide wordsmith, and you got a man who's as fun to listen to as he is to read. He's got a new book out called Shattering Conventions: Commerce, Cosplay, and Conflict on the Expo Floor, and we thought we would pick his brain about the crazy world of fan boys and girls, expos, trade show and conventions.
DAVID HENRY STERRY: What made you decide to write a book about the crazy world of conventions?
BOB CALHOUN: Conventions. I can't get away from them. I end up going to toy shows or comic cons without even really trying to, and then there are the tradeshows that my job at UC Berkeley sends me to. A week ago I was at the Latino Comics Expo in San Francisco, and at the end of the month I'm going to the California Advancement Researchers Association Conference at the Long Beach Hilton. I've finished writing Shattering Conventions and I'm still living it! But at the time I started this book, I thought that since I'm going to cons all the time anyway, what if I went to even more cons? I still ended up going to Comic-Con and "Star Trek" cons, but I also went to a Republican Convention, a conspiracy con, a gun show, a hemp expo, a livestock show, a Bigfoot hunters' con, and a Twilight con in Portland. I went to every con I could get into. I even got chased out of Moscone Center in San Francisco for trying to get into a Congress of Plastic Surgeons without a press pass.
DHS: What were some of the most ridiculous/fascinating/crazy/sexy/insane things you saw?
BC: Crazy would have to be the Mad Fag for Christ -- his words, not mine. He just circled around the parking lot of the Santa Clara Hyatt to protest the California Republican Convention in a white van that had the words "Mad Fag For Christ" painted on one of the sides. I was about to flag him down for an interview, and then this town car pulled up, and Mitt Romney got out of it. It was still a year or so before he was the frontrunner in the GOP race so there was only one woman in a power suit there to meet him. Mitt didn't have Secret Service protection yet either. That guy in the van could've just plowed straight into him. Sexiest would be a bar full of drunk green women at the Vegas Star Trek con. Why didn't this happen at sci-fi cons when I was a teenager?
DHS: Why do you think people are so obsessed with the world that is embodied by fan conventions?
BC: Well if you can't be obsessed about obsession what can you be obsessed about? But really, the main reason people go to cons is to be around people just as obsessed as they are, and where they won't be judged for this obsession. This is true not only for fan cons, but for about any convention really. You go to World of Concrete in Vegas and people are so happy to be around other people who are just as into cement as they are. I talked to a woman at a Twilight con in Portland who told me her favorite con was the raw foods show in Arizona, mostly because everyone there was passionate about raw foods. It was the only place in the world where she didn't have to negotiate a menu.
DHS: You're a big guy, but were you ever physically or emotionally scarred by anything you saw or encountered?
BC: I was at a Conspiracy Con at the Santa Clara Marriott. This guy named Texe Marrs was speaking. His whole shtick was that what he called "Satanic Jews" had taken over the world. He started listing the names of Jewish government officials. He'd say "Rahm Emmanuel," and everyone in this conference room would chant "Jew!" "Ben Bernanke!" "Jew!" They had a mini Nuremberg Rally going on in there. It was pretty revolting. I also had to spend a day with the late Andrew Breitbart at a Republican convention and he called me out during a Tea Party Express rally. That was pretty jarring, but the little Nazi rally at Con Con (they really called it this) was the worst.
DHS: Did you see a connection between the extreme wrestling world of your first book, Beer, Blood and Cornmeal: Seven Years of Incredibly Wrestling, and this extreme world of conventions?
BC: The big connection is cosplay. We all like playing dress up. When I was talking to the guys in the 501st Legion, a Star Wars cosplay group, or some Klingons from Daly City, Calif., I had to remember all the time I used to spend digging through fabric remnant bins to put together outfits for the wrestling show. And the reason for that was because of the power you get from masks, uniforms and crazy outfits. Those people dressing like Klingons and Stormtroopers become Klingons and Stormtroopers, at least for a day or two during these cons. A little bit of leopard print made me into Count Dante, the Deadliest Man Alive. When I wore a burlap tunic, I was an ancient Christian fighting a guy in a in lion suit. If you think about it, the Tea Party was able to take over the Congress by dressing like George Washington or Ben Franklin. Cosplay is some powerful, powerful shit.
DHS: How did being in the world of conventions change you?
BC: It made me realize that I'm a lapsed fanboy in the same way that I'm a lapsed Catholic. I can't get all that excited about the next superhero movie trailer like everyone else at Comic-Con. I don't have the adulation for this stuff that I used to. There's a sense of loss with that, but every so often I can sync up with that magic for a moment or two.
DHS: What did you learn from spending all that time in the world of geeks, fan boys and fan girls?
BC: I learned that the discovery of dark matter may make warp drive possible from an early morning lecture by a NASA scientist at Star Trek Las Vegas. I learned that the lighting systems you'd install in a mega-church don't always work for small congregations at the Christian lighting seminar at the National Association of Music Merchants Show in Anaheim. But the main takeaway was the lengths that people will go to feel a sense of belonging -- that often they don't find this in their own homes and marriages, and that they go searching for it in hotel conference rooms of all places.
TBD: What are some of your favorite conventions?
DHS: My favorite convention by far was the unfortunately named NAMM Show, for the National Association of Music Merchants. They throw this huge tradeshow every January in Anaheim. All the music instrument manufacturers are there with these mega booths. Fender Guitars, Gibson, Marshall amps, and even the makers of bassoons and accordions and sheet music publishers. But what's amazing about the NAMM Show is that Carlos Santana or Gene Simmons are pressed into demonstrating these companies' new guitars and amps, so it takes these big rock stars and makes them into product pitchmen, not much different from a Maytag sales rep doing a washing machine demo at a home appliance show. They also have jam sessions that go on past midnight at the two big hotels next to the convention center there, and all the top people from rock, jazz, metal -- you name it -- end up sitting in on those things, but they always take time in between songs to thank their sponsors.
My other favorite con is the Big Wow Comicfest in San Jose. It's just an old school comic book convention. It still has that swap-meet feel that the San Diego Comic-Con lost years ago. You can still buy a big stack of 1970s Devil Dinosaur comics there for a few bucks and walk away happy. Comic books still matter at Big Wow, and you can talk to your favorite artists there. Comic-Con is an ordeal, but Big Wow is like old home week.
DHS: What advice do you have for convention goers to maximize their convention experience?
BC: A lot of convention goers spend all of their time rushing from panel to panel -- especially at something like the San Diego Comic-Con. They adhere to their schedules and spend a lot of time waiting in line for things. I say free up the schedule a little bit and allow for some random, crazy shit to happen to you. I snuck out of one the Star Trek cons to the hotel bar, and ended up getting chewed out by Gary Lockwood from 2001. That's a magical convention moment right there, but this wouldn't have happened if I'd kept my butt glued to a chair in the conference room.
DHS: After spending so much time in the world of conventions, are you optimistic or pessimistic about the future of mankind?
BC: I'm actually going to go out on a limb and say optimistic. When Fred Phelps and the Westboro Baptists showed up with their "God Hates Fags" signs to protest Comic-Con, it wasn't long before all the fanboys and geek girls inside the convention center were out there counter-protesting with their own signs that said things like "Odin is God; Read Mighty Thor #5" and "God Hates Jedi." I was in the middle of that thing only a few hours after I'd interviewed George Takei about the struggle for marriage equality. A couple of weeks later and I was at that science lecture at a Star Trek con. No matter how bad things get in this country, Trekkies and sci-fi fans still give me hope for the future.
I do want to add a cautionary note to this however, and that's to resist the temptation of nerdy triumphalism. I've been to sci-fi cons where Adam Malin of Creation Entertainment or Wil Wheaton boast about how nerds have all the best jobs now; how nerds have won. That's great. We've all had enough sand kicked in our faces. But I think nerds need to use their powers to create jobs and opportunities for even their former tormentors; otherwise we end up with the Tea Party threatening to destroy the science and education that we all thrive on. Nerds need to decide if they're going to be super villains or superheroes right now.
Bob Calhoun used to wrestle men in Sasquatch suits while drunks threw food at him. He chronicled these days of glory in the punk-rock/lucha-libre memoir Beer, Blood & Cornmeal: Seven Years of Incredibly Strange Wrestling, a national bestseller. His work has appeared in Salon.com, The San Francisco Chronicle, AOL News, Filmfax, Giant Robot and Inside Kung-Fu. He is also the co-author of The Godfather of Grappling, the autobiography of martial arts and Hollywood stunt legend "Judo" Gene LeBell. Calhoun is currently a Sr. Research Analyst at the University of California, Berkeley.
David Henry Sterry is the author of 15 books, a performer, muckraker, educator, and activist. His first memoir, Chicken, was an international bestseller, and has been translated into 10 languages. His anthology, Hos, Hookers, Call Girls and Rent Boys was featured on the front cover of the Sunday New York Times Book Review. The follow-up, Johns, Marks, Tricks and Chickenhawks, just came out. He has appeared on, acted with, written for, worked and/or presented at: Will Smith, Edinburgh Fringe Festival, Stanford University, National Public Radio, Penthouse, Michael Caine, the London Times, Playboy and Zippy the Chimp. His new illustrated novel is Mort Morte. He is also co-founder of The Book Doctors, who have helped dozens and dozens of amateur writers become professionally published authors. They edit books and develop manuscripts, help writers develop a platform, and connect them with agents and publishers. Their book is The Essential Guide to Getting Your Book Published. Anyone who reads this article and buys the print version of this book gets a FREE 20 MINUTE CONSULTATION with proof of purchase (email: david@thebookdoctors.com). www.davidhenrysterry To learn how not to pitch your book, watch this: http://youtu.be/lFGXanoYQGc
Calling all HuffPost superfans!
Sign up for membership to become a founding member and help shape HuffPost's next chapter