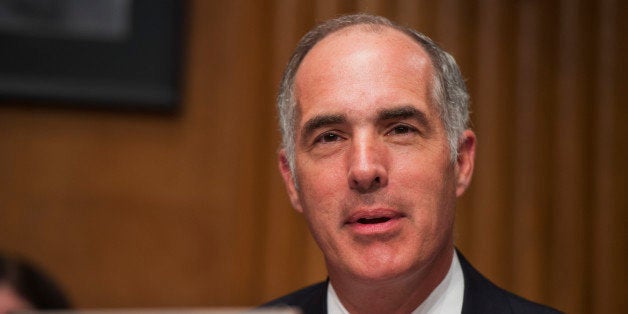 WASHINGTON -- Progressives in Pennsylvania have been working for weeks to derail an apparent deal between their U.S. senators to submit a conservative Republican judicial nominee to the White House -- and it looks like they're gaining momentum.
More than 20,000 people have signed a petition urging Sen. Bob Casey (D-Pa.) not to recommend corporate lawyer David J. Porter to President Barack Obama for a lifetime appointment to the U.S. District Court for the Western District of Pennsylvania. A coalition of state lawyers, advocates and community members collected the signatures and plans to deliver them to Casey on Monday, according to the Pennsylvania Coalition for Constitutional Values.
"Porter's kind of been this right-wing, anti-worker guy. I've got no confidence that the guy could be impartial," Rick Bloomingdale, the president of the Pennsylvania AFL-CIO, told The Huffington Post. "He's got no understanding of workers. He represents the other side, corporations. With so many good potential candidates in western Pennsylvania, to pick somebody that's so ideological is a big mistake."
The deal under discussion would give Democrats three or more nominees in exchange for Sen. Pat Toomey (R) getting one GOP pick, Porter. Pennsylvania currently has eight district court vacancies, one of the worst rates in the nation.
But the petition and the AFL-CIO's stance appear to be having an effect on Casey. He was expected to sign off on a package of judicial nominees, including Porter, weeks ago, but still hasn't, according to two sources familiar with the state's nominations review process.
Casey spokesman John Rizzo wouldn't give any details on Porter's status or a forthcoming package of nominees.
"Out of respect for the privacy of applicants, our office doesn't comment until a nomination is made by the White House," Rizzo said. "There has not been and there continues not to be an agreement on recommendations to the White House."
Toomey's office declined comment.
Progressive groups have taken aim at Porter on a number of fronts, including the fact that he leads the Pittsburgh Lawyers Chapter of the Federalist Society, a group of conservatives and libertarians seeking reform of the legal system; he helped found a coalition that tried to stop Supreme Court Justice Sonia Sotomayor's confirmation; and he is a contributor and trustee at the tea party-aligned Center for Vision and Values.
It's unusual to see outside groups opposing a potential judicial nominee before he or she is even recommended to the White House. The nominations process is typically shrouded in secrecy until the president formally announces his picks. But a growing number of groups -- the Pennsylvania Coalition for Constitutional Values, the Western Pennsylvania Employment Lawyers Association, the National Council of Jewish Women-Pennsylvania and Keystone Progress -- say the more they hear about Porter being in the mix, they more infuriated they become.
"The coalition isn't just opposing Porter because he's a right-winger," said Michael Morrill of Keystone Progress, a statewide progressive advocacy group. "He is a radical right-wing activist and leader in anti-choice, anti-marriage equality, anti-environmental movements in Pennsylvania who is so far out of the mainstream that he can't adequately represent everyday Pennsylvanians."
Bloomingdale said he plans to personally talk to Casey about Porter next Monday when the senator is in Pittsburgh for an annual AFL-CIO convention. He said he understands that, in a state with a senator in each party, there are deals that have to be made on judicial nominees. But it's "troubling" to him that Toomey is pushing a nominee like Porter after holding up some of Casey's labor-friendly nominees in the Senate.
"So if he's going to play the ideological game, we certainly ask Sen. Casey to say [Porter] is too extreme for Pennsylvania," said Bloomingdale. "He's not going to be impartial on the bench."
Calling all HuffPost superfans!
Sign up for membership to become a founding member and help shape HuffPost's next chapter
BEFORE YOU GO
PHOTO GALLERY
Political Look-Alikes