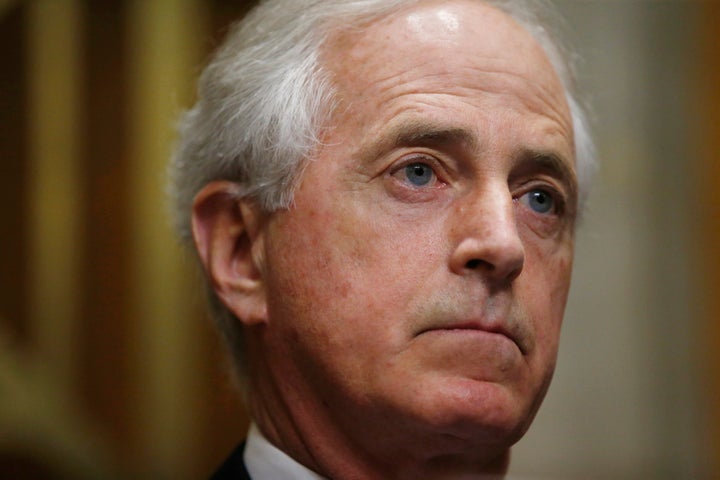 Retiring Sen. Bob Corker (R-Tenn.) could muster up only lukewarm praise for his party's leading contender to replace him in November's election, and again offered kind words for the main Democratic candidate.
"I'm supporting the nominee," Corker said of Rep. Marsha Blackburn (R-Tenn.) on CNN's "State of the Union" Sunday. "I have worked with the nominee for some time. And I don't know what else to say."
After Corker chose not to seek a third term this year. Blackburn quickly declared her candidacy and is expected to win the GOP's Aug. 2 primary. The expected Democratic nominee is former Gov. Phil Bredesen.
Corker recently found himself in a bit of hot water after praising Bredesen and saying he's "got real appeal."
"He was a very good mayor [of Nashville], a very good governor, a very good business person," Corker told reporters last week. "Look, I'm not going to campaign against someone who I've been friends with and worked with."
Senate Majority Leader Mitch McConnell (R-Ky.) later pulled Corker aside and told him his comments risked the party losing its thin majority in the chamber in November, according to The Washington Post.
And a day after Corker's comments, President Donald Trump tweeted his support of Blackburn.
On Sunday, Corker said he has donated to and intends to vote for Blackburn, but he again said he likes Bredesen.
"Look, I have sent the maximum contribution to the Republican nominee on our side. I have said I'm going to plan to vote for this person," he said. "I was in a long meeting where ... [reporters] were asking me about Gov. Bredesen. He is my friend. I'm not going to campaign against him, but I am supporting our nominee."
When asked why Blackburn would be better for the state than Bredesen, all he said was that she is, at the end of the day, a Republican.
"I think most people in our state ― it is a red state ― will focus on the first vote she makes," he said. "And that is the vote to elect the majority leader. And I think, at the end of the day, that is going to be a big factor in the race."
Popular in the Community