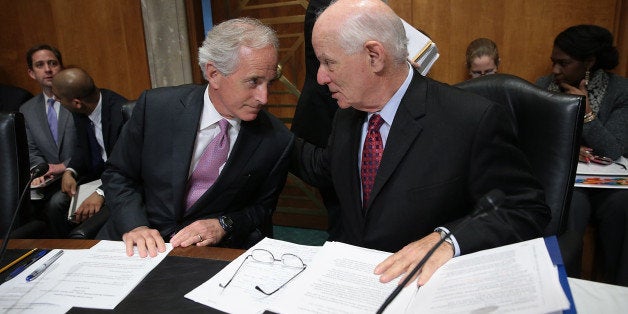 WASHINGTON -- Last week witnessed one of the most piqued foreign policy showdowns between the executive and legislative branch during the Obama presidency. And in a clash between a president allied with his secretary of state and vice president -- themselves former chairmen of the Senate Foreign Relations Committee -- it was a self-admitted newbie to international affairs who scored the win.
The 19-0 Foreign Relations Committee vote to ensure congressional oversight of a final nuclear deal with Iran was unexpected, considering the current political climate in which bipartisan cooperation is increasingly scarce. But the vote also signified the arrival of a new player in the foreign policy debates of this country.
Sen. Bob Corker (R-Tenn.), the committee's chairman and the man widely credited with engineering the political breakthrough, is now one of the most prominent foreign policy voices in Congress. Even for him, it's an unexpected ascendance.
"I think what you just said is an understatement," he told The Huffington Post, in response to an observation about his limited foreign policy experience before becoming senator in 2007. "I had almost no foreign policy experience and certainly did not major in political science or anything like that in college."
What Corker lacks in experience, he makes up with effusive cordiality and a realist's approach. He applied that in droves in order to sell a bill that the administration deemed a constitutional overreach and his own party considered a half step.
To save his bill, he convinced fellow Republicans to make two significant concessions: They agreed to cut a requirement that the president certify that Iran is not supporting acts of terror against Americans and shortened the period of time that Congress has to review the nuclear deal -- during which time there will be a freeze on lifting any congressionally enacted sanctions.
In turn, Democrats, including some who had loudly opposed the original bill, offered their support for the legislation and President Barack Obama rescinded his veto threat.
The administration, which opposed the bill even the morning of its passage through committee, declared that it had succeeded in watering it down to a point where it would no longer harm nuclear negotiations. House Minority Leader Nancy Pelosi (D-Calif.) dismissed the new bill as "innocuous."
Corker and his allies called it spin. They didn't let the perfect be the enemy of the good, they conceded. But they still got the good. Corker's work getting there earned him praise from both sides of the aisle.
In Time's recent "100 Most Influential People" issue, Sen. Lamar Alexander (R-Tenn.) called his junior colleague an obvious choice for the next secretary of state, secretary of the treasury or even president.
"I think Sen. Corker is bringing a refreshing spirit of openness to input and contributions from both Republicans and Democrats that is in strong contrast to some of the other recent, much more partisan actions by Republican senators," said Sen. Chris Coons (D-Del.) last Tuesday.
Coons, a member of the Foreign Relations Committee who became a co-sponsor of the Corker bill after the modified version passed the panel, told HuffPost that while he was traveling in Africa the week prior to the vote, he received phone calls at odd hours of the night from Corker, discussing ways to get an agreement on the bill. Corker's efforts, he said, were "relentless."
Praise aside, Corker is the first to admit that he was an unlikely candidate to be at the forefront of debate on the role Congress should play in international nuclear negotiations with a longtime U.S. adversary.
His degree is in industrial management from the University of Tennessee, which is about 100 miles away from Chattanooga, the city where he has spent most of life. After graduating, he worked as a construction superintendent, eventually saving $8,000 to start his own construction company.
One of Corker's first trips overseas, a church-organized mission trip to Haiti, left him not with a heightened interest in foreign affairs but with a desire to be more involved in his own community. Shortly after, he started a nonprofit with a focus on affordable housing.
He went on to climb the ranks of Tennessee politics, ascending from state commissioner of finance and administration, to mayor of Chattanooga, to U.S. senator.
In 2006, he swept the Republican primary election, beating out two former congressmen, both of whom tried to convince the electorate that Corker was an untrustworthy leftist.
In the general election, he ran against then-Rep. Harold Ford Jr. (D) during a terrible year for Republicans. The race was marked by a highly controversial ad run by an independent group, contracted by the Republican National Committee, that depicted Corker's African-American opponent Ford as a party boy with an affinity for attractive white women. Corker called the ad "distasteful" and said it should be dropped from the airwaves. But the suspicion was that he did not mind benefitting from the collateral damage.
After securing the Senate seat, he ended up on the Senate Foreign Relations Committee somewhat by chance. "I joined the committee really to make myself a better senator," recalled Corker. "It wasn't necessarily a keen interest in foreign policy. I just felt like that was an area where I need to learn more."
As part of his learning process, Corker visited more than 60 countries, including such faraway outposts as Mali, Bahrain and Oman. He often went alone, without an organized congressional delegation, and incorporated an extensive reading of world news into his morning routine.
According to Corker, membership on the foreign relations panel was not in high demand within his party when he entered the Senate. By their own rules, Senate Republicans may serve on only one of the four "Super A" committees -- foreign relations, armed services, finance and appropriations -- at a time. The real competition, he said, was for a spot on the Finance Committee.
As the new chairman, he hopes to change that by selling his own party members on the idea that you can have a big imprint on world affairs not just by serving on the armed services committee.
"One of my goals is that over the course of the next short period of time, it resumes [being] not just a place that is hard to get on the Democratic side of the aisle, but is very difficult to get on in the Republican side too, just because of people's desire to be there," he said of the Foreign Relations Committee.
To some of his colleagues, the revised Iran bill constitutes a big step toward elevating the committee's relevance. "I think too much of the last decade, we have seen the reduced emphasis on Congress taking an independent view looking at foreign policy issues. I think it is important for us to go back to that," said Sen. Jeanne Shaheen (D-N.H.), who recalled growing up watching Arkansas Sen. J. William Fulbright tackle the Vietnam War as committee chair.
Shaheen, who offered her support for the bill after the modified version was introduced, told HuffPost on Friday that she was impressed with Corker's interest in hearing suggestions from Democrats on how to make the bill something they could get behind.
While his committee colleagues agree that the chairman has developed impressive foreign policy chops, they point to his businesslike approach to politics as the main reason for their faith in his leadership.
"I think the fact that he was a mayor and someone who had a long and successful career in the private sector makes him a pragmatist," said Coons. "He is a conservative Republican, we do not agree on many political issues, but he has an outcome orientation."
If Corker were merely willing to hear out Democratic concerns, he would be a good-natured chairman but probably not a successful one. On Iran, it was his ability to move his own party -- and to stomach the downsizing of his own agenda -- that ended up being critical to the passage of the bill out of committee.
In the days leading up to the committee vote, he persuaded several Republicans to hold back on offering amendments that would have made the bill untenable for Democrats -- including an amendment by presidential hopeful Sen. Marco Rubio (R-Fla.) to require Iran to recognize Israel.
Before that, he withheld his support for a letter signed by 47 of his colleagues, telling leaders in Iran that any nuclear agreement reached with the U.S. and its five negotiating partners could easily be undone by Congress or a future president.
The most critical moment, however, came earlier in the year. Sen. Bob Menendez (D-N.J.), perhaps Corker's strongest Democratic ally, teamed up with fellow Iran hawk Sen. Mark Kirk (R-Ill.) to craft legislation that would ramp up sanctions against Iran if a final nuclear deal were not reached by the June 30 deadline. The sanctions bill, which was sent to the Senate Banking Committee, has 44 Republican co-sponsors -- but Corker is not one of them.
It was a strategic decision -- a recognition that if that bill were to ultimately pass and a deal with Iran were to fall apart, the blame would be put squarely on Congress and, in particular, the Republican Party in control of both chambers.
"I did believe that there was truth to what the administration was saying regarding the fact that if it passed during the negotiations, then it'd be like, you know, it'd be like rolling a hand grenade in the room," explained Corker, who also sits on the Banking Committee. "And I didn't want the United States to be in a position to be blamed by the international community -- I wanted the focus to continue to be on Iran."
Corker would ultimately vote in favor of Kirk-Menendez in the committee markup, but only after it became apparent that Democrats would not allow the bill to become law until after a key deadline in the ongoing nuclear talks. By then, he was turning his attention to fallback options and selling Menendez, then the ranking member of the Foreign Relations Committee, about the benefits of legislation that would guarantee Congress the opportunity to weigh in on any nuclear deal and yet might be less divisive than the sanctions bill.
"Corker was reasonable and wanted to create something as an alternative to Kirk-Menendez. This is not a sanctions bill in any way. He realized that wouldn't fly or get off the ground," a Democratic Senate aide familiar with the legislative talks told HuffPost.
Calling all HuffPost superfans!
Sign up for membership to become a founding member and help shape HuffPost's next chapter
BEFORE YOU GO
PHOTO GALLERY
Responses To Iran Deal