WASHINGTON ― During the wild 2016 presidential campaign, Donald Trump often treated his supporters to a dramatic reading of song lyrics.
"You knew damn well I was a snake before you took me in," the GOP nominee liked to say in front of thousands of adoring fans. "Take me in, tender woman. Take me in, for heaven's sake."
Trump reveled in reciting the words to "The Snake," a song about a treacherous reptile that bites its generous host, as a cautionary tale against admitting Syrian refugees into the country. A year later, top Republicans are suddenly discovering the moral of Trump's favorite story may apply to more than U.S. immigration policy.
In a scathing interview with The New York Times on Sunday, Sen. Bob Corker (R-Tenn.) charged that the president's volatile behavior and rhetoric could set America "on the path to World War III." He also said the "vast majority" of congressional Republicans shared his opinion of the president ― placing pressure on them to speak out as well.
"He would have to concern anyone who cares about our nation," Corker said, noting that he knew top White House aides struggled to "contain" Trump's worst instincts on a daily basis.
Corker's breathtaking comments against his own party's president are significant for a number of reasons. As chairman of the influential Senate Foreign Relations Committee, Corker is responsible for shepherding Trump's foreign policy agenda ― including making sure his nominees are confirmed. The senator also sits on the Senate Budget Committee, where he is expected to play a crucial role in helping craft a tax reform bill.
But the deliberately public rebuke of Trump is a sharp turn from the role Corker played in bringing to power a man he now says threatens to upend the global order ― an argument that, coincidentally, Democrats made repeatedly last year.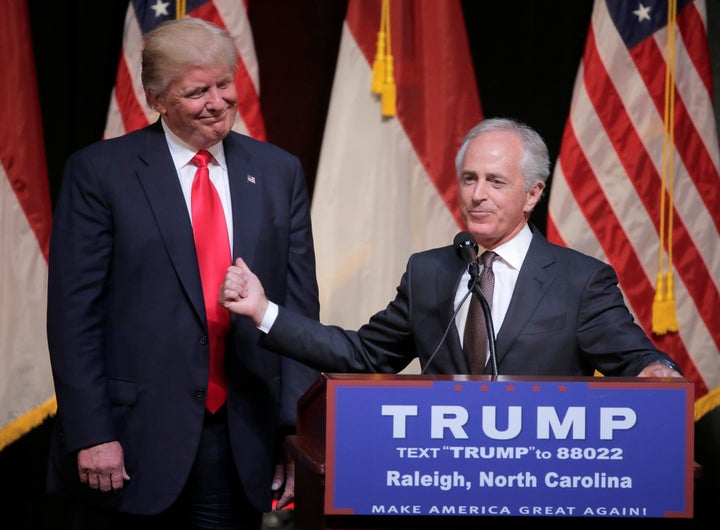 During the GOP primary in April 2016, as Trump battled the possibility of a contested Republican convention with rival Sen. Ted Cruz of Texas, Corker made the rounds on cable news shows heaping praise onto Trump for a "very good" foreign policy speech that outlined his global "America first" priorities.
A month later, Corker was back on television, urging Republicans who refused to endorse Trump to "just chill." He claimed that he saw "a great deal of evolution taking place" with the brash and ego-driven presumptive GOP nominee, who was 70 years old at the time.
Corker's campaign comments came at a critical moment for Trump's candidacy. Corker, a mainstream Republican who has stood up to his party in the past, helped Trump assuage skeptical members of the GOP establishment wing, and kneecapped organized opposition within the party known as the "Never Trump" movement.
That summer, Corker briefly entertained the idea of being Trump's running mate. Like Trump, Corker spent most of his life in business ― acquiring two of the largest real estate companies in Chattanooga in the 2000s. He is among the wealthiest members of Congress. Corker took himself out of the running for the vice presidential job, however, after a lackluster audition at a July 2016 campaign stop in Raleigh, North Carolina.
"The reason you love him so much is because he loves you," Corker said at the time, gushing about the man next to him. "He loves you, and he wants the best for you."
Even now, as Corker sows doubt about Trump's fitness for the presidency, he maintained that he likes the president personally. He told the Times in Sunday's article that he wished Trump, with whom he golfed occasionally, "no harm."
That's a curious thing to say, given the seriousness of the charges Corker lobbed at the president. It also begs the obvious question of why it took him so long ― approximately nine months into Trump's presidency ― to air his concerns.
"It's easy to be bold when you're not coming back," Rep. Mark Meadows (R-N.C.) told reporters on Monday, suggesting that Corker is speaking freely because he has decided not to seek re-election.
But Corker may have kept silent earlier because he simply likes what Trump is selling ― part of a Faustian bargain he and other Republicans made in order to pass key agenda items, including tax cuts, deregulation, and the repeal of Obamacare. Corker's voting record shows he has been overwhelmingly supportive of Trump's nominees and legislative priorities.
Other GOP senators who have voiced strong criticism of Trump have taken meaningful legislative action to oppose his agenda. Arizona Sen. John McCain, for example, sponsored legislation to block Trump's transgender military ban and opposed Obamacare repeal.
Corker, on the other hand, has taken no such stands. He may yet get an opportunity on the issue of tax reform, however ― a subject he has already warned must be deficit-neutral in order receive his support.
Still, some prominent GOP critics of Trump said they didn't resent Corker for failing to stand up to the president earlier.
"I wish everyone would have rejected Trump in 2015, but beggars can't be choosers, and given the sparse number of prominent Republicans who have spoken the truth about the president, I'm pleased when any of them do so," said Tim Miller, a GOP operative and former spokesman for Jeb Bush, the former Florida governor who unsuccessfully campaigned against Trump in 2016.
Miller, who now works for Definers Public Affairs, a political consulting shop, added that he is hopeful "the weight of carrying around an obvious lie about the president is lifted off of Corker's shoulders and that rubs off on his colleagues."
Popular in the Community