Tennessee Sen. Bob Corker (R) blasted President Donald Trump in a scathing interview with The New York Times on Sunday, saying the "vast majority" of congressional Republicans were concerned with the president's volatile behavior and that rhetoric from the White House could set America "on the path to World War III."
During the interview ― an unprecedented assessment of the head of the senator's own party ― Corker said Trump concerns him and that the president's proclivity for Twitter tirades had "hurt" the country during times of negotiation.
"I know he has hurt, in several instances, he's hurt us as it relates to negotiations that were underway by tweeting things out," Corker said, adding that "everyone knows" the "president tweets out things that are not true."
"Look, except for a few people, the vast majority of our caucus understands what we're dealing with here," Corker continued. "Of course they understand the volatility that we're dealing with and the tremendous amount of work that it takes by people around him to keep him in the middle of the road."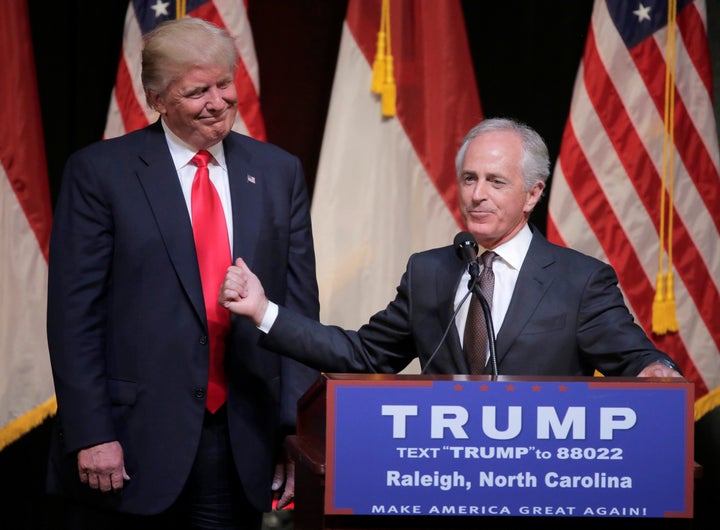 Corker, a powerful and respected Republican, was an early supporter of Trump during the 2016 campaign but has since become one of his most outspoken critics in the Senate. He lambasted Trump over his response to protests by white supremacists in August and has been critical of the president's foreign policy decisions.
Corker continued such condemnation on Sunday when he said the president was running the White House like "a reality show."
"He would have to concern anyone who cares about our nation," he told the Times.
Trump launched his own Twitter crusade against the senator earlier on Sunday, saying Corker "begged" the president to endorse him for re-election. Corker announced his impending retirement from Congress in September.
"He also wanted to be Secretary of State, I said 'NO THANKS,' Trump tweeted, before continuing: "He is also largely responsible for the horrendous Iran Deal!"
Corker fired back an hour later, saying it was "a shame the White House has become an adult day care center."
Calling all HuffPost superfans!
Sign up for membership to become a founding member and help shape HuffPost's next chapter