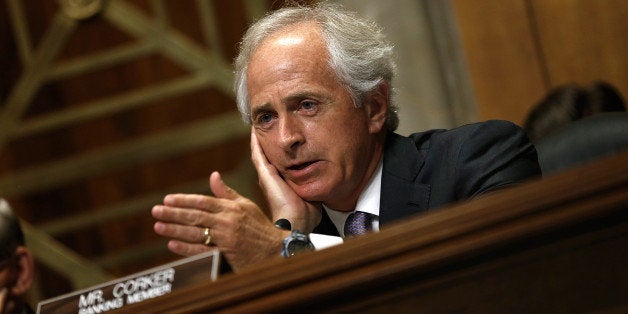 WASHINGTON -- It's been five months since the U.S. began bombing Iraq and Syria in the war against the Islamic State, or ISIS.
It's also been five months with next to no debate about it in Congress, and five months without the White House sending lawmakers draft language for a new Authorization for the Use of Military Force. An AUMF would put parameters on what is shaping up to be another years-long U.S. military effort in the Middle East.
But Sen. Bob Corker (R-Tenn.), the new chairman of the Senate Foreign Relations Committee, said Wednesday that he's ready to put the issue front and center.
In a hallway interview at the Capitol, Corker said he's been meeting with top military officials all week and expects to hold a hearing in the next month to hash out what belongs in legislation to authorize the campaign against ISIS.
The Tennessee senator said he met separately this week with retired Marine Gen. John Allen, President Barack Obama's point person for the international effort targeting ISIS, and Gen. Martin Dempsey, chairman of the Joint Chiefs of Staff, about having them testify before his committee. Lawmakers in both parties have complained about the White House failing to send top defense and intelligence officials to testify about an AUMF, but that may change soon.
"We will definitely be getting Allen up in the near term," Corker said. "We hope to get to that over the next 30 to 45 days."
Since the U.S. began its military campaign against ISIS in August, the nation has spent more than $1 billion on the effort, authorized 1,400 U.S. ground troops in Iraq (along with another 1,500 U.S. troops in advisory roles), participated in more than 1,100 coalition airstrikes and lost three U.S. soldiers.
All of this has been happening without new war authorization. Congress has all but ignored the issue, save for a handful of lawmakers like Sen. Tim Kaine (D-Va.), who has been railing against the inaction for months. The House of Representatives hasn't touched the issue at all, and the only Senate action came in a last-minute committee vote in December. In that instance, then-chairman Sen. Bob Menendez (D-N.J.) held a vote on his own AUMF to let Democrats weigh in on the matter. But the legislation had no chance of moving in the full chamber.
"In December, the Senate Foreign Relations Committee debated and approved an Authorization for Use of Military Force against ISIL," Kaine told The Huffington Post in a statement, using an alternate name for the Islamist militant group. "We are now five months into this war, and we need to finish what we started, quickly, in this new Congress."
He added, "Every additional day of an executive war without congressional authorization creates a dangerous precedent for future conflicts. And it dishonors our troops who are risking their lives in this critical mission."
Obama maintains he doesn't need new authority to bomb ISIS, citing the sweeping AUMF from 2001 as his grounds for unilateral action, but has said he would welcome a new authorization anyway. Lawmakers in both parties, however, disagree that Obama has the authority to wage a new war without new congressional sign-off.
Corker agreed, when asked, that the White House has been purposely slow-walking the process of sending draft AUMF language to Congress. He said it's likely because the administration doesn't know what parameters it wants for the complicated military mission in Syria, which involves the U.S. arming Syrian rebels to fight ISIS.
"I've had some conversations with them about it," Corker said of the White House, adding that he planned to have another discussion with administration officials Wednesday afternoon.
Secretary of State John Kerry testified to the committee last month and offered a general outline of what the administration wants in an AUMF for ISIS: no geographic limitations, a three-year time limit and, notably, no language barring U.S. ground troops. Obama has said he won't send U.S. ground troops into battle, but Kerry nonetheless warned the committee against binding the president's hands. Some senators told Kerry they disagreed, arguing that the AUMF should explicitly prohibit ground troops if Obama means what he says.
HuffPost reached out to the White House on Wednesday to see when it expects to submit draft AUMF language to Capitol Hill. National Security Council spokeswoman Alistair Baskey referred back to Kerry's comments in the December hearing. Kerry gave no timeline.
Some lawmakers say they've already waited too long for a draft AUMF and are ready to move forward on legislation without the president, but others are reluctant to proceed without White House-backed language.
For now, Corker said the most important step is getting the right people to testify before the Senate committee. He demurred when asked whether he would advance an AUMF without the White House, if it kept delaying the process.
"I do want them to seek an authorization," he said. "They may not do that."
Before You Go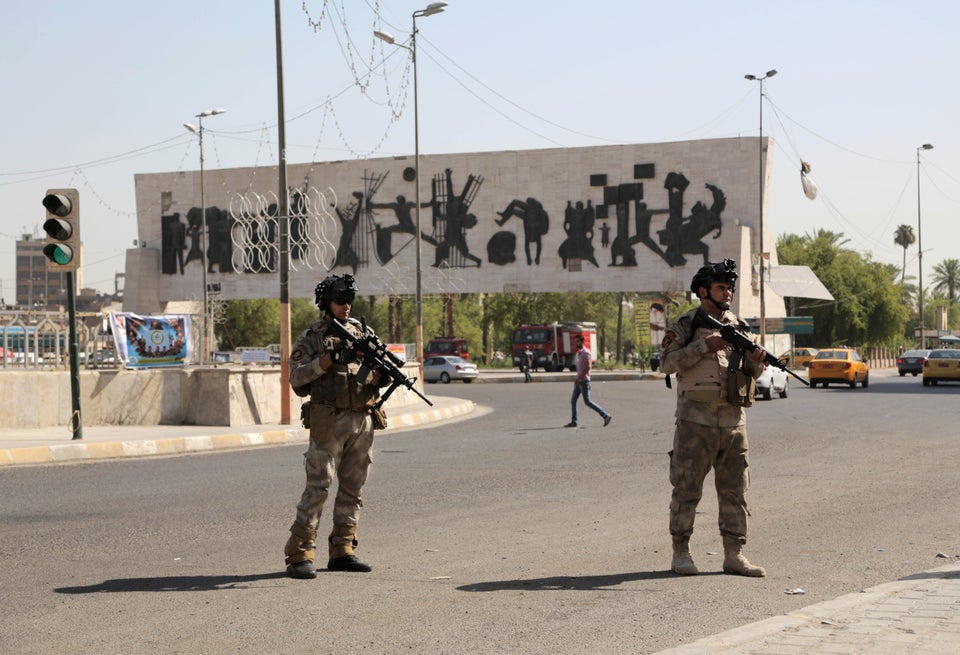 Fighting in Iraq
Popular in the Community