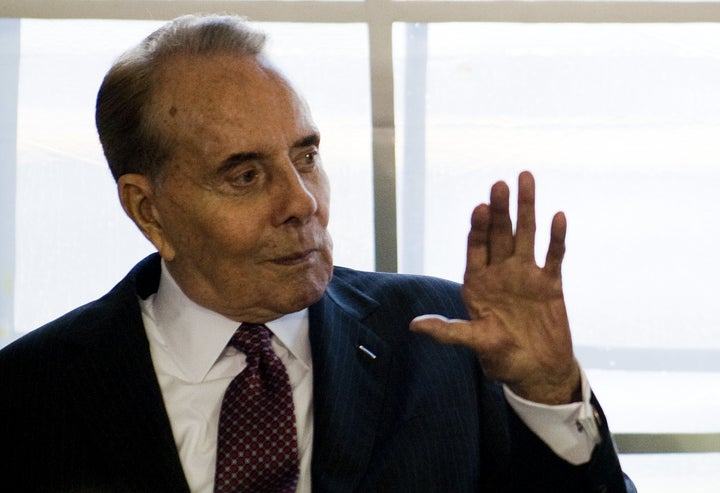 WASHINGTON -- Advocates for people with disabilities, along with lawmakers who originally passed the Americans With Disabilities Act a quarter-century ago, hailed its anniversary on Monday. But they also called on the country to improve -- both in how it views disabled people, and by ratifying a UN treaty that would help them.
"I think too many people still think that there's an 'us' without disabilities and a 'them' with disabilities," Chai Feldblum, commissioner of the Equal Employment Opportunity Commission, said at a Capitol Hill celebration to mark the ADA's 25th anniversary, which fell on Sunday.
Former Senate Majority Leader Bob Dole (R-Kan.) scolded his former colleagues for failing to approve the Convention on the Rights of Persons with Disabilities, a UN disability rights treaty.
"It's a shame the only countries who haven't ratified that treaty are the Congo, Guyana and the United States of America, and we are the leader in disability issues and dealing with the problem," Dole said. (In fact, Guyana signed on last year, and some additional nations have yet to do so.)
"Hopefully this year we will be able to pass that treaty so that our UN representative, who is a wonderful person, Samantha Power, will have an opportunity to tell these other countries how much we've accomplished in America and hopefully they will do the same," said Dole, who was injured during World War II, leaving him with limited use of his right arm.
"I never thought much about disability issues till I became a member of the club," Dole said.
President Barack Obama signed the disabilities treaty in 2009, but the Senate has not approved it so it can be formally ratified. Dole, who now uses a wheelchair, appeared on the Senate floor in 2012 to push for the treaty, but the measure fell five votes short.
House Minority Whip Steny Hoyer (D-Md.), who sponsored Monday's event, said politics has gotten more toxic since then.
"We are a much more polarized country than we were then. We're a more polarized Congress," Hoyer said. "The Founding Fathers believed that we would come together and reach consensus. If you come to Congress thinking, 'I'm not going to reach consensus unless it's my consensus,' you're gonna have the gridlock we're seeing."
Still, Hoyer celebrated what Congress did achieve in passing the ADA.
The ADA prohibited discrimination based on disability, and mandated easier access for people with disabilities. For instance, it required wider doors and ramps for wheelchair users, curb cuts on the sidewalk and braille lettering on elevators buttons.
"It broadened America's understanding of the accessibility challenges those with disabilities faced." Hoyer said. "It changed attitudes as well. As Americans with differing abilities became more visible in our economy and society, the stigma they carried has been significantly reduced -- but not eliminated."
Former Sen. Tom Harkin (D-Iowa), who recalled standing on the White House lawn as President George H. W. Bush signed the ADA, said he thought then of "the words of Martin Luther King Jr. when he said, 'The arc of history is long, but it bends toward justice.' And I thought that day we're bending it a little more toward justice," Harkin said.
He also said he hoped to see more progress on the issue.
"When 60 percent of adult Americans with disabilities are not in our workforce, that is a blot on our national character. We've got to do better," Harkin said.
Popular in the Community