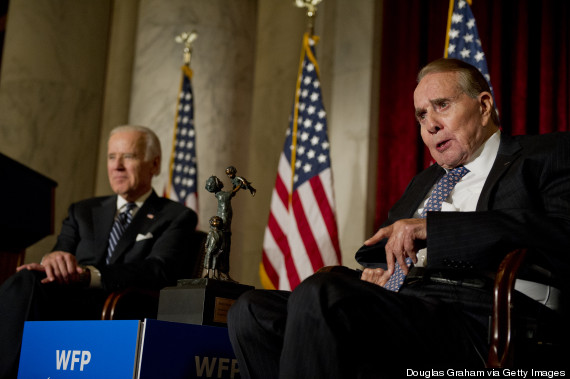 Former Senator Bob Dole received the George McGovern Leadership Award this week for his efforts to fight world hunger. Vice President Biden presented him the award at a ceremony hosted by the World Food Program U.S.A. in Washington, D.C.
Dole reminds us how Democrats and Republicans can actually work together, something they hardly ever do now. Dole formed a great partnership with former Senator George McGovern and the result was policies and programs that fed millions of children.
Biden said of Dole: "I think he exposed, for the first time, the long-term consequences of children not having the right nutrition."
Dole served with the U.S. military in World War II in Italy. Incidentally, this was one of the countries that benefited from millions of school meals from the United States, both during and after the war.
U.S. Army and relief officials discussed plans on how distributing food at Italian schools would fight hunger and boost class attendance at the same time.
The Greatest Generation understood how important food and nutrition was not just for the U.S. but for overseas. They understood its importance for peace. McGovern and Dole were two of the leaders that emerged from this generation. A global school lunch program is named after them. The duo won the World Food Prize in 2008 for their teamwork against hunger.
The McGovern-Dole Food for Education program is currently feeding children in conflict-torn Mali, Haiti, Ethiopia, Kenya and other countries. The program funds the UN World Food Programme (WFP), Catholic Relief Services, Save the Children and other aid agencies who distribute the meals. McGovern-Dole is also part of the Farm Bill, a legislation where Democrats and Republicans are not seeing eye to eye.
No agreement is likely this year on the Farm Bill, which decides funding for nutrition programs both here and overseas. It's a critical piece of legislation in the fight against hunger. The U.S. Food for Peace program is part of the Farm Bill. Food for Peace is the largest supporter of WFP, which feeds the hungry in over seventy countries.
This impasse in D.C. is the last thing we need with hunger escalating at home. Overseas, wars and disasters in Syria, the Philippines, the Central African Republic, Sudan, South Sudan and many other countries is creating hunger emergencies. Aid groups are unable to keep up.
If the U.S. Congress does not pass legislation supporting international food aid, then hunger and chaos will worsen overseas.
As Congress works on the Farm Bill they need to capture the approach of Dole and his generation. They need to take action against hunger and do so in a bipartisan approach. Congress should support domestic and international food aid on the Farm Bill.
Dole said when receiving his award: " It should be our aspiration to aim higher and to strive harder to make the world a better place for millions of hungry children around the world."
Popular in the Community