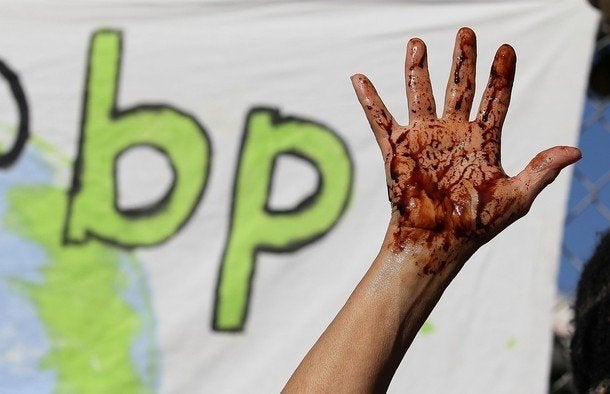 Former BP CEO Tony Hayward was famously sent forth to "get his life back," and was replaced by Bob Dudley, in an effort to put a new face on BP's response to that time they destroyed the Gulf of Mexico. But based on Dudley's current take on the matter, I think it's fair to say that if you grafted his face onto the head of an Appaloosa, you wouldn't be able to tell if he was coming or going. Here's Dudley, as reported by Reuters, today:
BP's new chief executive said its rivals and the media had helped cause a climate of fear during the summer when the oil giant's blown-out Gulf of Mexico well caused the worst ever oil spill in the United States.

The comments represented the latest volley in BP's battle to rebuild its battered reputation by taking a harder line with those who have blamed the disaster on a safety culture at BP that, they said, put cost-saving before safety.
Dudley also has some pretty harsh things to say about U.S. lawmakers:
Dudley also thanked the British government for its "stalwart support" in the face of harsh attacks from U.S. lawmakers during the crisis. "At the height of the crisis it made a big difference knowing we had such good friends at home," the U.S.-born Dudley said.
I feel almost wounded, watching Dudley throw the United States government under the bus like that! How soon does Dudley forget that the White House offered up all sorts of optimistic talk about the oil spill. And when the Associated Press' Michael Oreskes sent the White House a letter, imploring them to help end BP's media clampdown, the request fell on reliably deaf ears. So Dudley is being really very unfair!
Of course, the central job of any BP executive circa now is to cast doubt on the oil spill estimates, so that the company's legal liability can be as limited as possible. Dudley, as it turns out, may be better at this than his predecessor:
Dudley's comments on Monday echoed those he made early in the 87-day crisis during a television interview, when he said scientists who argued the well was gushing up to 70,000 barrels per day (bpd) were "scaremongering."

At the time, Dudley said the "best estimate" of the flow rate was 5,000 [barrels per day].

A government panel later put the flow rate at 62,000 [barrels per day].
Calling all HuffPost superfans!
Sign up for membership to become a founding member and help shape HuffPost's next chapter