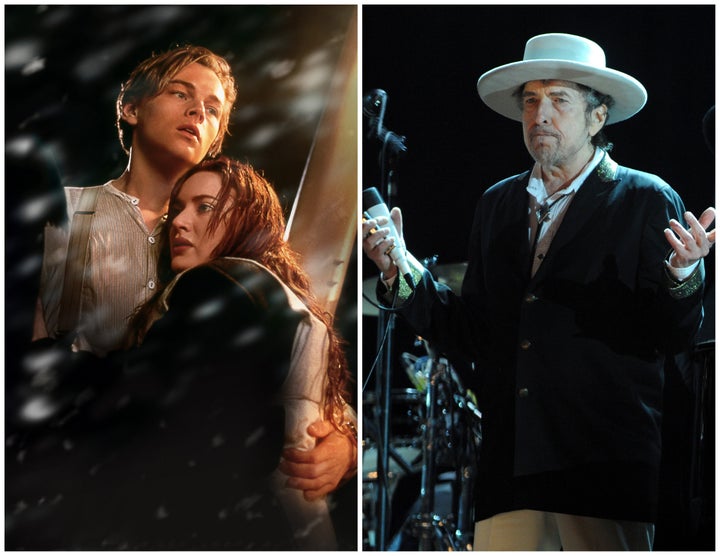 Bob Dylan's album Tempest is set to arrive in stores on Sept. 11, and for his 35th studio release, Dylan found some unlikely inspiration: Leonardo DiCaprio and "Titanic." Like so many 20-somethings, Dylan won't let go of DiCaprio's Jack Dawson.
"I was just fooling with that one night," he said. "I liked that melody –- I liked it a lot. 'Maybe I'm gonna appropriate this melody.' But where would I go with it?" Apparently to James Cameron's 1997 classic "Titanic." During the 14-minute song, DiCaprio even makes an appearance.
"Yeah, Leo," said Dylan. "I don't think the song would be the same without him. Or the movie."
Whether DiCaprio is actually on the song -- think: Will Ferrell's random cameo on the Jay-Z and Kanye West track "N----- in Paris" -- or just referenced is not made clear in the Rolling Stone article. Near, far, wherever you are, however, "Tempest" immediately becomes a must-download once Tempest is released
Beyond revealing his love of "Titanic," Dylan has enjoyed quite a productive 2012. Earlier this year, he received the Medal of Freedom from President Barack Obama at a ceremony in the White House. The Medal of Freedom is the nation's highest civilian honor.
Check out the Tempest track list below.
1. "Duquesne Whistle" 2. "Soon After Midnight" 3. "Narrow Way" 4. "Long and Wasted Years" 5. "Pay In Blood" 6. "Scarlet Town" 7. "Early Roman Kings" 8. "Tin Angel" 9. "Tempest" 10. "Roll On John"
REAL LIFE. REAL NEWS. REAL VOICES.
Help us tell more of the stories that matter from voices that too often remain unheard.
BEFORE YOU GO
PHOTO GALLERY
Broken Social Scene Songs