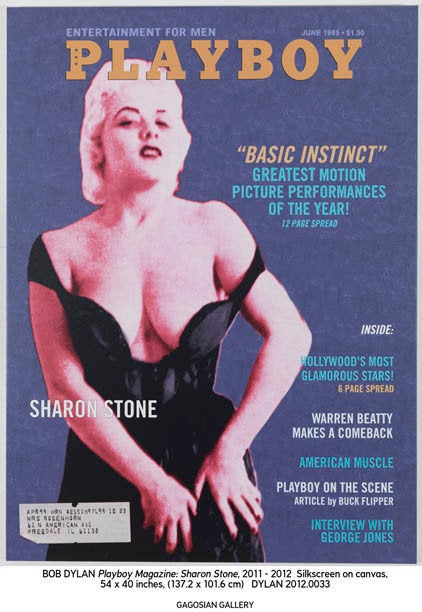 If you didn't know Bob Dylan's art exhibit opened this week at Gagosian Gallery in New York City, you're not alone. The Freewheelin' musician seems to have snuck ever so quietly past the art masses, debuting his second Madison Avenue show to a scattered crowd of visitors that, during my short trip, included just two couples and a guffawing journalist. The exhibit, titled "Revisionism: Thirty New Works," had no official opening reception, and instead just appeared one day in the prestigious gallery, tucked into a room on the 5th floor, sandwiched between Cy Twombly and Richard Serra.
The artwork consists of large-scale, silkscreened canvases that re-contextualize magazine covers with a loud mesh of pop culture iconography. Dylan throws together both past and present day celebrities and politicians -- often nude, bloodied or both -- and plasters them on his version of well-known publications like Gourmet magazine, Rolling Stone or TIME. Topped off with nonsensical headlines (think a group of ballet dancers under the caption "Soul Train in its First Season Promises to Bring Dance Culture to Main Stream"), the giant artworks read like a handful of inside jokes imagined by a man of culture with decades of disdain under his belt.
Which might be why the journalist I shared the rounds with found each and every canvas so laughable. Or why one of the unimpressed couples paced for less than a minute before suggesting, "Let's go see Richard [Serra]." Another canvas shows a topless figure of a tennis player on a faux-Life cover accompanied by the words, "Olga Svenson, Swedish Star, Comes From Behind To Win Open." Like the outstanding barrage of bare-breasted pin-ups and blood-stained brutes decorated with mundane quips, the provocative image lacks originality just as much as it exudes forced irony.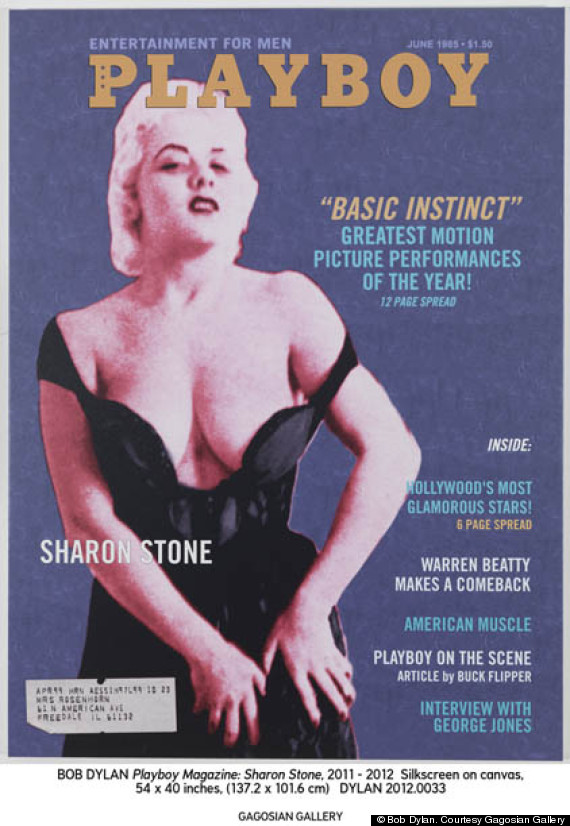 © Bob Dylan. Courtesy Gagosian Gallery. Photography by Robert McKeever
The overall dampened enthusiasm for the exhibit could have something to do with Mr. Zimmerman's last foray into the world of Madison Avenue art. His "Asia Series," which graced the walls of Gagosian Gallery last year, was criticized for its allegedly uncanny resemblance to images in the public domain. Though the exhibit was supposed to be based on Dylan's personal travels throughout Japan, China, Vietnam, and Korea, the works were less "visual journal" and more paint-by-numbers Henri Cartier-Bresson. As you might guess, the reviews were not kind to the singer-songwriter -- Holland Cotter called it "dead on the wall" -- but that seemed to have no effect on Dylan, who didn't shed so much as a single press release responding to the accusations.
In fact, the title of Dylan's 2012 exhibit sounds like a direct rebuttal to the "Asia Series" debacle. Even the Gagosian's official description of "Revisionism" makes a not-so-discreet reference to the musician's penchant for appropriation, remarking, "Dylan has long been a willful contextualizer of his own source material."
We get it, Bob. It's no skin off your back to borrow bits of material here and there. Appropriation is part of the artistic wheelhouse and no one will fault you for that, unless you're Jonah Lehrer. But this recent exhibit, like "Asia Series," just leaves us piecing together the dull jokes of an underwhelming show.
Calling all HuffPost superfans!
Sign up for membership to become a founding member and help shape HuffPost's next chapter