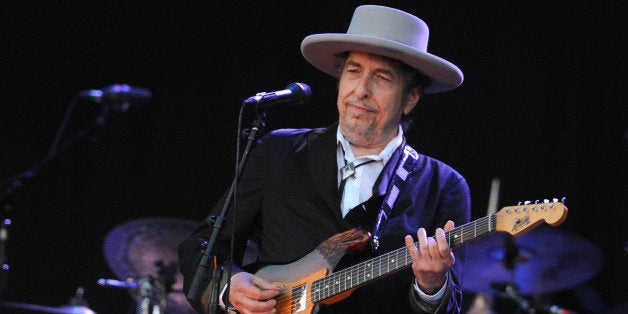 Celebrated Norwegian autobiographer -- autobiographical novelist, I mean -- Karl Ove Knausgaard has recently spent some time traveling in very cold weather through northerly parts of America, on behalf of the New York TImes Sunday Magazine.
His journeys, published in two parts on February 25 and March 11, under the title My Saga, have been touted by the NY Times as Knausgaard's travels through North America. He commenced, in the first part, with a plaint that precludes him from being Jack Kerouac, Neal Cassady, Sal Paradise or Dean Moriarty: "I lost my driver's license over a year ago." This On The Road is going to be a chauffeured trip? Uh oh. No, don't worry -- he'll participate in that American institution of being behind the wheel before the end (even though he can't really drive a stick). Knausgaard was meant, at the suggestion of his editor, to be driving from Newfoundland to Minnesota, "where a large majority of Norwegian-American immigrants had settled, and then write about it." Conveyed by bus and taxi, he began his travels. He ate various cheesy foods, was stranded in a blizzard, had his phone card run out, and suffered experiences in his hotel bathroom that are far best left unrepeated here. Finally, he crossed the Canadian border and achieved America, met up with his photographer -- and perforce driver -- and experienced Cleveland and Detroit while smoking a great deal, often where he oughtn't.
In part two of My Saga, Knausgaard circled closer to having to conclude something about America, before the end. In part, his search for relatives -- framed by his immense discomfort in Googling to find them -- provided Knausgaard with both an avenue and a conclusion. Yet, thanks initially to his photographer Peter van Agtmael, he found more of a connection in Bob Dylan.
On the night of his third day in America, Knausgaard arrived in Duluth.
"What's the name of the town?" I asked.
"Duluth," Peter said.
"Never heard of it," I said.
"Bob Dylan grew up here," he said.
"Really? Here?"
Well, kinda. Dylan was born in Duluth in May 1941, and lived with his family at 519 N. 3rd Avenue East until he was six. The Zimmermans moved to Hibbing, Minnesota then, and Dylan continued his growing up there.
Something about Duluth, though, stung Knausgaard into action immediately upon his arrival. He sat down in a bar with a beer and a whiskey, listening to music, and began to write -- for the first time on the trip. He also laughed for the first time. Finally, he interacted with people in a place, and enjoyed it.
Van Agtmael wanted to see Dylan's childhood home the next day, and this pilgrimage sparked the only real passage of self-reflection and discussion of artistic process in My Saga. Some of what Knausgaard says of Dylan is old news; some Dylanic epiphanies almost clichéd now: "nothing about his music or his role had become rigid or clearly defined, no final form enclosed him. In fact, it was as if he weren't really a person at all, but had somehow dissolved into his music. His old songs were constantly in motion, and the new songs emerged from the same stream. As he traveled around, permanently on tour, you couldn't tell what came from him and what belonged to the American song tradition; he was just playing the music." And Knausgaard gets some things very wrong -- for instance, noting the recently released masters of the 1967 Basement Tapes as showing how Dylan "discovers this mode for the first time," when Dylan had begun to commingle, inseparably, self and "the American song tradition" for the first time nearly a decade before, in the cafés and apartments of the Village, with Liam Clancy and Dave Van Ronk and Paul Clayton. Or even earlier, back home in Minnesota, where on a January night in 1959 high-school senior Bobby Zimmerman traveled down to Duluth with friends to hear Buddy Holly, The Big Bopper, Richie Valens, and Dion and the Belmonts at the Armory.
Yet Dylan leads Knausgaard into introspection and a provocative musing upon the artistic process and artists. Says Knausgaard, "All writers, artists and musicians know the feeling: when you disappear into what you are doing, lose yourself in it and are no longer aware that you exist, while at the same time the feeling of existing is profound and total and what you make is never better. Work created in this state really shouldn't be published in the artist's name, because it has been created precisely by the artist's nonpersonal, nonindividual, selfless side. Bob Dylan is the master of the selfless self, the king of the not-one's-one, a deeply paradoxical figure who lived and breathed the music of this deeply paradoxical country."
First, Knausgaard links himself -- no, more than that -- he equates himself with Dylan. Then, he argues that what is created most internally, most personally is actually done by an artist's "nonpersonal, nonindividual, selfless side." This presumes that artists have such a side, and that they prize it above the personal; one might read this as Knausgaard's simplified version of T.S. Eliot's construction of tradition and the individual talent. But while Eliot recognized that artistic making involved a degree of "extinction of personality" he also knew full well that it was only true artists -- those with the capacity for "seizing and storing up numberless feelings, phrases, images" until the moment they could united them "to form a new compound," and (more imperiously) those "who have personality and emotions" -- who could really understand what it might mean to both use and escape them. Like W.B. Yeats, Eliot recognized that the phantasmagoria of artistic making equally involved conscious discipline and the power of muse-like inspiration. Dylan's monologues and commentaries in his Theme Time Radio Hour (2006-2009) gave us a taste of the combination of scholar, magpie, wit, and omnivorous music-lover that have surely been a part of his own unique capacity to form "new compounds" over the decades.
Finally, Knausgaard ends his reflections with a lovely line that's both debatable and fine -- "the king of the not-one's-one" -- and the oft-proposed idea that Dylan is paradoxical. I was most struck by his setting Dylan, in conclusion, firmly into the has-been. Knausgaard begins the sentence in the present tense, and finishes it in the past: "who lived and breathed the music of this deeply paradoxical country." This relegation of Dylan to a figure who is not "really a person at all, but had somehow dissolved into his music," and someone who no longer lives and breathes the music of America, is a classic artistic stunt of dismissal. Harold Bloom would call it slaying the fathers. I call it -- well, I could call it deeply paradoxical, or perhaps humorously ironic.
Here's why. Knausgaard has concluded his "10 days on assignment in the U.S." and gone home. Dylan, after being he-knows-where since his remarkable MusiCares Person of the Year speech at the GRAMMYs, begins his spring tour again through old familiar places next month. The Borgata in Atlantic City, where he's played before. The Altria -- formerly The Mosque -- in Richmond, Virginia, where he first played, an almost-forgotten show, in 1966. The Disney Theater in Orlando. Grand old picture palaces, like The Fox Theatre -- the "Fabulous Fox," opened in 1929 -- in Atlanta, and the Orpheum (1928) on Beale Street in Memphis. Dylan and his band roll on through the spring, down the backroads headin' south, and back up into the Midwest and South Bend, Indiana. More dates will be announced. The music of America is alive and well, on stage in the hands of the master of the selfless self, the king of the not-one's-one. I'd like to invite Knausgaard to the show, the next time he's here for a visit.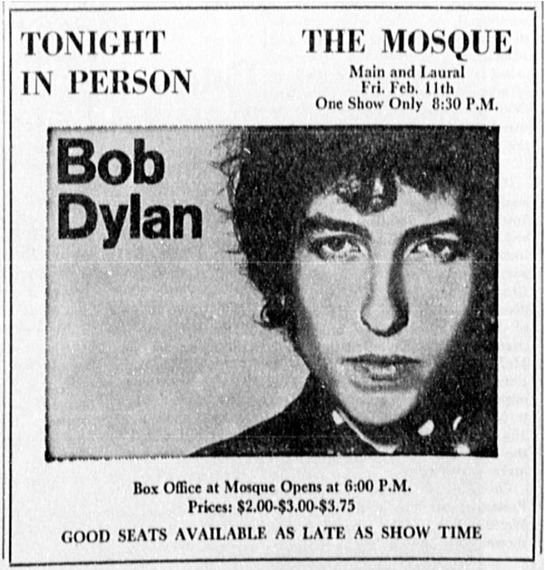 Poster for Dylan's 1966 show at The Mosque, Richmond, VA, via vintagerva from University of Richmond, Boatwright Library
REAL LIFE. REAL NEWS. REAL VOICES.
Help us tell more of the stories that matter from voices that too often remain unheard.