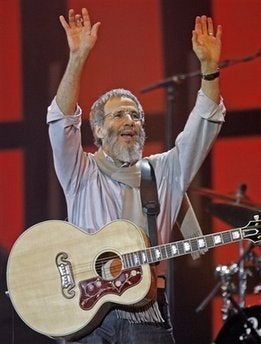 Bob Dylan and Yusuf, The Artist Formerly Known as Cat Stevens.
Both men. Both singer-songwriters. Both prominently featured on posters at the kids' table for my Bar Mitzvah in New Jersey, a lovely affair held during the Bronze Age.
What does it say that more than three decades later, these two surviving heroes of my youth are still singing and delivering the goods? That I am old? Clearly, but thankfully at least these two are both even older than me and arguably wiser.
So in their honor, I listened to Dylan's new Together Through Life and Yusuf's just released Roadsinger and dared to ask the big question: Are these just two grumpy old men or a couple of lions in winter?
To my ears, they are lions that can still roar mightily. Grumpy old men isn't the right phrase anyway for these two still fascinating fellows, even though Together Through Life opens with two songs called "Beyond Here Lies Nothin'" and "Life Is Hard," while Roadsinger features such titles as "World O' Darkness," "This Glass World" and "The Rain." Let's just call them both world-weary travelers who've been around the block -- or actual grown ups who know better?
I'm not remotely objective here. I am a lifelong fan of each man. I've also had the pleasure over the years of meeting both Bob & Cat -- not to be confused with Bob & Ray, another couple of guys who did well at radio.
Dylan's work means so very much to me that I gave his good, self-imposed name to my firstborn son. And the man himself seems pretty wonderful too -- Dylan once wrapped up some delicious room service cookies for me to bring home to my boys. Now that's the kind of spokesman for a generation I can really get behind. Between that act of generosity and Blood On The Tracks getting me through my first heartbreak and the fact that he made me want to be some kind of writer in the first place, I figure I owe the guy. So does anybody who ever tries to write a song.
Yusuf and I first met working on a special 2000 two-hour Behind The Music documentary about his unique spiritual and musical journey, and along the way I grew comfortable enough to ask him if I could use a picture of the two of us walking in the park together on my Hanukkah card -- probably not a request he gets a lot. I reminded Yusuf of that when the team from our show won the Muslim Public Policy Award in 2001, quite a year to take that honor.
Recently, I got to spend some more time with Yusuf when we filmed an episode of The Chris Isaak Hour for the Biography Channel -- you can see it again Thursday night if you missed it. Some people apparently can't forgive him for things he may or may not have done, but I choose embrace the man and the music that he is himself now re-embracing with grace and gusto. Yusuf performed old and new songs for us, and even sang his very first ever Cat Stevens hit "I Love My Dog" to Rodney, our show's canine sidekick -- a very sweet gesture, especially for a guy called Cat.
Listening now to new powerful albums by Bob Dylan and Yusuf makes me feel younger, and not simply because these two are older than I am. As world weary as their songs might get at times, the very decision for such men to write a new song and sing another night is -- in and of itself -- positive and life affirming to my ears. And so in some very strange way, I was so much older back at my Bar Mitzvah. I'm younger than that now.
Calling all HuffPost superfans!
Sign up for membership to become a founding member and help shape HuffPost's next chapter