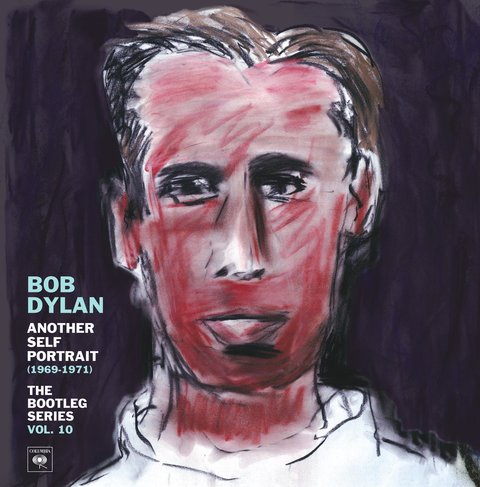 Bob Dylan, The Bootleg Series Vol. 10, Another Self Portrait (2013) © Columbia Records
Pretty Saro, Bob Dylan (1970)
"Pretty Saro" originated in England and took on new life, as ballads were wont to, in America in the 19th century. When Cecil J. Sharp, the great collector of Appalachian folk music, transcribed "Pretty Saro" in a version sung in North Carolina in 1916 by Mrs. Mary Sands, its lyrics had expanded and changed -- though the story remains the same. The singer has lost his love because he has neither lands nor gold. Rejected by Pretty Saro, he heads out to wander the wide world, but will never forget her. In the earlier version of the song, he dreams of being a rich merchant "who could write a fine hand," the man she evidently wants. If only he could write his "love a letter that she might understand" -- but it's all conditional. He can't. All he can do is think, or dream, of his darling wherever he goes.
In the various American versions, the song is longer, and commences with the singer arriving in this country in 1849. Often he's a poor soldier, and far from his home. Did he, perhaps, come over to find gold? 1849 was, after all, the year for it: "Days of 49," the Gold Rush ballad, is one of the songs on Dylan's original Self Portrait (1970). Will the gold help him win the girl? In the later version, the "merchant" who can write a fine hand becomes a "poet."
Alan Lomax published "Pretty Saro" in his Penguin Book of American Folk Songs (1964). Many of the young Dylan's folksinger contemporaries, and colleagues, of the early and middle 1960s recorded versions of the song. Shirley Collins recorded it in 1959; Judy Collins in 1961. Hedy West sang it almost a capella, as a dirge and lament, on Pretty Saro and Other Appalachian Ballads (1966) -- which also features "The House Carpenter," one of the other ballads on Another Self Portrait. Jean Ritchie included it on several records. Pete Seeger, who'd sung it many times before, put it on his Folkways album God Bless the Grass (produced by Tom Wilson, who also produced The Times They Are A-Changin, Another Side Of Bob Dylan, Bringing It All Back Home, and the single "Like A Rolling Stone"). Up until now, my favorite has always been Doc Watson's a capella rendition of the "American version" of "Pretty Saro."
Dylan's version is largely the earlier one -- the lyrics very like those sung by Judy Collins in 1961. The rich merchant in Dylan's "Pretty Saro" is a freeholder -- that term still so associated with English property law. A freeholder owns house and lands outright, with no time period or reversion associated with them -- unlike a leaseholder, who has less money and purchases the property for a time of use. However, Dylan retains the idea of its being a poet, not a merchant, who can write a fine hand. Of course, if only Saro could hear the song, it's far better than reading a letter, and it might win her heart above all the lands and gold.... That Dylan was married, at the time, to a woman named Sara makes of the song, also, a love song to her, sung by a lonesome rambler to the girl he'd left at home.
The marvelous thing about Dylan's "Pretty Saro" is his voice. Who ever said Dylan couldn't sing? "Pretty Saro" solidly puts paid to the ancient, variably attributed one-liner about Dylan's singing voice sounding like a dog with its leg caught in a barbed-wire fence. His voice, here, is a pure, sweet tenor lifting Pretty Saro's name skyward, then sinking low on the "wherever I go"s. The song features singing birds in that sad lonesome valley, and Dylan's voice rises and flies, swoops and falls, like birdsong. His strummed guitar accompanies him: no overdubs, no extra production. Evidently only Al Kooper, David Bromberg, and producer Bob Johnston were in the studio that day. David Bromberg -- it must be Bromberg, so light and fine is the touch -- follows Dylan's voice on what sounds like the dobro, putting a gorgeous conclusion to the song.
Dear Columbia Records: more, please. These ballads and tried-true old songs, Dylan's clear clean voice, the bright gentle instrumentals, are solid gold too long kept in the vaults.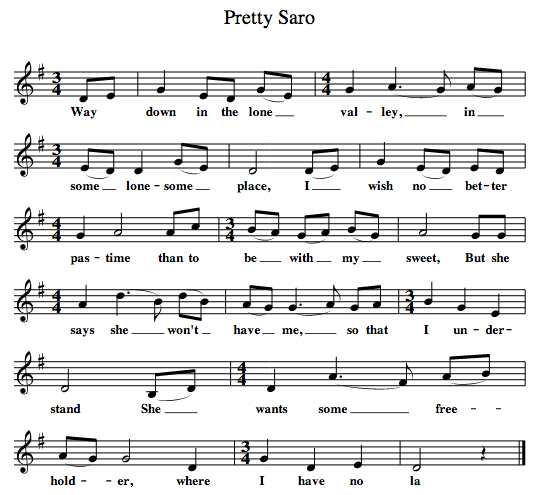 from Alan Lomax, ed., The Penguin Book of American Folk Songs (1964)

Popular in the Community