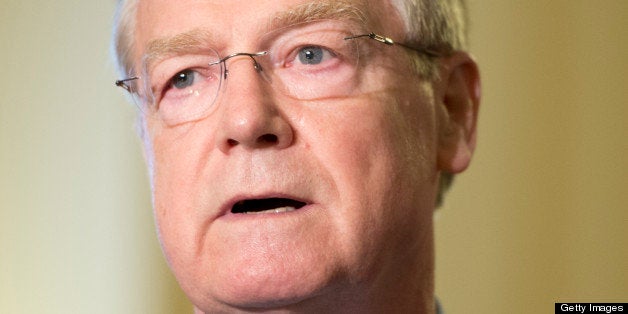 Bob Edgar, the president and CEO of Common Cause, has passed away at the age of 69. Bob was active and on point up to the end, having recently held a forum for the 40th Anniversary of Watergate, speaking in public last week, and even just blogged for HuffPost about California's opportunity to rebut the Supreme Court's Citizens United decision, a cause he had rallied so much attention and activism around.
His death came as a shock to me. I'd grown accustomed to seeing his face daily while editing on our documentary. Bob was so gracious to give me the time for an interview from his busy schedule, right before he left the country for an international humanitarian event. He was a consummate pro in his delivery. I was absorbed while he spoke. Bob's optimism is so infectious, the vision he shared with me then has continued to fuel my hopes of bringing people together to fight the pressing threats of our day -- the corporatization of our democratic process, the injustice faced by the poor and disenfranchised, the struggle for equality.
Bob was a Man of Our Times. Though he was active and central through many eras, Bob was himself an Era. In this excerpt of our interview, Bob shares the marvelous career path he led, comparing himself to Forrest Gump for politics and religion due to his ability to always be some place interesting at the right time--as a minister meeting with MLK, reuniting Elian Gonzalez with his Cuban grandmothers, aiding with SALT II, founding a shelter for homeless women, elected to Congress as a Watergate Baby, more.
This clip is unedited, because Bob is such a great speaker and storyteller, he's rather mesmerizing, even more so scored with Philip Glass's Koyaanisqatsi. I don't have old photos of him, but you can almost feel the period pieces start to fade in slowly like a Ken Burns documentary. Watching to the end is easy because Bob is so compelling, and worth it for the unique perspective he imparts from his stellar, compassion-driven career.
I make documentary to preserve and promote the wisdom of great spirits like Bob Edgar, and to spread civic engagement through organizations like Common Cause.
Calling all HuffPost superfans!
Sign up for membership to become a founding member and help shape HuffPost's next chapter