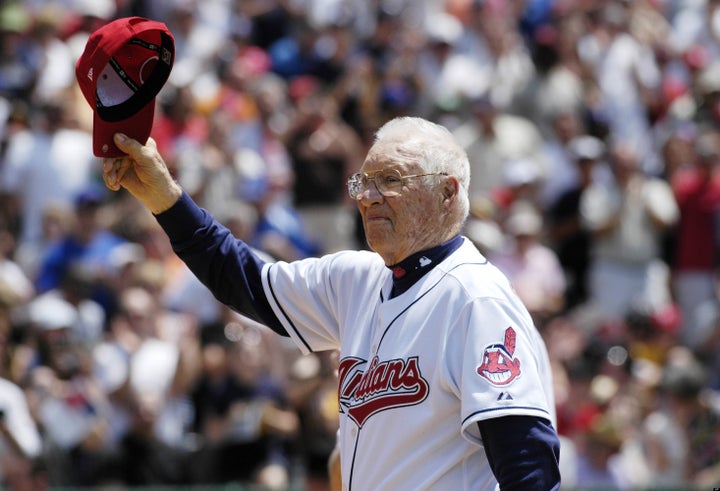 Bob Feller agreed to the stunt because he was as curious as everybody else. How fast could he really throw a baseball? Where did he possibly rank among baseball's fastest of the fast?
That's what led him to the middle of closed-off street running through Chicago's Lincoln Park on a sunny morning in the summer of 1940. Standing there with a baseball in his right hand, waiting and then momentarily flinching as the Harley Davidson motorcycle with a city policeman roared closer to him.
Of course, this was a generation before radar guns and such modern-day timing devices. So Major League Baseball devised what will forever be remembered as the motorcycle test to clock Feller's legendary fastball.
The Harley motorcycle had a 10-foot head start on Feller's fastball and was doing 86 miles per hour when it flew by, just a few feet to the right of the Indians' ace. At that moment in U.S. history, Feller was just about the most famous ballplayer, certainly the most famous pitcher, in the land. Soon after he began pitching for Cleveland, at the age of 18, he was on the cover of TIME magazine. Six seasons later, on this summer day in Chicago, Feller was the top fireballer in the game.
"I suppose I wanted to know as badly as everybody else how hard I could throw a baseball," Feller told me decades later. "Since I'd been a little guy, I'd heard people talking about how I was the next Lefty Grove or Walter Johnson."
Seconds after the motorcycle flew past, Feller flung the regulation-size hardball in his right hand. Feller's offering quickly outraced man and machine, ahead by a good three feet when it split the paper bull's-eye target that was held upright by a wooden frame.
"To this day I still don't know how I hit that target on the first try," Feller said. "It was the luckiest thing I've ever done."
A split-second after Feller's offering broke the paper target, the motorcycle obliterated its target. Enough variables were satisfied to calculate the speed of the pitch. Soon afterward, MLB announced that Feller's fastball had been clocked at 104 miles per hour.
Feller was one of many fireballers -- Nolan Ryan, Steve Dalkowski and David Price -- that I spoke to when writing High Heat: The Secret History of the Fastball and the Improbable Search for the Fastest Pitcher of All Time.
Feller, perhaps more than most, recognized that he belonged to a brotherhood. That he was one of the few players who could throw a baseball really, really hard. He died earlier this week. The Iowa farm boy who earned the nickname "Rapid Robert" was 92.
I'll miss our conversations because Feller always spoke his mind. Sometimes he didn't think much of today's ballplayers, calling them spoiled. I wondered how many of them would do what Feller had done: Enlist in major conflict, in his case World War II, and sacrifice four seasons in the prime of his career. Still, the hard-throwing, right-hander wasn't so set in his ways that he couldn't appreciate today's game and some of its stars.
Feller was so old school he often didn't ice his arm after starts. "Ice is for drinks," he often said.
So when I told him that Tim Lincecum, the fireballer for the San Francisco Giants, also rarely iced his arm, Feller immediately took interest. No matter that Lincecum has long hair, rarely comes to the ballpark in a suit and tie, let alone dressing to the nines for a film session against a motorcycle.
"Is that right?" Feller said. "I'll have to keep an eye on that kid."
This fall, as Feller's health faltered, Lincecum put together a memorable string of starts in the postseason (4-1, 2.43 ERA), leading the San Francisco Giants to the World Series title. That was the symmetry about the game Feller often enjoyed. Epic fireballers, he once told me, are one of the major threads running throughout the game, from Walter Johnson and Smoky Joe Wood to today's stars like Lincecum.
For decades, from Little League annual dinners to speaking engagements aboard cruise ships, Feller showed audiences footage of the famous motorcycle test. Often he would pair it up with Abbott and Costello's "Who's on First?" The silent footage of that day in Lincoln Park rolling right into the comedy team's famous routine.
"In makes sense, in an odd way," Feller once said. "Me throwing against a motorcycle and then these two funnymen. I don't which one I get a bigger chuckle out of."