The letter comes after weeks of scrutiny and days of mediated talks between Filner and other parties to a sexual harassment lawsuit against him.
According to UT San Diego, the talks wrapped up Wednesday. The San Diego City Council is expected to consider the deal, reached by Filner's attorneys and those for the city, on Friday.
Filner, who faced allegations of sexual harassment from at least 18 women, had been in settlement talks for three days. On Wednesday evening, City Attorney Jan Goldsmith announced that an agreement had been reached in the harassment case, but did not divulge details on the deal.
The Los Angeles Times later reported that Filner was spotted on Wednesday evening leaving his City Hall office and loading boxes into a SUV.
The sex scandal swirling around Filner has plunged the city into political turmoil. The public has seen only glimpses of the mayor for the past several weeks. Meanwhile, a recall effort has started and women continue coming forward and saying Filner made unwanted advances and inappropriate statements to them.

...

The mayor's former communication's director, Irene McCormack Jackson, was the first woman to go public with harassment allegations and is the only one to file a lawsuit against Filner and the city. She claimed the mayor asked her to work without panties, demanded kisses, told her he wanted to see her naked and dragged her in a headlock while whispering in her ear.

Other accusers include a university dean and a retired Navy rear admiral. Some contend he cornered, groped and forcibly kissed them.
This is a developing story.. Check back for updates..
Before You Go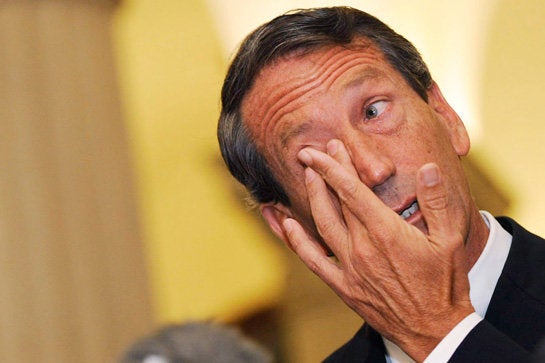 10 Dumbest Excuses for Political Sex Scandals
Popular in the Community