San Diego Mayor Bob Filner said Monday that he will not resign amid allegations that he sexually harassed several female members of his staff, claiming an investigation will clear his name of any wrongdoing.
"I'm not going to resign, and here's why," Filner said in a statement. "As your elected mayor, I fully expect to be accountable to the citizens of San Diego for all of my actions."
He continued, "But as a citizen of this country, I also expect -- and am entitled to -- due process, and the opportunity to respond in a fair and impartial venue to specific allegations. I do not believe I am guilty of sexual harassment, and I believe a full presentation of the facts will vindicate me."
Last week, former San Diego councilwoman Donna Frye sent a letter to Filner that said she had received "credible evidence" of the mayor harassing several women. In the letter, Frye, who worked for the mayor until April, urged Filner to resign and for the city council to schedule a special election.
"Those who have spoken to me recently would not make the allegations lightly or without cause, and I believe them," Frye wrote in the letter, published by KPBS. "I cannot in good conscience remain silent on this, even if those who have spoken to me choose to do so out of fear of retribution or the possibility of a media circus where they could be twice victimized."
Filner issued an apology on Thursday, but stopped short of admitting to any of the allegations.
"I begin today by apologizing to you. I have diminished the office to which you elected me. I have reached into my heart and soul and realize I must and will change my behavior," Filner said in a statement. "I am also humbled to admit that I need help. I have begun to work with professionals to make changes in my behavior and approach."
The fallout continued after Filner's apology, with the mayor's chief of staff Vince Hall announcing his resignation on Friday.
"As a lifelong activist for women's rights and equality, I feel I must resign effective today," he wrote on Twitter.
Joining the chorus of individuals calling for Filner's resignation was the mayor's former fiancee, Bronwyn Ingram, who broke off her engagement with Filner just days before the allegations surfaced.
Ingram said in a statement to KPBS that Filner had become "more aggressive" in his behavior, and that she had "witnessed a severe deterioration in Bob's ability to engage with anyone in a civil manner." She also said Filner had sent other women sexually explicit text messages in her presence.
Before You Go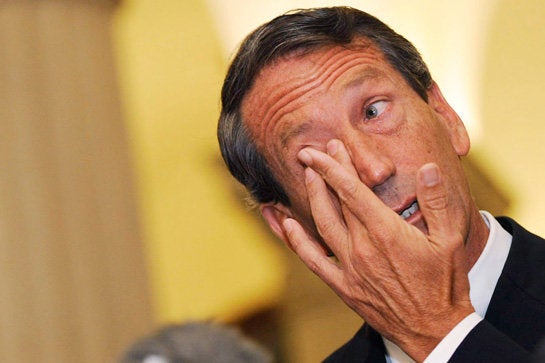 10 Dumbest Excuses for Political Sex Scandals
Popular in the Community