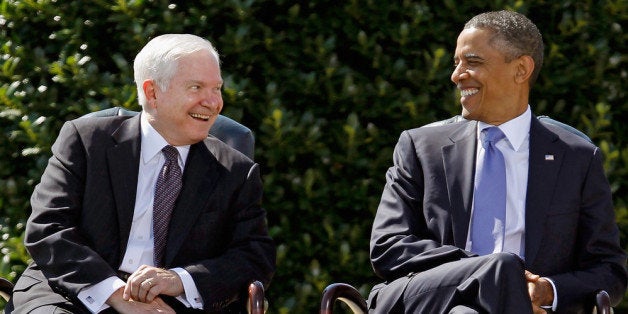 WASHINGTON -- Former Defense Secretary Robert Gates' much discussed -- but not yet released -- memoir has caused a stir over the broadsides he levels at the Obama administration.
While the harshest lines are saved for Vice President Joe Biden, Gates also has less-than-glowing passages about President Barack Obama. According to reviews of the book, Gates views the president as having a deep reservoir of respect for the troops but little for the military brass; a thoroughness when it comes to reaching foreign policy decisions but a wavering commitment to seeing those decisions through.
On the Afghanistan troop surge, for example, Gates writes, "As I sat there, I thought: The president doesn't trust his commander, can't stand [Afghan President Hamid] Karzai, doesn't believe in his own strategy and doesn't consider the war to be his. For him, it's all about getting out."
All told, the picture of Obama painted by Gates isn't the kindest one -- unless, apparently, the picture is being viewed by House Democrats.
The Huffington Post asked several House lawmakers on Friday for their opinion on Duty: Memoirs of a Secretary at War. While none had read the book in full, they all exclaimed that they liked the portrayal of Obama.
From Rep. James Clyburn (D-S.C.), a member of the House Democratic leadership:
"Before I became a pretty liberal Democrat, I was what a lot of people might call an Eisenhower Republican. And I mean that literally. When I grew up, the first campaign button I ever wore was 'I Like Ike' back in 1952. So you see how old I am. And I will always remember his farewell address to the country, to be wary of the military-industrial complex. I will never forget that. I think to have a healthy skepticism of the investments in war is something good to have and I was very pleased to see that part begin to be made public, because a lot of people thought otherwise about the president's skepticism when it comes to the war."
From Rep. Chris Van Hollen (D-Md.):
"A lot of the statements were very positive about the president. Now, I think when it comes to the situation in Afghanistan, for example, people need to be asking hard questions. We want a president who is going to be asking the hard questions. We don't want somebody who is just going to automatically accept the information that is provided. And so I'm pleased to learn that the president was asking hard questions about whether the strategy was working or not."
From Rep. John Garamendi (D-Calif.), a member of the House Armed Services Committee:
"[Presidents] all question [the military brass] and they should. 'Is this working? You know, I tried this. It didn't work. I'll try something else.' Everyone is familiar with Lincoln now because of the movies. There is a man who questioned what was going on in the military. That's the president's role. ... So the president did the right thing, and for Gates to say that the president didn't stick by his policy -- the president did exactly what he should do. And that's to question the policy."
Like much of the country, Democratic lawmakers have soured on the Afghanistan war. So to hear from Gates that Obama may never have been convinced that the surge would work is an affirmation of sorts of their own skepticism.
One criticism of the memoir has been over its timing. Sen. Jeff Flake (R-Ariz.) said it was bad form for the former defense secretary to air these types of internal deliberations before the president was out of office and while the war was still in a precarious state. None of the lawmakers interviewed on Friday echoed that complaint, save one.
House Minority Whip Steny Hoyer (D-Md.) said that he, too, thought it would have been better for Gates to publish the book after Obama left the White House "so it would be a retrospective."
"Now, I think it looks more political, which I don't think is Gates' intent," said Hoyer. "I just don't think the timing is particularly useful."
REAL LIFE. REAL NEWS. REAL VOICES.
Help us tell more of the stories that matter from voices that too often remain unheard.
BEFORE YOU GO
PHOTO GALLERY
Obama's Fist Bumps