 WASHINGTON -- Rep. Bob Goodlatte (R-Va.) distanced himself on Thursday from previous discussions on allowing young undocumented immigrants who came to the U.S. as children to become legal residents, and argued they should be stripped of any relief they have received from the government.
The congressman, who chairs the House Judiciary Committee, spent an hour at an event hosted by the Christian Science Monitor repeatedly criticizing President Barack Obama for his immigration policies, particularly a program he created to help the young undocumented immigrants sometimes called Dreamers. He blamed the president for a recent increase in unaccompanied children crossing the border illegally, and echoed colleagues in saying the president should end Deferred Action for Childhood Arrivals, or DACA, to keep the policy from serving as a magnet for more undocumented immigrants.
DACA allows undocumented young people who came to the U.S. as children before June 2007 to apply to stay and work legally for two years or more, and has thus far been granted to more than 550,000 people. Some Republicans have called for the president to halt the policy immediately, and Goodlatte said he agreed it should be disbanded.
Goodlatte did not have a direct answer for whether he would support restarting deportations of young people who came to the U.S. as children and have long-standing ties to the U.S.
"They should not be under a process created that the president doesn't have the authority to do, and they would be in the status that they were in prior to this program being established," he said at the event.
He and other Republicans have criticized DACA, as well as Immigration and Customs Enforcement policies that prioritize the deportation of criminals. Both of those policies protect some Dreamers from being deported.
Goodlatte said enforcement should consider "not just how serious a crime has someone committed before they're required to leave, but the fact that they are in the country illegally."
"Whether they came in illegally or whether they entered the country legally and overstayed a visa or a visa waiver, they should be required to leave," he said. "That's what the law says and that's how the law should be enforced."
It was widely reported in 2013 that Goodlatte was working on a plan for legal status for Dreamers with outgoing House Majority Leader Eric Cantor (R-Va.), who recently lost his Republican primary amid accusations by his opponent that he supported "amnesty" for undocumented immigrants. They never introduced a bill, and Goodlatte said on Thursday there never was one, as far as he knew.
"There is not a bill -- to my knowledge, there never was a bill that Eric Cantor was working on," he said. "There was a lot of discussion about how we'd handle that issue as a part of the step-by-step approach, but no legislation out there."
Asked about Goodlatte's comments, a senior Republican aide familiar with the issue who was not authorized to speak on the record said "there was legislative text being discussed" that went beyond principles.
Goodlatte issued a statement on July 11, 2013, confirming reports that he was working on a bill with Cantor.
"As part of the step-by-step approach the House is taking to address immigration reform, Leader Cantor and I are working on a bill to provide a legal status to those who were brought illegally to the U.S. as children by their parents. These children came here through no fault of their own and many of them know no other home than the United States. This is one component of immigration reform -- any successful reform plan must improve our legal immigration programs, strengthen border security and the interior enforcement of our immigration laws, and find a way to fairly deal with those who are currently in the country unlawfully."
On Thursday, he said any consideration of how to deal with people already in the U.S. would need to come after enforcement measures were enacted, a process that would likely take years.
Goodlatte didn't inspire much hope that reform would happen in 2014.
"I am going to do my job as the chairman of the Judiciary Committee," he said. "But I will tell you that the environment for doing this is exceedingly difficult."
Before You Go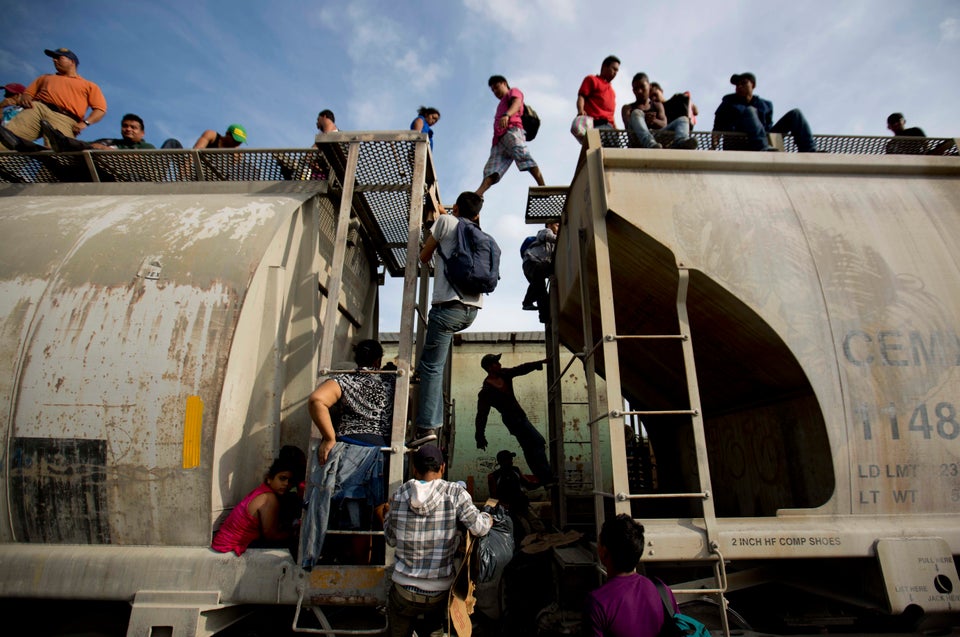 Why Latin Americans Really Come To The U.S.
Popular in the Community