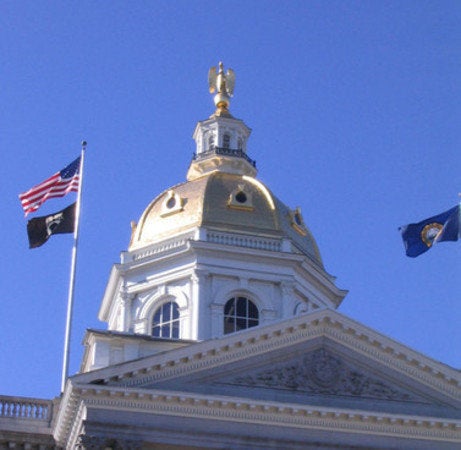 A Republican New Hampshire state legislator told a county convention Monday evening that kindergarten leads to higher crime rates.
Rep. Bob Kingsbury (R-Laconia) told the Belknap County Convention that research he's been conducting for the last 16 years has led him to believe that kindergarten programs leads to higher crime rates, the Laconia Daily Sun reported. Kingsbury, one of the more conservative legislators in the Tea Party-controlled House, said that his analysis was of local crime rates in communities that offered kindergarten versus those that do not offer the educational program.
"We're taking children away from their mothers too soon," Kingsbury said, who also linked higher crime to the lack of boxing classes in high schools
Kingsbury's comments came during a discussion over whether or not to build a new county jail and why inmate populations continue to rise. He said he shared his research with other legislators when he tried to fight mandatory kindergarten in the state.
Kingsbury, 86, has a history of supporting ideas that differ from his fellow legislators. In January, he partnered with two allies of birther queen Orly Taitz to push a bill partially ending the direct election of U.S. senators. Kingsbury said that he believed that all U.S. Senate candidates should first be picked by the state legislature and then put up for popular vote.
Kingsbury, a vocal United Nations opponent, has also sponsored a bill raising the minimum age to be a judge in New Hampshire from 18 to 60. He told The Huffington Post that he believes that judges should have more "life experience" before taking office.
Last month he called for Rep. Steve Vaillancourt (R-Manchester) to be expelled from the House after making a Nazi salute on the floor in protest of House Speaker William O'Brien (R-Mont Vernon) during a debate over voter identification.
During a February House committee meeting over supporting statehood for the District of Columbia, Kingsbury questioned the District's crime rate and crime-fighting policies and suggested that statehood could cause New Hampshire's crime rate to rise by 25-percent.
Kingsbury also sponsored a failed effort to tie future state legislation to the Magna Carta, a move that he told colleagues was to honor the English document's history.
Kingsbury's comments have become an issue in New Hampshire's gubernatorial race, with both Democratic candidates coming out against the comparison and questioning why the Republican frontrunner has not done the same.
Republican gubernatorial frontrunner Ovide Lamontagne was questioned about Kingsbury's kindergarten crime accusation during an interview Wednesday on WKXL. The host asked whether Lamontagne, a former state Board of Education chairman, agreed with the comment, which the host said could lead to the conclusion that his placing his own son in day care could turn him into a "serial killer" one day, according to Kingsbury's thought process.
Lamontagne did not give an opinion on Kingsbury's comments.
"Well, everybody is entitled to their opinion," he said. "This is America, after all. And what we need to be doing from the point of view of government and government leadership is enabling people to make decisions at the local level and their families, and so forth for the best services available to their children, whether educational services, health care, and so forth, and that is what I am going to be looking at, and certainly as governor of the state of New Hampshire I am going to stand with New Hampshire families across the board."
Both Democrats in the race, Maggie Hassan and Jackie Cilley, have called on Lamontagne to address the comments while condemning Kingsbury. Hassan called Kingsbury's comparison "quite frankly ridiculous" in a statement and suggested that Lamontagne will try to roll back kindergarten requirements as governor.
Cilley went on Twitter to express her support for Kindergarten. "Just to be clear, I absolutely support kindergarten, and do not believe it increases crime," Cilley said in a tweet.
Popular in the Community