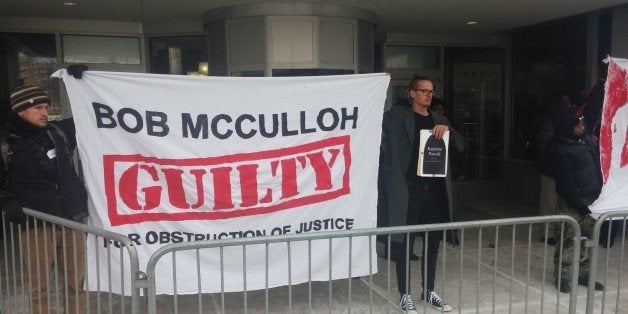 ST. LOUIS -- A couple dozen protesters were escorted out of an event at St. Louis University on Friday after disrupting a speech by St. Louis County Prosecutor Bob McCulloch. It's been nearly three months since grand jury proceedings led by McCulloch failed to produce an indictment against Darren Wilson for killing Michael Brown, and activists continue to hold McCulloch responsible for the grand jury's decision.
McCulloch, an SLU alum, was invited to be the opening speaker at a discussion at the university called "Thin Blue Line: Policing Post-Ferguson."
"There's no post-Ferguson," student Christian Gordan, 22, told HuffPost as he demonstrated outside the SLU building. "Ferguson is still a city. There's still a problem; there's no post-anything."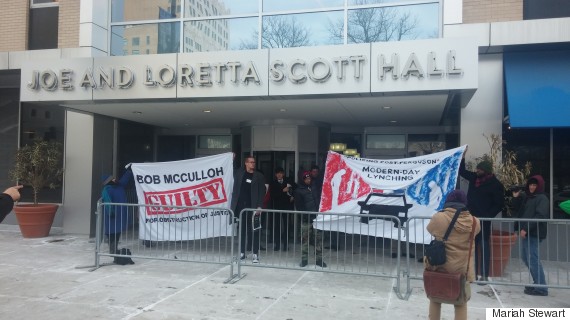 Days before the event, SLU president Fred Pestello released a letter in response to scrutiny over inviting McCulloch. The letter insisted McCulloch's presence would be beneficial to the conversation students need to have, saying, "One way to fulfill our mission is to expose members of the community to our academic world and to help our students gain a richer understanding of the societal challenges outside our classrooms."
The event was open to the public, but attendees were required to register. McCulloch began his presentation by discussing the procedures used in the Mike Brown grand jury process. In December, McCulloch admitted to calling a troubled witness to the stand to testify in front of the grand jury.
In his speech, McCulloch said his job was "to see justice done," and not solely to get an indictment of Wilson.
Just 15 minutes into his speech, protesters stood up and pleaded to put Bob McCulloch on trial and began singing the "requiem for Mike Brown" song. In response to protesters chanting, "Black lives matter," McCulloch said, "I'm pretty certain all lives matter," the St. Louis Post-Dispatch reported.
Protesters were eventually escorted out of the courtroom by police officers. None were arrested. Meanwhile, back inside the courtroom, McCulloch told the audience the protesters had not used freedom of speech in a respectable way. "I'm always amazed when those who profess their rights to free speech won't let anyone else speak," the Post-Dispatch noted McCulloch saying.
St. Louis Police Chief Jon Belmar spoke following McCulloch's presentation, reflecting on the events that happened after the grand jury decision. As he watched buildings burn, he said, he made the decision to choose "lives over property." Belmar also defended the use of armored trucks, saying their presence was so "no shots would be fired."
CORRECTION: A previous version of this article incorrectly stated that McCulloch made his remarks at a private event.
Popular in the Community