WASHINGTON -- Former Virginia Gov. Bob McDonnell (R) and his wife, Maureen, were indicted by a federal grand jury Tuesday on a combined 14 counts related to public corruption stemming from thousands of dollars in gifts and loans received from a top political donor. They could both face prison time.
The indictment comes after a long series of revelations in The Washington Post about how the governor and his wife took gifts from then-Star Scientific CEO Jonnie Williams. Federal prosecutors accused the governor of taking some $135,000 in gifts and loans from Williams, in addition to "thousands of dollars in golf outings."
The beginning of the allegedly improper relationship with the political donor began in 2009, when Maureen McDonnell asked Williams to cover the cost of her inaugural dress and got angry at one of her husband's staffers when that person said it wasn't a good idea.
"Bob is screaming about the thousands I'm charging up in credit card debt," she allegedly wrote in an email to Williams. "We are broke, have an unconscionable amount in credit card debt already, and this Inaugural is killing us!!" She later allegedly wrote that she couldn't accept the dress but that she would take a "rain check" from the donor.
Among the items the federal prosecutors said are subject to forfeiture are Louis Vuitton shoes, a silver Rolex watch engraved with "71st Governor of Virginia," sets of golf clubs and iPhones. Additionally, the feds alleged that the McDonnells had received yard work, home repairs and even a hot tub cover for their personal residence at the expense of Williams' brother.
Jonnie Williams gave tens of thousands of dollars toward the weddings of two of the then-governor's daughters. He took Maureen McDonnell on a $15,000 shopping spree in New York City, and the McDonnells borrowed Williams' Ferrari, which retails for $190,000.
The Post had also reported that Williams gave $70,000 to a real estate corporation owned by McDonnell and his sister and $50,000 to his wife, amounts that were not required to be disclosed under state law.
McDonnell helped arrange a meeting between Williams and Virginia Health Secretary Bill Hazel to pitch the company's dietary supplement called Antabloc, which the federal Food and Drug Administration has said has no medical benefit. McDonnell's wife also touted the supplement, and the McDonnells appeared at a luncheon at the governor's mansion to mark the supplement's launch. A Star Scientific employee met with the state's human resources manager to push for the state's benefits package to cover Antabloc.
As Virginia governor, McDonnell was barred from succeeding himself and thus was already going to leave office this month. However, the scandal has likely eliminated any hopes he had to run for president in 2016 or for any other high office. In addition, the scandal arguably contributed to the Democrats winning the governor's mansion, as the Republicans' gubernatorial candidate, former state Attorney General Ken Cuccinelli, also received gifts from Williams.
McDonnell released a statement Tuesday denying that he had broken the law.
"My fellow Virginians, earlier today federal prosecutors notified my attorneys that they have filed criminal charges against me and my wife Maureen, alleging that we violated federal law by accepting gifts and loans from Jonnie Williams, the former CEO of Star Scientific. I deeply regret accepting legal gifts and loans from Mr. Williams, all of which have been repaid with interest, and I have apologized for my poor judgment for which I take full responsibility," he said. "However, I repeat emphatically that I did nothing illegal for Mr. Williams in exchange for what I believed was his personal generosity and friendship. I never promised -- and Mr. Williams and his company never received -- any government benefit of any kind from me or my Administration."
The former governor added that the prosecution was an "unjust overreach of the federal government."
William Burck, an attorney for Maureen McDonnell, said in a statement that she is innocent of the charges.
The McDonnells will be arraigned Friday in Richmond, according to court documents.
UPDATE: 7:25 p.m. -- Bob McDonnell delivered an emotional appeal on camera Tuesday evening, flanked by his wife and children. He contended that he had been "falsely and wrongly accused" by federal prosecutors. President Barack Obama would have to be prosecuted if the same standards were applied to him, McDonnell said.
"The federal government's case rests entirely on a misguided legal theory, and that is that facilitating an introduction or a meeting, appearing at a reception or expressing support for a Virginia business is a serious federal crime if it involves a political donor or someone who gave an official a gift," McDonnell said. "The United States Supreme Court has already rejected this radical idea and for good reason: Because if it were applied as the law of the land, then nearly every elected official, from President Obama on down, would have to be charged for providing tangible benefits to donors."
Read the indictment below:
Before You Go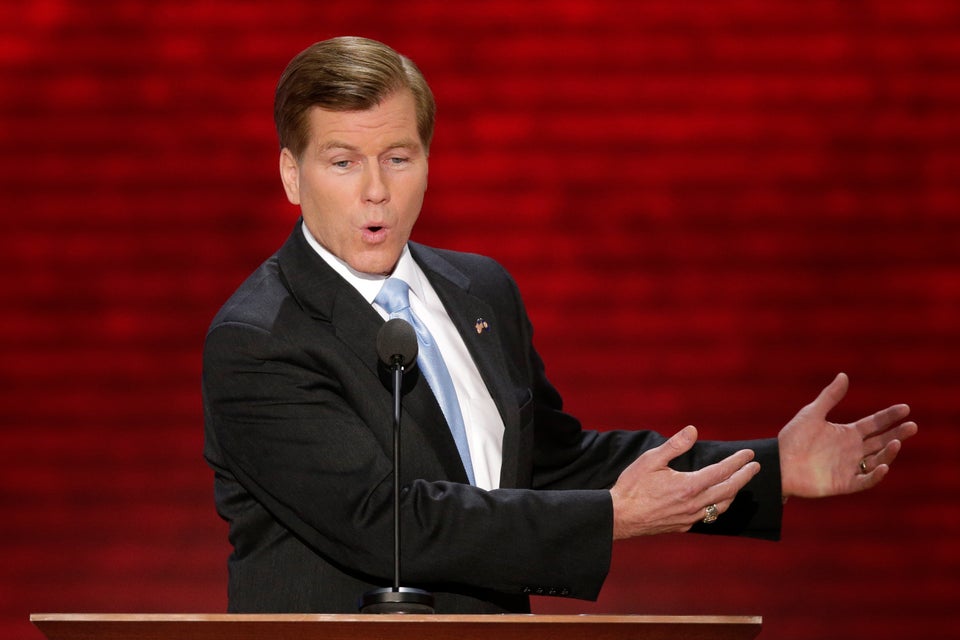 Bob McDonnell Through The Years
Popular in the Community