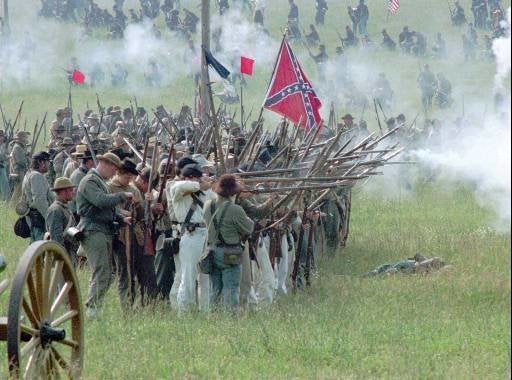 "The proclamation issued by this Office designating April as Confederate History Month contained a major omission. The failure to include any reference to slavery was a mistake, and for that I apologize to any fellow Virginian who has been offended or disappointed," McDonnell said in a statement.
The newly-minted GOP governor added: "The Confederate History Month proclamation issued was solely intended to promote the study of our history, encourage tourism in our state in advance of the 150th Anniversary of the beginning of the Civil War, and recognize Virginia's unique role in the story of America."
But earlier, McDonnell told the Washington Post that slavery was not "significant" enough to be included in the proclamation:
McDonnell said Tuesday that the move was designed to promote tourism in the state, which next year will mark the 150th anniversary of the start of the war. McDonnell said he did not include a reference to slavery because "there were any number of aspects to that conflict between the states. Obviously, it involved slavery. It involved other issues. But I focused on the ones I thought were most significant for Virginia."
Though the declaration of "Confederate History Month" in Virginia is not a new idea, McDonnell's recent Democratic predecessors chose not to recognize the celebration. Prior proclamations have also been more careful about the sensitive nature of the historical period.
Former Republican Virginia Governor Jim Gilmore explicitly mentioned slavery in his 1999 declaration of "Confederate History Month," and though his predecessor, Republican George Allen, neglected to recognize slavery in a similar proclamation, he apologized after coming under heavy fire from civil rights activists.
According to the Washington Post, McDonnell's proclamation was initially condemned by the NAACP, the Virginia Legislative Black Caucus and former Virginia Gov. Former L. Douglas Wilder, the first African American to be elected Governor, among others. And there were more condemnations on Wednesday.
Before McDonnell issued his apology, the Richmond Times-Dispatch, which endorsed McDonnell during his run for Governor, published a harsh rebuke of the wording in McDonnell's proclamation:
"McDonnell speaks of shared history, yet does not cite slaves. Southern heritage includes not only those who supported the Confederacy but those who welcomed the Union armies as liberators.

"McDonnell recognizes that the past must be interpreted within the context not only of its times but of ours. The inexcusable omission reduces the slaves and their descendants to invisibility once again."
Democrat Sheila Johnson, co-founder of Black Entertainment Television and a supporter and major contributor to McDonnell during the gubernatorial campaign condemned the proclamation:
"I must condemn Governor McDonnell's Proclamation honoring 'Confederate History Month,' and its insensitive disregard of Virginia's complicated and painful history, the remnants of which many Virginians still wrestle with today.

"The complete omission of slavery from an official government document, which purports to be a call for Virginians to 'understand' and 'study' their history, is both academically flawed and personally offensive. If Virginians are to celebrate their 'shared history,' as this proclamation suggests, then the whole truth of this history must be recognized and not evaded."
DNC Chairman Tim Kaine also released a statement in response to McDonnell's initial failure to acknowledge slavery:
"Governor McDonnell's decision to designate April as Confederate History Month without condemning, or even acknowledging, the pernicious stain of slavery or its role in the war disregards history, is insensitive to the extraordinary efforts of Americans to eliminate slavery and bind the nation's wounds, and offends millions of Americans of all races and in all parts of our nation.

"In recent years, Virginia has broken the back of segregation, become the first state in America to elect an African-American governor, passed a unanimous General Assembly resolution expressing profound regret for "the most horrendous of all depredations of human rights and violations of our founding ideals in our nation's history, and cast its electoral votes for President Obama. Neither America nor Virginians want to go backward.

"A failure to acknowledge the central role of slavery in the Confederacy and deeming insignificant the reprehensible transgression of moral standards of liberty and equality that slavery represented is simply not acceptable in the America of the 21st century."
Popular in the Community