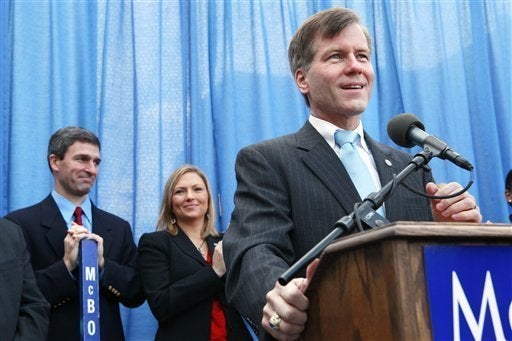 Republican leaders announced Thursday that the party has selected newly-elected Virginia Gov. Bob McDonnell to give the GOP response to President Obama's State of the Union Address next week.
"As the American people continue to ask, 'where are the jobs,' Gov. McDonnell has offered common-sense economic policies in stark contrast to Washington Democrats' job-killing agenda," House Minority Leader John Boehner said in a statement. "We don't need a government takeover of health care or a 'cap-and-trade' national energy tax - we need a common-sense plan to help middle-class families and small businesses and allow them to keep more of what they earn so they can save, invest, and hire."
In the joint statement, Senate Minority Leader Mitch McConnell said that McDonnell, who took office on Jan. 16, "understands that the American people are more interested in shrinking unemployment than expanding government."
McDonnell dealt the Obama administration one of its first major electoral blows in November when he defeated Democratic State Sen. Creigh Deeds in the Virginia's gubernatorial election. Though Barack Obama carried the traditionally Republican state with 53 percent of the vote in 2008, one year later McDonnell won big, receiving more votes than any other candidate for governor in Virginian history.
President Obama is scheduled to deliver his State of the Union address on January 27.
Calling all HuffPost superfans!
Sign up for membership to become a founding member and help shape HuffPost's next chapter