This interview is brought to you by the letter B and the number 45.
Sesame Street's Bob McGrath is a rock star... at least to the 2- to 5-year old population. For the past 45 years, the 82-year-old tenor has been working the street -- with a little help from those adorable Muppets -- entertaining impressionable pre-school rug rats all over America (and as of 2009, in 140 countries).
So, what's his backstory?
Once upon a time Bob McGrath turned down Sesame Street.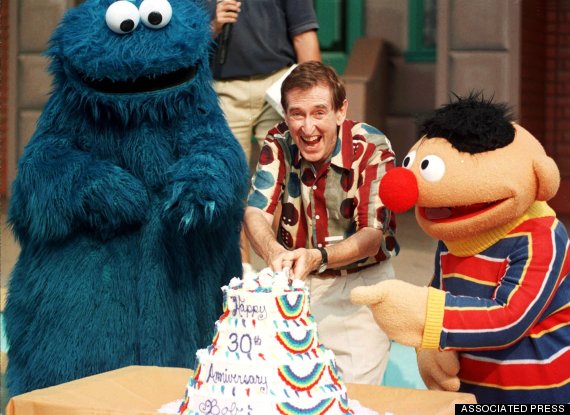 Wait, no, he was standing in front of Carnegie Hall in NYC circa 1968 when he ran into an old University of Michigan fraternity brother -- Dave Connell -- who had just gotten involved with a brand new children's television program and asked Bob if he'd like to audition. "Not in the least," Bob told his buddy. The Illinois native had never heard of Jim Henson and wasn't especially excited to work with little fuzzy puppets (aka Muppets). After all, he was a trained classical singer who was working with the likes of Leonard Bernstein and Pablo Casals. Luckily, his frat brother talked him into taking a look, he auditioned, and, as fate would have it, landed the role of "Bob Johnson," one of only four 'live' actors -- Gordon , Bob, Susan and Mr. Hooper -- who mingled with the likes of Oscar the Grouch, Big Bird, Cookie Monster and the happy-go-lucky, cutie-pie Grover.
In support of the 45th Anniversary of this iconic television program, created by Joan Ganz Cooney and Lloyd Morrisett -- which is the longest running children's program on the air -- The Huffington Post spoke with Bob to find out FIVE things we don't know about him -- and then some.
Five things you don't know about Bob:
1. He does spot-on voice impressions of Kermit the Frog, Jim Henson, Elmo, Cookie Monster.
2. He was a well-known recording artist in Japan in the 1960s.
3. He is on New Jersey's "Top 10 Bergen County Legends" list, along with James Gandolfini, football coach Bill Parcells, and astronaut Wally Schirra.
4. He was the featured tenor soloist on "Sing Along With Mitch."
5. He has been married for 56 years to his lovely wife, Ann. (Their secret? They have productive arguments but NEVER go to bed angry.)
One of these facts is not like all the others:
6. He has never won an Emmy as a cast member of SS even though the show has won 159 Emmy Awards. (But, neither did these other 22 actors which is equally as shocking.)
Sesame Street first aired on Nov. 10, 1969. When you first started working on SS, did it ever occur to you in your wildest dreams that you would be celebrating 45 years with this show?
Absolutely not! I don't believe anyone could have predicted that. In fact, Joan Ganz Cooney who was responsible for the creation of the show said, "We'll give it a try for a couple of years and see how it works out." However, it did feel like the most wonderful experiment all of us had ever been involved in.
As you're doing the show two years, three years in, did you ever think: ''OK, I'll transition into something else" or were you settled in and thought: "This is what I want to do."
No, I knew that it was an extraordinary show. I mean to have a chance to work with Frank Oz and Jim Henson and all the Muppets and the writers was a great opportunity. It didn't take long to know that this was a very brilliant organization and an incredibly different show that had been researched more than any television show in history.
What I didn't anticipate was that being on 'Sesame Street' would parlay into getting invitations from Symphony Orchestras. The Cleveland Symphony was the first invitation. It took a lot of money and a lot of time to put the music together for a seventy, eighty piece orchestra including arrangements and everything. You have to have music for every person in the orchestra and so I have this whole wall in the basement that's filled with symphony arrangements.
I started doing those concerts, and found that to be incredibly exciting to be performing with Symphony Orchestras all over North America. I had three different shows: holiday and family-oriented pop concerts as well as concerts for school children exposing them to symphonic repertoire for the first time... very exciting.
In the beginning there were just four humans: you, Gordon (Matt Robinson), Susan (Loretta Long) and Mr. Hooper (Will Lee ) I understand you and Will were close. How hard was that for you when he died in 1982?
I was the last one to see him before he died. He was in the hospital, and I managed to get up there. He was all hooked up with everything, and I said to the nurse, "How's he doing?" She said, "We can't get him to urinate." I said, "Oh, okay." So, I was talking to him -- mainly he was kind of grunting and groaning, answering things, so I said, "Will, I understand you're giving the nurses a hard time about taking a leak. Tell you what, let's make a deal. If you do that, we'll dedicate tomorrow's show for you, brought to you by the letter P."
He could hardly laugh but we were laughing, and I left him with a smile. He passed away the next day. Will was incredible. We shared a dressing room the entire time that we were together. He was an extraordinary actor, the only really legitimate actor of the four of us. Whenever I had a problem knowing how to work with a piece, because I had an almost zero acting experience, he would always help me. We all still miss him very much.
What were your favorite SS shows over the years... which ones stand out?
"Goodbye Mr. Hooper" and "Christmas Eve on Sesame Street." I think they're probably the two most significant shows we've ever done. And the Hooper show, they worked with every research person you can think of on what a child should know on death and dying. And what happens for instance, "Who's going to take care of me?" They wrote this absolutely exquisite show, and we finally were ready to do it ... we all had our scripts memorized but we knew we were going to have trouble getting through it emotionally.
And finally when Jon Stone -- who was a phenomenal director who could do everything, one of the four great people who put the whole show together -- when he said, "Okay, let's go to tape now," and we began, but we barely, barely got through that show. So, what you saw was a first and only take... raw emotions from everyone. We attempted a second take, but no one could manage it.
All the networks had each one of us on the day before, which is really unusual, promoting the show, because they thought it was so important that they wanted everybody in the country to see it.
Favorite Muppet you've worked with?
Big Bird and Oscar the Grouch are two favorites because of Caroll Spinney who does their voices. He was on from the beginning and is a great friend. They wrote tons of pieces in the first 15, 20 years for Oscar and I. We were sort of like the "Odd Couple." I was kind of the nice guy and Oscar was the 'grouch.' (Laughs) But I also absolutely adore Grover. He is one of my all-time favorites... especially the waiter thing. (Laughs).
There have been so many celebrity guests over the years on SS. Who are some of the celebrity guests that stand out in your mind?
Working with Destiny's Child. I was flabbergasted how brilliant Beyonce was musically. I suspect she has perfect pitch. I guess getting a hug from Fred Rogers and a peck on the cheek from Beyonce were probably my two greatest moments of 45 years on the show.
Working with Danny DeVito was fun. He was the curator of the National Museum of Trash, working with Oscar. I walked out on the set -- he's pretty short -- he grabbed me around the legs and went: 'You guys are the best!'
As a musician, I was dazzled and starstruck with Isaac Stern, Yo Yo Ma, Lang Lang, and Itzhak Perlman is like a kid. He never wanted to go home. He had kids at home and watched the show all the time, so he always wanted to do more, more, more, more. And then -- here's a funny thing -- I met him coming back from Quebec at the airport in LaGuardia. He was just getting on the plane going up to do a concert. And I said, "Hi Mr. Perlman." And he said, "Hi Bob. You know, Bob, I think I've finally made it." And I'm thinking to myself, given your fee for a concert, I think you've already made it!" (Laughs) I didn't say that to him. I said, "How is that Mr. Perlman?" And he said, "Well, I was watching the show with my kids the other day and there was a Muppet, and he was called 'Itzhak Perlmud.'" And he said, "I don't know, but I think it was about me." I said, "I'm sure it was."
Do you have a favorite story about a fan encounter?
Crazy stuff happens. Ann and I were in Venice about two or three years ago on vacation and were on the Grand Canal riding on a Vaporetto -- a river water taxi. This one lady from London, who was probably 50-ish, said she recognized me. She said, "I know who you are," and I said, "Thank you." She said, "I want you to know that 'Rubber Duckie' is my all-time favorite song, and I know every word." I said, "That's great." She said, "I'd like to sing it with you right now." The boat was packed and we're about to go under one of their bridges. I said, "Could we move to the stern where it's not quite so busy?" I felt like an idiot singing 'Rubber Duckie." (Laughs) She agreed so we moved to the other end of the boat, and we sang it. She knew every lyric to 'Rubber Duckie!' She didn't miss one word.
Children and parents of children who watched the show when they were kids love you, don't they?
Well, they love the show. I try to keep myself level by remembering that I'm one very small cog in a very, very big wheel. Sometimes they latch onto any one of the individuals, and/or whether it be a Muppet or a human being. However, I think in general, I have women of a certain age who always watched the show when they were children. I'll meet them sometimes and they'll just start sobbing. They can't control their emotions because it brings back all their incredible memories of watching the show all those years ago. Probably any one of the cast could initiate that sort of a response, but it's quite amazing.
Follow Bob McGrath on Twitter:
https://twitter.com/SesameStreetBob
PHOTO GALLERY
Bob McGrath and Sesame Street
REAL LIFE. REAL NEWS. REAL VOICES.
Help us tell more of the stories that matter from voices that too often remain unheard.