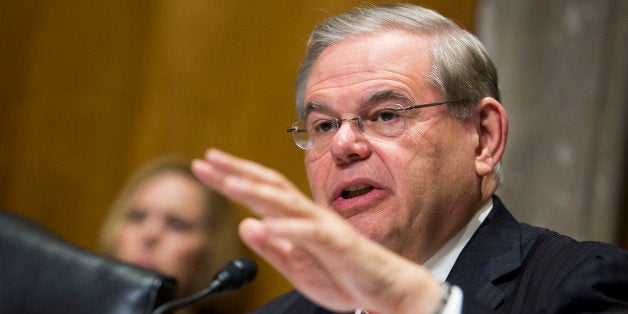 WASHINGTON -- Sen. Bob Menendez (D-N.J.) unveiled a 20-point plan on Thursday for beginning to deal with the crisis of unaccompanied minors crossing the border from Mexico, proposing specific measures to deal with the children already in the U.S. and the broader problems that bring them here.
"This is a humanitarian and refugee crisis. It's being caused in large measure by thousands in Central America who believe it is better to run for their lives and risk dying, than stay and die for sure," Menendez, who serves as chairman of the Senate Foreign Relations Committee, said at a press conference. He was joined by Sens. Dick Durbin (D-Ill.) and Mazie Hirono (D-Hawaii) and Reps. Luis Gutiérrez (D-Ill.) and Lucille Roybal-Allard (D-Calif.).
"The bottom line is that we must attack this problem from a foreign policy perspective, a humanitarian perspective, a criminal perspective, immigration perspective and a national security perspective," Menendez continued.
Although the number of unaccompanied minors crossing the U.S.-Mexico border has been increasing for the past several years, the rate has increased rapidly in recent months, creating what President Barack Obama and others have called a humanitarian crisis. More than 47,000 children have already been caught entering the country since the beginning of October of last year, and there could be more than 90,000 unaccompanied minors captured at the border in total this fiscal year. Most of those minors are coming from Honduras -- notably dubbed the murder capital of the world -- Guatemala and El Salvador.
The Democrats at the press conference firmly rejected the idea -- propagated largely by Republicans -- that Obama is to blame for the current crisis because of his lax immigration policies, although they said it is important for the U.S. and Central American governments to get out the message that children who cross the border illegally won't have a free pass to stay.
"We all have a shared responsibility in getting information out," Gutiérrez said.
But he also said Republicans should take caution when talking about "open borders," a claim that smugglers and traffickers can repeat to convince people it is safe to come to the United States.
"Every time a politician in the United States says that Barack Obama isn't deporting anybody, every time they say that we have open borders, every time that they say that every child crossing the border coming here in this humanitarian crisis is going to be able to stay -- every time they say that, the drug traffickers say the same thing to their victims," Gutiérrez said.
Menendez's plan focuses on how the U.S. can work with Central American countries in hopes that in the future, unaccompanied minors won't feel they have to flee. The plan calls for crackdowns on smugglers and traffickers, additional funding for initiatives to improve security in Central America and more work with governments to improve the conditions of their citizens.
Menendez's plan also includes recommendations for how the U.S. should treat children, refugees and asylum-seekers already here. He said they need more funding to ensure that protections already built into law are met. Children, especially, also should receive legal representation -- it is not provided by law in immigration courts -- and access to social workers, Menendez said. He urged the government to use more alternatives to detention, such as ankle bracelets, for monitoring families rather than holding them in detention centers.
The senator said his plan would for the most part not require legislation -- a good thing given congressional gridlock -- but also that Congress should take a greater interest in Central America.
"We need to focus on what is happening in Central America as we would in other parts of the world if the same set of circumstances were existing," Menendez said. "Except that here it is in our front yard. Here, close to our borders, and we see the consequences of not engaging vigorously in the hemisphere."
REAL LIFE. REAL NEWS. REAL VOICES.
Help us tell more of the stories that matter from voices that too often remain unheard.
BEFORE YOU GO
PHOTO GALLERY
Why Latin Americans Really Come To The U.S.