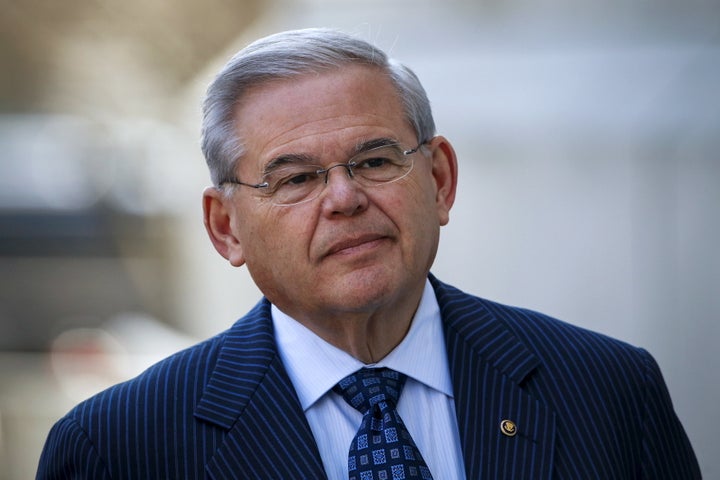 If Democrats have any chance of winning the Senate in November's elections, they need to focus their time and energy on flipping traditionally safe GOP seats, like in Tennessee, while defending vulnerable incumbents in red states such as Indiana, West Virginia and North Dakota ― a daunting task even with a historically unpopular president in the Oval Office.
What they shouldn't be doing is worrying about a deep blue state like New Jersey, where Sen. Bob Menendez (D-N.J.) seeks his third term. But Menendez, whose political career in the Garden State began when he won a school board race at age 20 in 1974, could be in trouble.
He faces a wealthy Republican opponent, former pharmaceutical executive Bob Hugin. Combined spending by Hugin and outside groups backing him so far has outstripped by more than 2-to-1 the expenditures by Menendez and his allies.
What's fueling the GOP money and Hugin's hopes is the ethical cloud hovering over Menendez. He was indicted in 2015 on charges including bribery and fraud. Federal prosecutors accused him of engaging in a quid pro quo relationship with a friend ― advancing the man's business interests and in return accepting an array of gifts, including luxury trips abroad.
A judge declared a mistrial in the case last year because of a hung jury, and the Justice Department decided against retrying him. In April, he was "severely admonished" for his relationship with his friend by the Senate ethics committee.
A Quinnipiac poll released in late August showed Menendez ahead of Hugin by just 6 percentage points ― a concerning data point given that registered Democrats vastly outnumber Republicans in New Jersey, that Menendez cruised to re-election in 2012 and that Democratic presidential nominee Hillary Clinton carried the state by nearly 15 points in 2016.
"When you have a multimillionaire spending unlimited amounts of money, it always makes it a little bit more challenging," Menendez told HuffPost this week when asked about the status of his campaign.
"But we'll win," he predicted confidently.
While Republican groups have come to Hugin's aid, national Democratic groups have been largely steering clear of the race, viewing concerns about Menendez's vulnerability as overblown. Still, the Democratic Senatorial Campaign Committee, the group focused on electing party members to the Senate, went on air with a $117,000 ad buy in conjunction with Menendez's campaign earlier this month. Although that's a relatively paltry amount committed to New Jersey's expensive media markets, Republicans pointed to it as evidence that the incumbent is "in danger of losing" re-election.
DSCC spokesman David Bergstein expressed confidence in Menendez and praised his spending strategy, saying in a statement to HuffPost that the senator's campaign "smartly held their resources until their ads would have maximum impact" in the election's closing weeks.
Still, if Republicans are able to force Democrats on the defensive in New Jersey, they'll prevent resources from going to battleground states where polls show tossup Senate races.
"Menendez is someone who has survived the rough and tumble world of New Jersey politics for decades."
Hugin, a former CEO of the biopharmaceutical company Celgene, hasn't hesitated in his ads to attack Menendez over his legal and ethical troubles. But the senator has successfully coalesced Democratic officials and key interest groups in the state behind him, and his political track record helps make him remain the favorite to prevail.
"Menendez is someone who has survived the rough and tumble world of New Jersey politics for decades," Brigid Harrison, a professor of political science and law at Montclair State University, told HuffPost this week.
She said she was skeptical that his corruption trial "is going to be an important factor for most New Jerseyans when they go to the polls."
Hugin spokesman Nick Iacovella, however, attributed the businessman's rise to Menendez' legal troubles, adding that the senator "doesn't deserve another six years to embarrass and disgrace the people he's supposed to represent."
"This is the drug that keeps me alive. The price to make one capsule? Less than a dollar. The price the drug company charges: over $600 dollars," a cancer survivor said in one ad targeting the New Jersey GOP Senate candidate.
Hugin's ties to President Donald Trump also loom as campaign fodder for the Democrats. Hugin was a New Jersey delegate to the 2016 Republican National Convention, served as finance chair for Trump's campaign in the state and donated hundreds of thousands of dollars to pro-Trump groups.
There's already evidence that disdain for Trump is hurting down-ballot GOP candidates like Rep. Leonard Lance, a five-term House member who represents a wealthy suburban district in central New Jersey. A poll released Thursday by Monmouth University showed him trailing his Democratic challenger by more than 10 percentage points.
Hugin almost assuredly needs to overperform among Republican voters in such districts in order to topple Menendez. And that will be a tall order, despite the negatives for the incumbent.
"New Jerseyans are aware of the crucial role that this Senate race is playing on shaping control of the Senate, [especially] in a state where President Trump is an incredibly unpopular figure and has been consistently," Harrison said.
This post was updated to include comment from Bob Hugin's campaign.
Popular in the Community