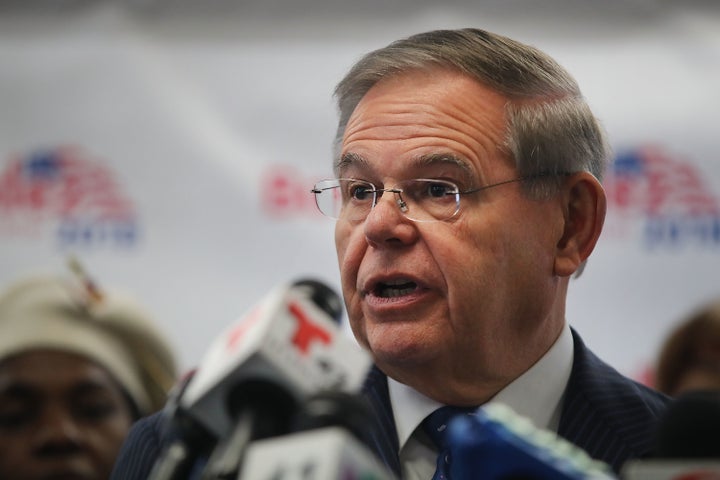 New Jersey Democrat Bob Menendez overcame lingering doubts about his integrity and a stronger-than-expected challenge from Republican Bob Hugin to win re-election on Tuesday.
New Jersey hasn't elected a Republican to the Senate in 46 years, but the ethical cloud that hovered over Menendez put his bid for another term in doubt this year. He was indicted in 2015 on charges including bribery and fraud stemming from allegations that he engaged in a quid pro quo relationship with a friend ― advancing the man's business interests and in return accepting an array of gifts, including luxury trips abroad.
A judge declared a mistrial in the case last year because of a hung jury, and the Justice Department decided against retrying Menendez. In April, however, he was "severely admonished" over the matter by the Senate ethics committee.
The allegations ― which Menendez, 64, consistently denied ― resulted in a surprisingly close Democratic primary race earlier this year, as well as a backhanded endorsement by The Star-Ledger editorial board just days before the election that urged voters to "choke it down" and vote for the incumbent.
The editorial in the state's most prominent newspaper opined that the Senate race offered "the most depressing choice for New Jersey voters in a generation, with two awful candidates whose most convincing argument is that the other guy is unfit to serve."
The paper concluded that Menendez, first appointed to his seat in early 2006, was the better choice because he could be counted upon to stand up to President Donald Trump.
Hugin, 64, a wealthy former CEO of a biopharmaceutical company who poured millions of dollars into his own campaign, made the corruption charges that Menendez had fended off a huge part of his message. Late in the race, he also released a scathing ad that brought up old prostitution allegations against Menendez that were never substantiated.
"It's a lie, Bob. You know it's a lie," Menendez said to Hugin during a debate last month.
Hugin's record also gave Democrats ample opportunity to go on the attack. During his time as CEO of Celgene, for example, the company raised U.S. prices by 20 percent for its Revlimid cancer drug while cutting them by 45 percent in Russia.
His ties to Trump also became campaign fodder: he was a New Jersey delegate to the 2016 Republican National Convention, served as finance chair for Trump's campaign in the state and donated hundreds of thousands of dollars to pro-Trump groups.
"I'm not a Trump Republican, I'm an independent Republican," Hugin insisted at their October debate, calling for more moderate immigration policies than the president has advocated and backing efforts to combat climate change. The businessman also criticized Trump's tax cut for putting a cap on the state and local tax deduction, which has hurt many Garden State residents.
Given the money Hugin poured into his candidacy, Democratic outside groups were forced to spend millions in support of Menendez in the race's final weeks ― precious resources that could have gone to battleground races elsewhere. Republicans gleefully mocked the Democratic groups for having to help bail out Menendez in what should have been an easy race.
Republican National Committee spokesman Michael Ahrens said that Senate Minority Leader Chuck Schumer (D-N.Y.) was "robbing from battleground races to save his corrupt pal, decreasing the already minuscule chance they had to regain the Senate majority."
Ultimately, Trump's deep unpopularity in a bright blue New Jersey may have been the saving grace for Menendez.