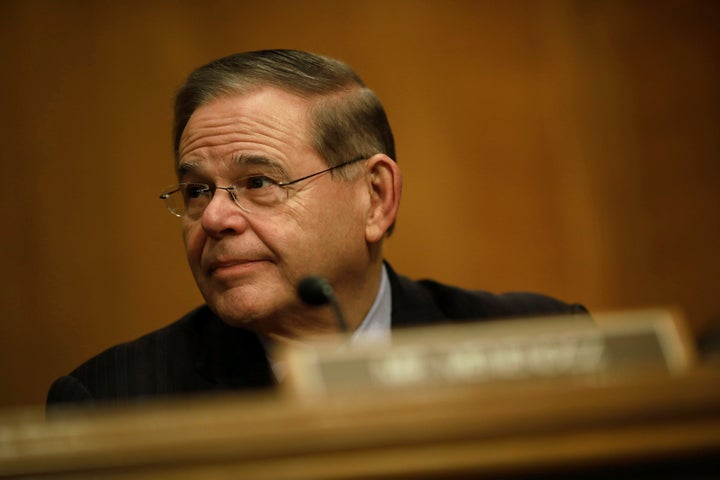 The Senate Democrats' leading super PAC is set to spend $3 million in bright blue New Jersey in an effort to save Sen. Bob Menendez, who has struggled to put away a Republican challenger after facing a corruption trial last year.
Senate Majority PAC, which is controlled by allies of Senate Minority Leader Chuck Schumer (D-N.Y.), will use the cash to air a statewide ad attacking Menendez's opponent, former pharmaceutical executive Bob Hugin, as an ally of President Donald Trump in a state where the president is deeply unpopular.
"Donald Trump and Bob Hugin? They have a lot in common," a female narrator says at the beginning of the 30-second ad. "Big pharma CEO Hugin backed Trump's plan that gives millions to drug companies and Trump's plan to gut protections for pre-existing conditions."
Menendez, who is running for his third term in the Senate and is the top Democrat on the Senate Foreign Relations Committee, leads in most recent public polling of the contest. But Democrats fear his lead isn't big enough in the face of the millions that Hugin has spent and will keep spending on the airwaves out of his personal fortune. Hugin and his allies have swamped Democratic spending in the race by roughly a 7-to-1 margin, $21.8 million to $3.3 million, according to a source that tracks media buys.
New Jersey is one of the costliest states in the country to campaign in. The entire Garden State is divided between the expensive Philadelphia media market and the even more expensive New York media market.
Democrats face an uphill battle to retake control of the Senate ― they would essentially need to sweep competitive races in Tennessee, Arizona, Nevada, Florida, Missouri, Indiana and Montana ― and money spent in New Jersey can't be used to help candidates fighting for their political lives on much more difficult political terrain.
The Democrats' new ad also takes aim at how Hugin made his money. "Hugin aggressively raised the price of cancer drugs, and paid himself more than $150 million at the expense of cancer patients and taxpayers," the narrator says.
The issues raised in the 30-second ad are just part of a barrage of attacks Democrats are preparing to unleash on Hugin in the final weeks of the contest, including resurrecting attacks on Hugin's efforts to keep women from joining certain student organizations at Princeton and his work to support Trump in 2016, including serving as a delegate at the Republican National Convention and donating $200,000 to pro-Trump groups.
"He's a pharma CEO who raised prices on cancer drugs, and that's not someone who should be serving in the Senate," said Senate Majority PAC spokesman Chris Hayden.
New Jersey is solidly blue: Democratic presidential nominee Hillary Clinton won it by 14 percentage points in 2016, and Democrat Phil Murphy won the governor's race by a similar margin one year ago. But Menendez's approval ratings have trended downward since he was charged with fraud, conspiracy and bribery in 2015 over his relationship with ophthalmologist Salomon Melgen. Menendez's trial on the charges ended with a hung jury in November 2017, and the Justice Department decided not to retry the case.
Hugin has aired multiple ads attacking Menendez over the charges, frequently noting that he was indicted by "Obama's Justice Department." Hugin's campaign also released an attack ad on Monday resurrecting an unproven allegation that Menendez slept with underage prostitutes.
A Hugin spokesman said the businessman was independent from the president, noting he criticized Trump over family separation at the border and the federal government's response to Puerto Rico.
"Bob Hugin is independent and isn't afraid to stand up to anyone, including President Trump, to do what's right for New Jersey," Nick Iacovella said. "He's not a politician, he didn't come up through the political ranks, and he isn't filling out special interest questionnaires. Bob and his wife Kathy are largely self-funding the campaign with their own money and he is in this race for one reason: to put the people of New Jersey first and represent them with honor and integrity."
Popular in the Community